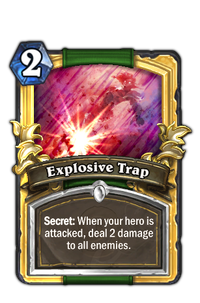 The card with the Secret ability is played face-down, with its effect triggering when a certain condition is fulfilled. Players can keep track of how many secrets they have in play, as they appear above the hero as "?". Secrets are considered spells and can be countered through the use of abilities like Counterspell or copied via Loremaster Cho. Secrets are limited to Mage, Hunter, Paladin, and Rogue. During alpha, Rogue also had secrets to round out the classes with stealth/camouflage/invisibility, but the class had too many themes, while Paladin didn't have enough, so secrets were given to Paladin instead. Rogue was eventually given secrets in Kobolds & Catacombs.
Eater of Secrets can destroy all enemy secrets and gains power. Flare can also destroy all enemy secrets except Counterspell and will be copied by Mana Bind. Kezan Mystic can take control of a random enemy secret. Mad Scientist puts a secret from the deck in play. Mysterious Challenger and Glacial Mysteries put one of each of the remaining secrets in the deck in play. Arcanologist draws a secret from the deck. Hydrologist discovers a paladin secret. Professor Putricide puts a random hunter secret in play when a secret is played. Kabal Crystal Runner costs less mana for each secret played. Kabal Lackey and Kirin Tor Mage make the next secret played cost no mana. Cloaked Huntress makes secrets cost no mana. Secretkeeper, Ethereal Arcanist, Eaglehorn Bow, Illuminator, Avian Watcher, and Medivh's Valet are empowered with secrets in play.
Since they are considered spells, they are affected by Spell Damage.
Duplicate secrets cannot be in play by the same player.
Multiple secrets may trigger at once, but trigger in the order in which they were played.
A player may only have five secrets in play at a time.
Below is a list of all cards with the secret mechanic.
Note: For the purposes of this list, only collectible cards are listed.
Core set
Edit
Curse of Naxxramas
Edit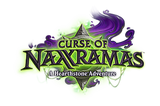 The Grand Tournament
Edit
Journey to Un'Goro
Edit
Knights of the Frozen Throne
Edit
The League of Explorers
Edit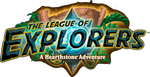 Mean Streets of Gadgetzan
Edit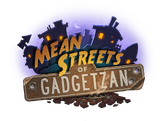 One Night in Karazhan
Edit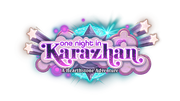 Patch changes
Edit
 (Patch 9.2.0.22017) [Mobile] Resolved an issue with displaying destroyed or countered secrets on phones.
Community content is available under
CC-BY-SA
unless otherwise noted.