Second War Uther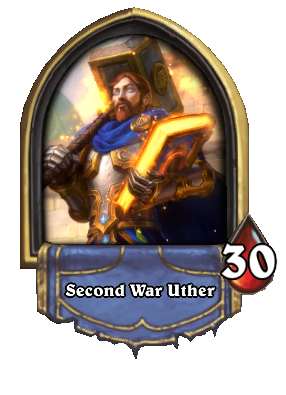 For other appearances of Uther Lightbringer, see Uther Lightbringer (disambiguation).
Second War Uther is an alternate hero for the

Paladin class in Hearthstone: Heroes of Warcraft.
Second War Uther is unavailable to new players. It's unknown if he will become available again.
Second War Uther could be purchased through Second War Uther Bundle, which also contained 5 Paladin packs and was available from January 5th, 2021 to January 12th, 2021.
| USD | EUR | GBP | AUD |
| --- | --- | --- | --- |
| $9.99 | €9.99 | £7.70 | $13.66 |
When viewed in the collection, Second War Uther has the following flavor text:
During his youth, Uther fought bravely for King Terenas. In his later years, he bravely fought King Terenas's son. Obtained by purchasing the Second War Uther Bundle.
Second War Uther uses some of the same quotes as Uther Lightbringer. Only different emotes are listed. For a full list, see Uther Lightbringer#Quotes.
| Type | Emote |
| --- | --- |
| Thanks | You have my thanks. |
| Well played | You impress me. |
| Greetings | Hail to you. |
| Mirror Greetings | May the Light bless you. |
| Wow | Wondrous! |
| Oops | A blunder... |
| Threaten | Your life is now forfeit. |
| Attack | For Lordaeron! |
| Opening remark | I shall bring honor to the Silver Hand! |
| Mirror start | But not as much as me. |
| Selection in Arena | In Lothar's memory! |