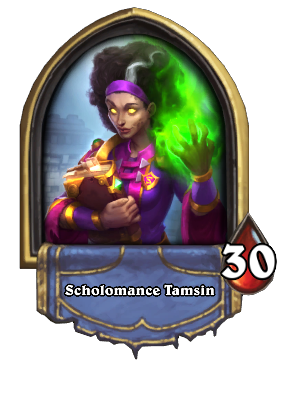 For other representations of Tamsin, see Tamsin Roame (disambiguation).
Scholomance Tamsin is an alternate hero for the

Warlock class.
Background
[
]
This is one of Tamsin's appearances as a Judicious Junior in Scholomance Academy raised as an undead after the school was invaded by the Scourge.
How to get
[
]
Scholomance Tamsin can be obtained by purchasing the Tavern Pass and reaching level 15 in the United in Stormwind' Rewards Track.
Functionality
[
]
Once unlocked and selected for use, Scholomance Tamsin replaces Gul'dan whenever the player uses a Warlock deck, as well as:
Comes with own portrait
Has custom emotes
For more information, see Alternate heroes.
Flavor text
[
]
When viewed in the Collection, Scholomance Tamsin has the following flavor text:
She's a very vengeful valedictorian.
Earnable after purchasing the Tavern Pass.
Sounds
[
]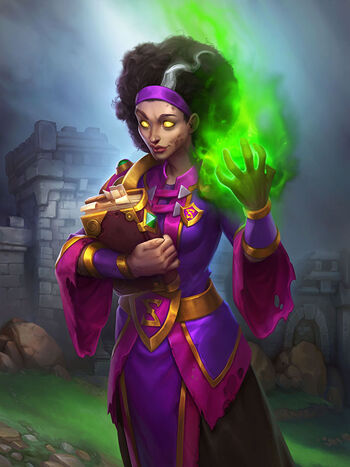 Each hero has their own selection of audio and written emotes that are produced in response to specific events. For more information, see Emote.
| Type | Transcript |
| --- | --- |
| Trigger: Hellfire | Link▶️Burn them all. |
| Trigger Mortal Coil | Link▶️Shuffle off. |
| Trigger: Completing The Demon Seed | Link▶️The Demon Seed… |
| Trigger: Twisting Nether | Link▶️Goodbye forever! |
| Attack [1] | Link▶️So crude.[1] |
| Death [1] | Link▶️<Death> |
| Emote: Greetings | Link▶️What have we here?[1] |
| Emote: Well Played | Link▶️Well played.[1] |
| Emote: Oops | Link▶️Oops.[1] |
| Emote: Threaten | Link▶️You'll regret crossing me.[1] |
| Emote: Thanks | Link▶️Thank you. I guess.[1] |
| Unused: Sorry | Link▶️Oh, I'm so sorry. |
| Concede | Link▶️You haven't heard the last of me. |
| Start | Link▶️Do not doubt my power.[1] |
| Running out of time | Link▶️I must hasten. |
| Thinking [1] | Link▶️I'm not getting any younger. |
| Thinking [2] | Link▶️Hmm… |
| Thinking [3] | Link▶️What is taking so long? |
| Almost out of cards | Link▶️I'm almost out of cards. |
| Out of cards | Link▶️Who stole all my cards? |
| Error: Need a weapon | Link▶️I need a weapon. |
| Error: Not enough mana | Link▶️I need more mana. |
| Error: Minion exhausted | Link▶️That minion already attacked. |
| Error: Hero already attacked | Link▶️I already attacked. |
| Error: Minion not ready | Link▶️Give that minion a turn to get ready. |
| Error: Hand already full | Link▶️My hand is full. |
| Error: Can't target Stealthed minion | Link▶️I can't target a minion with Stealth. |
| Error: Can't play that card | Link▶️I can't play that. |
| Error: Not a valid target | Link▶️I can't target that! |
| Error: Must attack Taunt minion | Link▶️Get that Taunt minion out of the way. |
| Error: Generic | Link▶️Impossible. |
| Selection in Choose Your Hero | Link▶️My benefactor says I have a bright future ahead of me.[1] |
| Emote: Greetings [Lunar New Year] | Link▶️Happy new year! |
| Start [Mirror] | Link▶️How could I?[1] |
| Emote: Greetings [Holidays] | Link▶️Happy holidays. Did you get me a present? |
| Emote: Wow | Link▶️Oh, ho, ho![1] |
| Emote: Greetings [Happy New Year] | Link▶️Happy new year! |
| Emote: Greetings [Fire Festival] | Link▶️Happy Fire Festival! |
| Unused: Greetings [Pirate Day] | Link▶️Steal, pillage, profit? What's not to like about pirates? |
| Emote: Greetings [Happy Halloween] | Link▶️Happy Hallow's End. |
| Unused: Greetings [Happy Noblegarden] | Link▶️Happy Noblegarden. As a child, I released Cariel's pet rabbit into the wild. |
| Emote: Greetings [Mirror] | Link▶️Your worst nightmare.[1] |
| Error: Too many minions | Link▶️My board is full. |
Patch changes
[
]
References
[
]