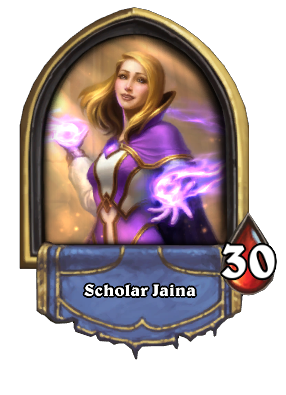 For other appearances of Jaina Proudmoore, see Jaina Proudmoore (disambiguation).
Scholar Jaina is an alternate hero for the

Mage class in Hearthstone: Heroes of Warcraft.
Background
[
]
This is Jaina Proudmoore's appearance during her very early days, specificially when she was still an apprentice of Archmage Antonidas.

This section uses content from Wowpedia.
Born three years prior to the First War, Jaina Proudmoore was the middle child of Lord Admiral Daelin Proudmoore, ruler of Kul Tiras, and his wife Katherine. Jaina was loved by her family and, from an early age, was filled with the joy of learning and the duties of a young lady, despite House Proudmoore's military background. As a child, she had a governess and several tutors and propriety demanded that she be followed by an escort of her lady-in-waiting and a guard or two. She had a habit of hiding whenever she was frightened or upset, but her mother Katherine would always find her. Jaina had always been fond of reading; the library of Proudmoore Keep was her favorite spot growing up as her mother bemusedly noted, "surrounding [herself] with musty old tomes." At a young age, she was enamored with tales of the Guardian Aegwynn. As a child, Jaina witnessed a tidesage bless a Kul Tiran ship at least once, something she would not see again until many years later.
When her magical talent was discovered after the Second War, Katherine had to fight Daelin to allow Jaina to be taught at Dalaran, though their daughter didn't know of this. On her way to Dalaran, Jaina—who was then 11 years old—briefly stayed as a guest in Lordaeron's Capital City, where she became close friends with Princess Calia Menethil. One day during a prayer session in the Menethil family chapel, Jaina for the first time met the 12-year-old Prince Arthas, heir to the throne of Lordaeron, who thought Jaina looked like someone who was well accustomed to riding and hiking, spent a great deal of time outdoors, and would not mind having a snowball pelted in her face or going for a swim on a hot day. Arthas volunteered to escort Jaina to Dalaran along with her guards and servants. One night during the journey, the prince convinced her to sneak off with him and look at one of the internment camps where the Alliance kept orcs imprisoned—the first real adventure they had together. Unlike Arthas, Jaina found herself feeling compassion for the captive orcs, even though the Horde had killed her older brother Derek during the Second War.
Jaina spent the following years studying as a member of the Kirin Tor in Dalaran. 6 years after her arrival to the city, she badgered the Kirin Tor's leader Archmage Antonidas into accepting her as an apprentice, eventually becoming one of the few female wizards in direct service to Dalaran. She came to be known as a star pupil who excelled at magical research and investigation, and Antonidas believed she had the potential to become the greatest sorceress in human history. The high elf prince Kael'thas Sunstrider was enamored with Jaina, but she did not return his feelings and remained focused on her studies as she wanted to advance on her own merits and not simply because an elven prince enjoyed her company.
For further stories of Jaina, see Jaina Proudmoore#Background.
How to get
[
]
Scholar Jaina is unavailable to new players. It's unknown if she will become available again.
Previous availability
[
]
Scholar Jaina could be purchased through Scholar Jaina Bundle, which also contains 5 Mage packs and was available from September 15 to September 22, 2020.[1]
| USD | EUR | GBP | AUD |
| --- | --- | --- | --- |
| $9.99 | €9.99 | £7.70 | $13.66 |
Functionality
[
]
Once unlocked and selected for use, Scholar Jaina replaces Jaina Proudmoore whenever playing with a Mage deck, as well as:
Comes with her own portrait
Has custom emotes
Flavor text
[
]
When viewed in the Collection, Scholar Jaina has the following flavor text:
Behind every great archmage is an impeccable education at a strange and highly secretive organization. Obtained by purchasing the Scholar Jaina Bundle.
Sounds
[
]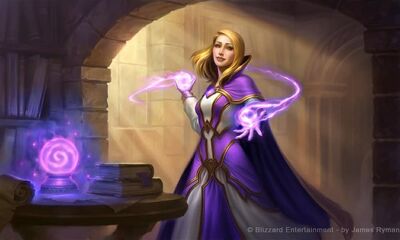 Each hero has their own selection of audio and written emotes that are produced in response to specific events. For more information, see Emote.
Most of Scholar Jaina's sounds are the same as Jaina Proudmoore. Unique, different ones are noted as Unique in References section.
| Type | Transcript |
| --- | --- |
| Attack [1] | Link▶️Learn from this![2] |
| Death [1] | Link▶️<Death> |
| Emote: Greetings | Link▶️So good to see you![2] |
| Emote: Well Played | Link▶️You're top of the class.[2] |
| Emote: Oops | Link▶️Just a little mistake.[2] |
| Emote: Threaten | Link▶️I'm going to become a great mage one day. Just wait.[2] |
| Emote: Thanks | Link▶️Thanks for your help.[2] |
| Unused: Sorry | Link▶️I'm sorry. |
| Concede | Link▶️You win this one. |
| Start | Link▶️All I ever wanted was to study![2] |
| Running out of time | Link▶️Time runs out on me! |
| Thinking [1] | Link▶️Hmmm... |
| Thinking [2] | Link▶️I wonder... |
| Thinking [3] | Link▶️What to do... What to do... |
| Almost out of cards | Link▶️I'm almost out of cards! |
| Out of cards | Link▶️I'm out of cards! |
| Error: Need a weapon | Link▶️I need a weapon. |
| Error: Not enough mana | Link▶️I don't have enough Mana. |
| Error: Minion exhausted | Link▶️That minion already attacked. |
| Error: Hero already attacked | Link▶️I already attacked. |
| Error: Minion not ready | Link▶️Give that minion a turn to get ready. |
| Error: Hand already full | Link▶️My hand is too full! |
| Error: Too many minions | Link▶️I have too many minions. |
| Error: Can't target Stealthed minion | Link▶️I can't target Stealthed minions. |
| Error: Can't play that card | Link▶️I can't play that. |
| Error: Not a valid target | Link▶️That's not a valid target. |
| Error: Must attack Taunt minion | Link▶️A minion with Taunt is in the way. |
| Error: Generic | Link▶️I can't do that. |
| Selection in Choose Your Hero | Link▶️I am ready to learn.[2] |
| Emote: Greetings [Lunar New Year] | Link▶️Happy New Year! |
| Start [Mirror] | Link▶️Are you focusing on frost or arcane?[2] |
| Emote: Greetings [Holidays] | Link▶️Happy Feast of Winter Veil! |
| Emote: Wow | Link▶️Exciting![2] |
| Emote: Greetings [Happy New Year] | Link▶️Happy New Year! |
| Emote: Greetings [Fire Festival] | Link▶️Happy Midsummer Fire Festival! |
| Unused: Greetings [Pirate Day] | Link▶️Arrrr! Ahoy! |
| Emote: Greetings [Happy Halloween] | Link▶️Happy Hallow's End. |
| Unused: Greetings [Happy Noblegarden] | Link▶️Happy Noblegarden. |
| Emote: Greetings [Mirror] | Link▶️We keep running into each other.[2] |
| Start [Prince Arthas] | Link▶️There's nothing I should worry about, right Arthas? |
Gallery
[
]
Patch changes
[
]
References
[
]
Playable heroes
Default heroes

Illidan

Malfurion

Rexxar

Jaina

Uther

Anduin

Valeera

Thrall

Gul'dan

Garrosh
Alternate portraits
1,000 wins portraits

Demonic

Shan'do

Wanderer

Fire Mage

Lightforged

King

Cap'n

Warchief

Shadow

Corrupt
Rewards Track portraits

Demonbane

Cenarion

Giantstalker

Arcanist

Lawbringer

Prophecy

Nightslayer

Earthfury

Felheart

Might
Tavern Regular portraits

Felravager

Storm's Rage

Dragonstalker

Netherwind

Judgement

Transcendence

Deathmantle

Ten Storm

Nemesis

Wrath
Book of Heroes portraits

Skullbearer

Emerald

Warsong

Scholar

Second War

SI:7

Gladiator

Frostwolf

Shadowmoon

Nagrand
Other portraits

Ember Court

Infernal Armor

Naughty

Flame

Winter Fury

Steel Guardian

Ice Lord

Firefang

Flamewalker

Robin Hood

Iron Hunter

Snowflipper

Apprentice

Archmage

Kul Tiran

Red Riding

Sentinel

Frost Fairy

Horseman

Guan Yu

Inferno

Ascended

Star Ascendant

Greench

Zhuge Liang

Charming

Leviathan

Diao Chan

Titanblade

Nice

Durotan

Alterac

Wolfrider

Frog Prince

Mechaconduit

Snowman

Rituals

Fel Colossus

Lü Bu

Pirate King

Forge-wrought
Alternate heroes
Promotional and special events

Lunara



Celeste


Liadrin

Arthas

Yrel

Tyrande

Maiev

Morgl

Nemsy

Annhylde
Expansion pre-order heroes

Elise

Hamuul

Kel'Thuzad

Katrana

Lazul

Rastakhan

Vashj

Jaraxxus

Deathwing



Vanndar

Bundle purchasable heroes

Aranna

Hazelbark

Alleria

Sylvanas

Medivh

Khadgar

Annoy-O

Ice Lady



Edwin


Thunder King

Ragnaros

Little Helper

Magni

Winter
Book of Mercenaries heroes
Kurtrus

Initiate

Adept

Trainer
Guff

Runetotem

Spelunker

Fangbound

Fauna Friend
Tavish

Varden

Apprentice

Explorer

Elementalist

Pyromancer
Cariel

Trainee



Northwatch





Stalwart





Dungeoneer

Xyrella

Survivor

Shardseeker

Lightweaver
Scabbs

Chef

Agent

Investigator

Undercover
Bru'kan

Barrens

Dungeoneer

Venerable

Deadmines
Tamsin

Scholomance

Impressive

Summoner

Triumphant
Rokara

Young

Recruit

Horde