Sandwasp Queen
Sandwasp Queen
| | |
| --- | --- |
| Set: | Saviors of Uldum |
| Type: | Minion |
| Minion type: | Beast |
| Class: | Paladin |
| Rarity: | Common |
| Cost: | 2 |
| Attack: | 3 |
| Health: | 1 |
| Abilities: | Battlecry, Generate |
| Tags: | Beast-generating |
| Artist: | Dave Allsop |
Battlecry: Add two 2/1 Sandwasps to your hand.
Oooh, see that wasp!
Watch that sting!
Dig in the Sandwasp Queen!
Sandwasp Queen is a common paladin minion card, from the Saviors of Uldum set.
Sandwasp Queen can be obtained through Saviors of Uldum card packs, or through crafting.
| Card | Crafting cost | Disenchanting |
| --- | --- | --- |
| Sandwasp Queen | 40 | 5 |
| Golden Sandwasp Queen | 400 | 50 |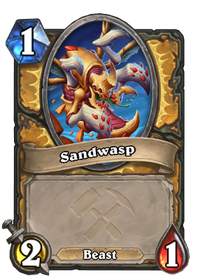 Sandwasp Queen has decent stats (4 stats for 2 mana). The Battlecry allows you to generate two token cards which can be used for early game pressure, board advantage, or additional targets that can be used for buffs from Blessing of Kings for example. It's two tokens can also be Handbuffed by Grimestreet Outfitter, Glowstone Technician, or History Buff.
In arena, it is great card as it generates two more cards for board tempo or just aggression early in the game.