Sand Puffer Frog
Regular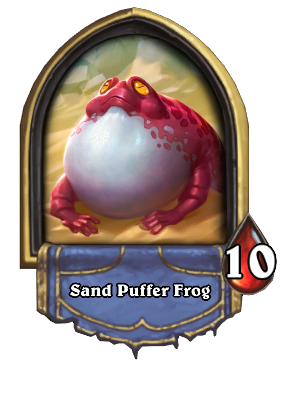 Gold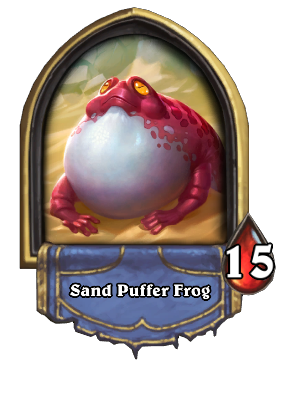 Flavor text
One puff's enough to bluff a minion's stuff.
External links
Sand Puffer Frog is a boss that can be encountered initially in Chapter 1 of Tombs of Terror. After completing Chapter 1, this boss encounter will be available in any completed chapter.
Hero Power
[
]
Normal
Heroic

Passive
Decks
[
]
The below classes are listed purely for reference, and have no effect on the boss' use of the cards during the battle.
Strategy
[
]
This boss is pretty easy either on Normal and Heroic difficulty. Effect of his hero power doesn't give an advantage because it's an early stage with quick fights and there are no dangerous minions in his decks that can be threating with Stealth. It is pretty safe to attack only face and leave the board control for the enemy in this encounter. Also, it becomes even easier with Band of Scarabs passive.
Dialogue
[
]
Introduction
Sand Puffer Frog

CroooOOOOOAk?
This is the cutest thing that has tried to kill me thus far.
Emote Response
Sand Puffer Frog

RroooOOOOOOoak.
Death
Sand Puffer Frog

<Croaked>
Defeat
Sand Puffer Frog

<Aggressive croaking>
Lore
[
]
Sand Puffer Frog is unique to Hearthstone.
Gallery
[
]
Patch changes
[
]
Tombs of Terror
Heroes
Chapter 1:
The Lost City

| | |
| --- | --- |
| Level 1 | |
| Level 2 | |
| Level 3 | |
| Level 4 | |
| Level 5 | |
| Level 6 | |
| Level 7 | |
| Level 8 | |

Chapter 2:
Scorching Dunes

| | |
| --- | --- |
| Level 1 | |
| Level 2 | |
| Level 3 | |
| Level 4 | |
| Level 5 | |
| Level 6 | |
| Level 7 | |
| Level 8 | |

Chapter 3:
Khartut's Tomb

| | |
| --- | --- |
| Level 1 | |
| Level 2 | |
| Level 3 | |
| Level 4 | |
| Level 5 | |
| Level 6 | |
| Level 7 | |
| Level 8 | |

Chapter 4:
Halls of Origination

| | |
| --- | --- |
| Level 1 | |
| Level 2 | |
| Level 3 | |
| Level 4 | |
| Level 5 | |
| Level 6 | |
| Level 7 | |
| Level 8 | |

Chapter 5:
The Inner Sanctum
Tavern