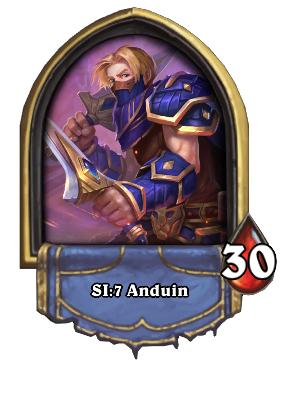 For other appearances of Anduin Wrynn, see Anduin Wrynn (disambiguation).
SI:7 Anduin is an alternate hero for the

Priest class in Hearthstone: Heroes of Warcraft.
How to get
[
]
SI:7 Anduin is unavailable to new players. It's unknown if he will become available again.
Previous availability
[
]
SI:7 Anduin could be purchased through SI:7 Anduin Bundle, which also contained 5 Priest packs and was available from February 2 to February 9, 2021.
| USD | EUR | GBP | AUD |
| --- | --- | --- | --- |
| $9.99 | €9.99 | £7.70 | $13.66 |
Functionality
[
]
Once unlocked and selected for use, SI:7 Anduin replaces Anduin Wrynn whenever playing with a Priest deck, as well as:
Comes with his own portrait
Has custom emotes
Flavor text
[
]
When viewed in the collection, SI:7 Anduin has the following flavor text:
If you're going to be a spy for a day, you could do no better than joining His Majesty's secret service. Obtained by purchasing the SI:7 Anduin Bundle.
Sounds
[
]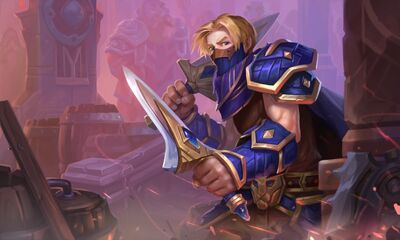 Each hero has their own selection of audio and written emotes that are produced in response to specific events. For more information, see Emote.
Most of SI:7 Anduin's sounds are the same as Anduin Wrynn. Unique, different ones are noted as Unique in References section.
| Type | Transcript |
| --- | --- |
| Attack [1] | Link▶️For Stormwind![1] |
| Death [1] | Link▶️<Death> |
| Emote: Greetings | Link▶️Hello there.[1] |
| Emote: Well Played | Link▶️You fight well![1] |
| Emote: Oops | Link▶️How'd that happen?[1] |
| Emote: Threaten | Link▶️Don't push me too far…[1] |
| Emote: Thanks | Link▶️My thanks to you.[1] |
| Unused: Sorry | Link▶️My apologies. |
| Concede | Link▶️You have bested me. |
| Start | Link▶️I will protect the Alliance.[1] |
| Running out of time | Link▶️I must choose quickly! |
| Thinking [1] | Link▶️Hmmm... |
| Thinking [2] | Link▶️I wonder... |
| Thinking [3] | Link▶️I must consider... |
| Almost out of cards | Link▶️I'm almost out of cards! |
| Out of cards | Link▶️I'm out of cards! |
| Error: Need a weapon | Link▶️I need a weapon. |
| Error: Not enough mana | Link▶️I don't have enough Mana. |
| Error: Minion exhausted | Link▶️That minion already attacked. |
| Error: Hero already attacked | Link▶️I already attacked. |
| Error: Minion not ready | Link▶️Give that minion a turn to get ready. |
| Error: Hand already full | Link▶️My hand is too full! |
| Error: Too many minions | Link▶️I have too many minions. |
| Error: Can't target Stealthed minion | Link▶️I can't target Stealthed minions. |
| Error: Can't play that card | Link▶️I can't play that. |
| Error: Not a valid target | Link▶️That's not a valid target. |
| Error: Must attack Taunt minion | Link▶️A minion with Taunt is in the way. |
| Error: Generic | Link▶️I can't do that. |
| Selection in Choose Your Hero | Link▶️I don't always play nice, but… usually.[1] |
| Emote: Greetings [Lunar New Year] | Link▶️Happy New Year! |
| Start [Mirror] | Link▶️You're not alone![1] |
| Emote: Greetings [Holidays] | Link▶️Happy Feast of Winter Veil! |
| Emote: Wow | Link▶️Wow. Really, wow.[1] |
| Emote: Greetings [Happy New Year] | Link▶️Happy New Year! |
| Emote: Greetings [Fire Festival] | Link▶️Looking forward to the firework! |
| Special: Greetings [disabled by Shut up, Priest] | Link▶️Mmpphh! |
| Special: Oops [disabled by Shut up, Priest] | Link▶️Mmpphh? |
| Special: Thanks [disabled by Shut up, Priest] | Link▶️Mmphmm. |
| Special: Threaten [disabled by Shut up, Priest] | Link▶️Mmpphhhhhh…!! |
| Special: Well Played [disabled by Shut up, Priest] | Link▶️Mmpphh… |
| Unused: Greetings [Pirate Day] | Link▶️Yarhahahar, let's join the Dread Crew. |
| Emote: Greetings [Happy Halloween] | Link▶️Happy Hallow's End! |
| Unused: Greetings [Happy Noblegarden] | Link▶️Happy Noblegarden! |
| Emote: Greetings [Mirror] | Link▶️Hey, that isn't the code greeting![1] |
Trivia
[
]
Patch changes
[
]
References
[
]