SI:7 Anduin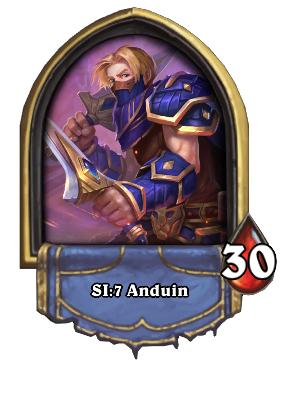 For other appearances of Anduin Wrynn, see Anduin Wrynn (disambiguation).
SI:7 Anduin is an alternate hero for the

Priest class in Hearthstone: Heroes of Warcraft.
SI:7 Anduin is unavailable to new players. It's unknown if he will become available again.
SI:7 Anduin could be purchased through SI:7 Anduin Bundle, which also contained 5 Priest packs and was available from February 2 to February 9, 2021.
| USD | EUR | GBP | AUD |
| --- | --- | --- | --- |
| $9.99 | €9.99 | £7.70 | $13.66 |
When viewed in the collection, SI:7 Anduin has the following flavor text:
If you're going to be a spy for a day, you could do no better than joining His Majesty's secret service. Obtained by purchasing the SI:7 Anduin Bundle.
SI:7 Anduin uses some of the same quotes as Anduin Wrynn. Only different emotes are listed.
| Type | Emote |
| --- | --- |
| Thanks | My thanks to you. |
| Well played | You fight well! |
| Greetings | Hello there. |
| Mirror Greetings | Hey, that isn't the code greeting! |
| Wow | Wow. Really, wow. |
| Oops | How'd that happen? |
| Threaten | Don't push me too far. |
| Attack | For Stormwind! |
| Opening remark | I will protect the Alliance. |
| Mirror start | You're not alone! |
| Selection in Arena | I don't always play nice, but... usually. |