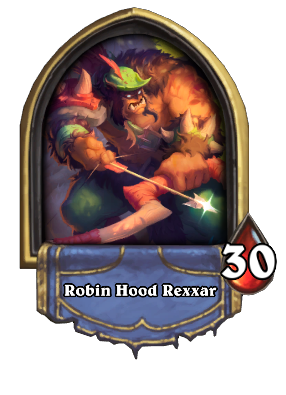 For other representations of Rexxar, see Rexxar (disambiguation).
Robin Hood Rexxar is an alternate hero for the

Hunter class.
How to get
[
]
Robin Hood Rexxar can be purchased through ??? Bundle, which also contains Frog Prince Thrall, Pirate King Garrosh, Prince Charming Anduin, and Red Riding Hood Jaina and lasts from ... to ...<ref>.
Functionality
[
]
Once unlocked and selected for use, Robin Hood Rexxar replaces Rexxar whenever the player uses a Hunter deck, as well as:
Comes with own portrait
Has custom emotes
For more information, see Alternate heroes.
Flavor text
[
]
When viewed in the Collection, Robin Hood Rexxar has the following flavor text:
Sounds
[
]
Each hero has their own selection of audio and written emotes that are produced in response to specific events. For more information, see Emote.
Most of Robin Hood Rexxar's sounds are the same as Rexxar. Unique, different ones are noted as Unique in References section.
Patch changes
[
]
References
[
]