Robe of the Magi
Regular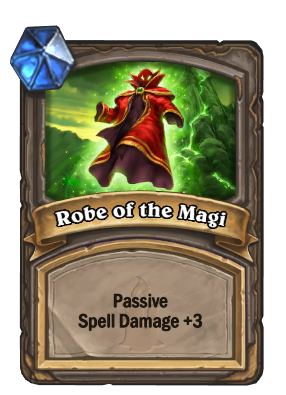 Gold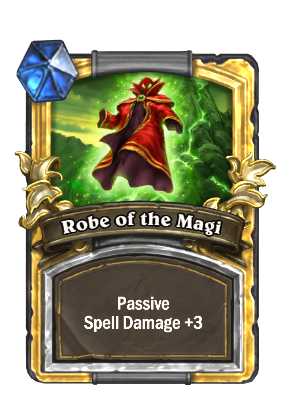 PassiveSpell Damage +3
External links
You may be looking for Robe of the Apprentice, a treasure card in Solo Adventures with similar effects.
Robe of the Magi is an uncollectible neutral spell card. It is also an ultra rare pool 2 passive treasure in Duels.
How to get
[
]
Robe of the Magi can be drafted and added to a Duels deck after round 3. However, being an ultra rare treasure, it has only 1% chance to be offered.
Robe of the Magi is uncollectible and unavailable in any other game modes.
Solo Adventures
[
]
Robe of the Magi can be drafted as a passive treasure in the following adventures:
Trivia
[
]
Gallery
[
]
Patch changes
[
]