Fire Emblem Warriors: Three Hopes - The Loop
Play Sound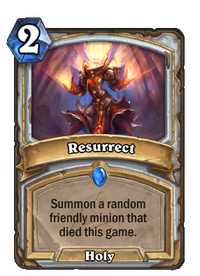 Resurrection effects are effects that summon copies of minions that have died that game.
Such effects typically phrase themselves as re-summoning or resurrecting the minion that died, but the effect is in fact achieved by summoning a separate copy of the minion.
Notes
[
]
There are two main types of resurrection effects: those that summon a specific minion when it dies (
Ancestral Spirit,
Redemption), and those that summon one or more minions at least partly randomly from those that have died that game (
Resurrect,
N'Zoth, the Corruptor).
Kel'Thuzad is an exception, largely matching the second group but with its targets and summoning order based on order of death.
General
[
]
The copies summoned are summoned in their base state, at full Health and without any enchantments the original minions had when they died.
Random target
[
]
Strategy
[
]
Resurrection effects are effective in decks with powerful, high-value minions, as well as those with undesirable Battlecries, such as
Injured Blademaster. Random target resurrection effects are especially effective in combination with
Barnes and to a lesser extent
Herald Volazj, which summon 1/1 copies of other minions: once the 1/1 minion is destroyed a copy can be 'resurrected' with full stats. In combination with resurrection effects Barnes also allows players to bring full-stat copies of high-cost minions into play far earlier than normally possible.
Cards
[
]
Collectible
Swipe left or right to see the cards.
Uncollectible
Swipe left or right to see the cards.
References
[
]