Replace is an ability which replaces a card or Hero Power with another, without destroying, discarding or removing the original card in the process. Replace effects may affect the hand, deck, Hero Powers and possibly battlefield, and can affect any number of cards at once.
Replace is the non-battlefield equivalent of transform (most of the time).
Cards
[
]
Collectible
[
]
Uncollectible
[
]
Name

/ Desc

Rarity
Type
Subtype
Class
Cost
Atk
HP
Description
Secret Passage
Epic
Spell
General
Rogue
1
Replace your hand with 4 cards from your deck. Swap back next turn.
Shadow Council
Epic
Spell
Fel
Warlock
1
Replace your hand with random Demons. Give them +2/+2.
Shenanigans
Rare
Spell
General
Rogue
2
Secret: When your opponent draws their second card in a turn, they draw a Banana instead.
Deck of Lunacy
Legendary
Spell
General
Mage
4
Transform spells in your deck into ones that cost (3) more. (They keep their original Cost.)
Showing all 4 cards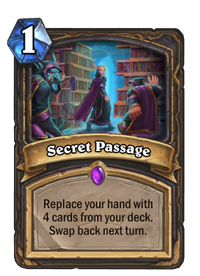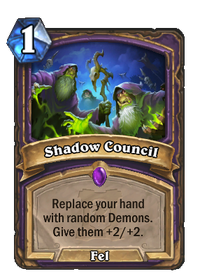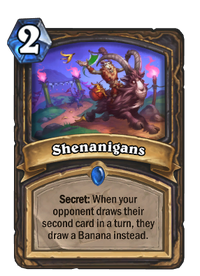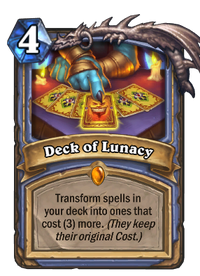 Wild format
This section concerns content exclusive to Wild format.
Name

/ Desc

Rarity
Type
Subtype
Class
Cost
Atk
HP
Description
Explore Un'Goro
Epic
Spell
General
Warrior
2
Replace your deck with copies of "Discover a card."
Renounce Darkness
Epic
Spell
Holy
Warlock
2
Replace your Hero Power and Warlock cards with another class's. The cards cost (1) less.
Transmogrifier
Epic
Minion
General
Any
2
2
3
Whenever you draw a card, transform it into a random Legendary minion.
Wyrmrest Purifier
Epic
Minion
General
Any
2
3
2
Battlecry: Transform all Neutral cards in your deck into random cards from your class.
Gnomish Experimenter
Rare
Minion
General
Any
3
3
2
Battlecry: Draw a card. If it's a minion, transform it into a Chicken.
Golden Kobold
Minion
General
Any
3
6
6
Taunt
Battlecry: Replace your hand with Legendary minions.
Golden Monkey
Minion
General
Any
4
6
6
Taunt
Battlecry: Replace your hand and deck with Legendary minions.
Lilian Voss
Legendary
Minion
General
Rogue
4
4
5
Battlecry: Replace spells in your hand with random spells (from your opponent's class).
Prince Liam
Legendary
Minion
General
Paladin
5
5
5
Battlecry: Transform all your 1-Cost cards in your deck into Legendary minions.
Arch-Villain Rafaam
Legendary
Minion
General
Warlock
7
7
8
Taunt
Battlecry: Replace your hand and deck with Legendary minions.
Azalina Soulthief
Legendary
Minion
General
Any
7
3
3
Battlecry: Replace your hand with a copy of your opponent's.
Archivist Elysiana
Legendary
Minion
General
Any
8
7
7
Battlecry: Discover 5 cards. Replace your deck with 2 copies of each.
Majordomo Executus
Legendary
Minion
General
Any
9
9
7
Deathrattle: Replace your hero with Ragnaros, the Firelord.
Showing all 13 cards