Remote-Controlled Golem
65693 • SW_097
After this takes damage, shuffle two Golem Parts into your deck. When drawn,   summon a 2/1 Mech.
Flavor text
Someone got a little too excited inventing a can opener.
Keywords
TRIGGER_VISUAL
Boolean tags
COLLECTIBLE
Wiki tags
Generate, Shuffle into deck
Wiki referenced tags
Casts When Drawn-generating, Triggered effect
External links
Remote-Controlled Golem is an epic warrior minion card, from the United in Stormwind set.
How to get
[
]
Remote-Controlled Golem can be obtained by:
Generated cards
[
]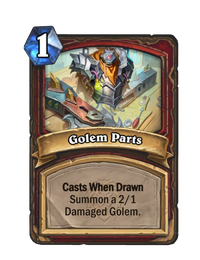 Summoned minions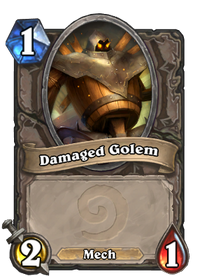 Strategy
[
]
Remote-Controlled Golem requires to take multiple low damage instances to make use of its effect. It needs cards that damage its own minions such as Risky Skipper, Cruel Taskmaster, Whirlwind to shuffle as many of its cards into the deck.
A Bladestorm can shuffle 12 of these into the deck.
Since it is a Mech, attaching Magnetic minions on it may be good as it provides more health to shuffle more of those into the deck.
As for the summoned minions, the 2/1 can be easily removed by anything although it doesn't cost mana to summon them. But it can contradict with itself especially when the player has the aformentioned cards to shuffle those parts into the deck. However since those 2/1s are also Mech, just having them on the board are potential candidates for Magnetic for big buffs. Animated Broomstick can make use of all the 2/1s summoned from Deck.
In Arena, these 2/1s can be dangerous as the chances to have a board clear is very low.
Sounds
[
]
Summon
Attack
Death
Trivia
[
]
Gallery
[
]
Patch changes
[
]
References
[
]