Reinforce
Regular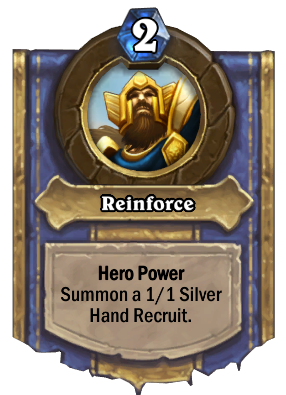 Gold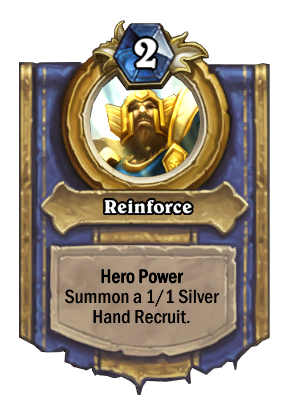 Hero Power
Summon a 1/1 Silver Hand Recruit.
External links
Reinforce is the paladin's basic Hero Power.
Other versions
Summoned minions
Notes
Strategy
This ability effectively provides paladins with an endless supply of 1/1 Recruits. This can offer paladins additional advantage from effects that increase the stats of multiple minions, such as Raid Leader and Stormwind Champion. They also provide an ever-present target for buffs such as Blessing of Might and Blessing of Kings.
Quartermaster is specifically able to buff Recruits with its Battlecry. Silver Hand Recruits can also be summoned through Lost in the Jungle, Muster for Battle, Stand Against Darkness, Silver Hand Regent, Air Raid and Vinecleaver.
Against other Hero Powers
Reinforce is the only starting Hero Power that allows a consistent build-up of sources of repeatable damage: most powers require re-use to have any effect, Totemic Call is random and can summon only a single Totem often with 0 Attack, and Life Tap is dependent on cards drawn. This means that if left un-countered for several turns, a paladin's Silver Hand Recruits may be able to do significant damage to the opponent, even if an opponent later starts using their own "deal 1 damage" power to try to cut down on the number of 1/1s hitting them.
Hero Powers can be compared "one on one" assuming a clear board state and no other cards involved. However, as stated above any build-up of Silver Hand Recruits beforehand can be a threat even if an opponent's power is theoretically "break even" or better one-on-one. In any case, this is mostly academic since Hero Powers are rarely used in a vacuum, and cards drawn and played tend to have a much larger effect on the game than any player's power.
Trivia
Gallery