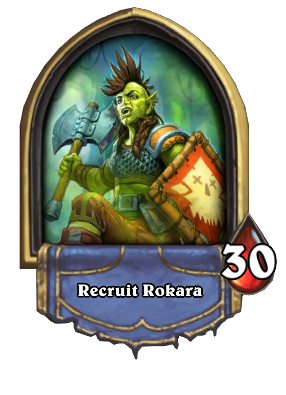 For other representations of Rokara, see Rokara (disambiguation).
Recruit Rokara is an alternate hero for the

Warrior class.
Background
[
]
This is one of Rokara's appearances.
How to get
[
]
Recruit Rokara is obtained by purchasing the Tavern Pass and reaching level 40 in the Forged in the Barrens' Rewards Track.
Functionality
[
]
Once unlocked and selected for use, Recruit Rokara replaces Garrosh Hellscream whenever playing with a Warrior deck, as well as:
Comes with her own portrait
Has custom emotes
For more information, see Alternate heroes.
Flavor text
[
]
When viewed in the Collection, Recruit Rokara has the following flavor text:
After training in the Barrens, Rokara's discovered that a hero's journey can take you anywhere—even into the weeds.
Earnable after purchasing the Tavern Pass.
Sounds
[
]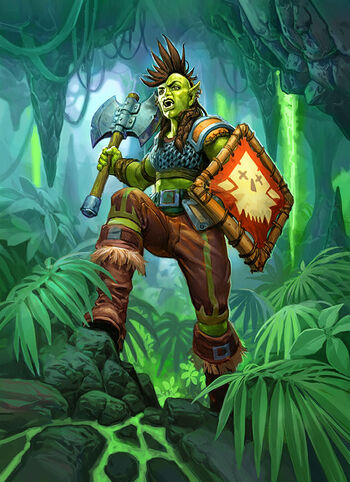 Each hero has their own selection of audio and written emotes that are produced in response to specific events. For more information, see Emote.
Most of Recruit Rokara's sounds are the same as Young Rokara. Unique, different ones are noted as Unique in References section.
| Type | Transcript |
| --- | --- |
| Trigger: Brawl | Link▶️Fight! Fight! Fight! Fight! |
| Trigger: Conditioning(Rank 1, 2, 3) | Link▶️I'm gonna be the best! |
| Trigger: Execute | Link▶️Finish you off! |
| Trigger: Gorehowl | Link▶️Aww, yeah! |
| Trigger: Rancor | Link▶️That's it! |
| Trigger: Shield Slam | Link▶️Bong! |
| Trigger: War Cache | Link▶️All right! Loot! |
| Attack [1] | Link▶️The strong survive![1] |
| Death [1] | Link▶️<Death> |
| Emote: Greetings | Link▶️I am Rokara of the Frostwolf clan.[1] |
| Emote: Well Played | Link▶️Run with the pack.[1] |
| Emote: Oops | Link▶️That wasn't on purpose.[1] |
| Emote: Threaten | Link▶️I'll teach you what "vanquished" means.[1] |
| Emote: Thanks | Link▶️I owe you much.[1] |
| Unused: Sorry | Link▶️Sorry! |
| Concede | Link▶️Impossible! |
| Start | Link▶️I'll fight anywhere![1] |
| Running out of time | Link▶️I have to go faster. |
| Thinking [1] | Link▶️Let's see… |
| Thinking [2] | Link▶️Hm. |
| Thinking [3] | Link▶️There must be a way. |
| Almost out of cards | Link▶️My back's against the wall. |
| Out of cards | Link▶️My deck is gone. It's now or never. |
| Error: Need a weapon | Link▶️Gotta get a weapon. |
| Error: Not enough mana | Link▶️I need more mana. |
| Error: Minion exhausted | Link▶️That minion is exhausted. |
| Error: Hero already attacked | Link▶️I already attacked! |
| Error: Minion not ready | Link▶️Give that minion a turn to get ready. |
| Error: Hand already full | Link▶️My hand is stuffed! |
| Error: Too many minions | Link▶️There's no room left for more minions. |
| Error: Can't target Stealthed minion | Link▶️Cursed minion. Show yourself! |
| Error: Can't play that card | Link▶️I can't play that! |
| Error: Not a valid target | Link▶️I can't target that. |
| Error: Must attack Taunt minion | Link▶️There's a minion with Taunt that needs slaying. |
| Error: Generic | Link▶️That won't work. |
| Selection in Choose Your Hero | Link▶️We must restore life to the lands of the Horde.[1] |
| Emote: Greetings [Lunar New Year] | Link▶️Happy New Year! |
| Start [Mirror] | Link▶️And anytime.[1] |
| Emote: Greetings [Holidays] | Link▶️Happy feast of Winterveil! |
| Emote: Wow | Link▶️That's SO incredible![1] |
| Emote: Greetings [Happy New Year] | Link▶️Happy New Year! |
| Emote: Greetings [Fire Festival] | Link▶️Enjoy the Fire Festival! |
| Unused: Greetings [Pirate Day] | Link▶️Yo ho! I've got swashes to buckle and hatches to batten.. |
| Emote: Greetings [Happy Halloween] | Link▶️Happy Hallow's End! Guff ate all my candy. |
| Unused: Greetings [Happy Noblegarden] | Link▶️Noblegarden? I used to hunt rabbits back in Alterac Valley. |
| Emote: Greetings [Mirror] | Link▶️I know, silly.[1] |
| Upcoming | Let me show you what I've learned. |
| Upcoming | Don't hold back, Guff. |
| Upcoming | The Frostwolf clan will not back down. |
Patch changes
[
]
References
[
]