Ratcatcher Hannigul
Regular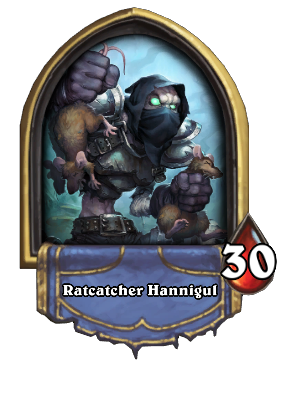 Gold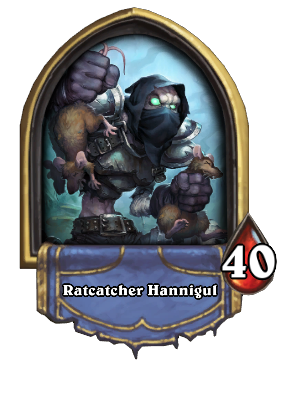 Flavor text
Rats aren't always the most loyal pets.
External links
Ratcatcher Hannigul is a boss that can be encountered during the Monster Hunt.
Hero power
[
]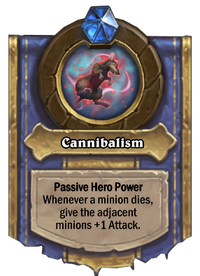 Passive
Special cards
[
]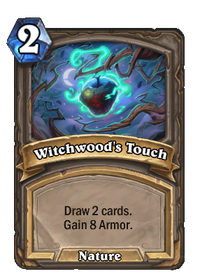 Deck
[
]
The below classes are listed purely for reference, and have no effect on the boss' use of the cards during the battle.
Strategy
[
]
Darius Crowley
[
]
Use your cannon to kill his low cost minions. Don't let him build a board.
Houndmaster Shaw
[
]
By using your hero power, you may allow your minions to use his hero power to the fullest.
Toki, Time-Tinker
[
]
With Toki, you need to turn his hero power against him. Build up your board full of minions, and make sure he won't benefit from any effect.
Tess Greymane
[
]
Kill his minions as soon as they are dropped, make sure his hero power is rendered useless.
Dialogue
[
]
Before match
Hagatha the Witch

Hannigul once rid the town of vermin. Like you.
Introduction
Ratcatcher Hannigul

Caught you! I always did have a good nose for catching rats.
Emote Response
Ratcatcher Hannigul

Not another squeak out of you!
Player's cards
Ratcatcher Hannigul

Dirty Rat / Rat Pack / Sewer Crawler

Careful, those nibbles aren't love bites.
Such simple little creatures. Just like you.
They make fine pets, don't they? Even better in a stew.

Rat Trap

A box? A stick? You lack subtlety!
Death
Ratcatcher Hannigul

(gasps)
Defeat
Ratcatcher Hannigul

Life is nothing but a rat race.
Lore
[
]
Ratcatcher Hannigul is unique to Hearthstone.
Gallery
[
]
Patch changes
[
]
Monster Hunt
Heroes
Level 1
Level 2
Level 3
Level 4
Level 5
Level 6
Level 7
Level 8




Final Challenge