Rapid Fire
Rapid Fire
Twinspell Deal 1 damage.
Pew! Pew!
Rapid Fire is a common hunter spell card, from the Rise of Shadows set.
Rapid Fire can be obtained through Rise of Shadows card packs, or through crafting.
| Card | Crafting cost | Disenchanting |
| --- | --- | --- |
| Rapid Fire | 40 | 5 |
| Golden Rapid Fire | 400 | 50 |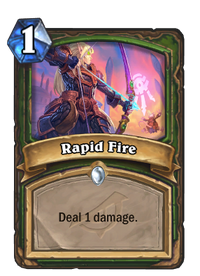 While at first glance this may appear to be weaker than Arcane Shot, its Twinspell effect gives it a great amount of utility and value over time. Dealing two separate instances of damage give this card better synergy with Spell Damage effects such as Thori'dal, the Stars' Fury (generated by Vereesa Windrunner), which will let you deal 3 damage twice with one card for only 2 Mana.
Rapid Fire was a Marksmanship hunter ability which increased the hunter's haste by 40% for 15 seconds. It was removed in Legion.