Rakanishu
Regular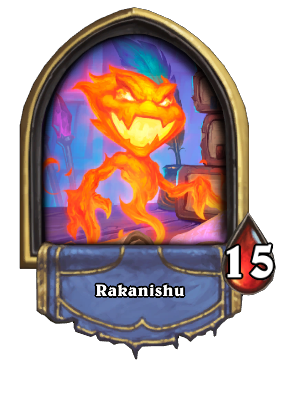 Flavor text
The mischievous fire elemental from Togwaggle's lantern.
External links
For other representations of Rakanishu, see Rakanishu (disambiguation).
Rakanishu is a hero that the player can pick in The Dalaran Heist. He represents the Mage class.
Hero Powers
[
]
| Available at start | Unlock: Summon 25 Elementals | Unlock: Freeze 25 Minions |
| --- | --- | --- |
| | | |
Starting cards
[
]
Card Bundles
[
]
Strategy
[
]
Representing the Mage class, Rakanishu has the most synergy with spells and Freeze out of any hero in The Dalaran Heist. His card pool supports plenty of Mage playstyles like Elementals, Freeze, big spells, spell generation and random minion summoning. His alternate Hero Powers include Burning Wit, which can allow him to play more expensive cards sooner, and Frostburn, which functions like Ice Lance and gives you a chance to stall high-priority enemies.
Rakanishu also has plenty of Hero Power support cards, such as Garrison Commander, Spirit of the Dragonhawk, Daring Fire-Eater, Jan'alai, the Dragonhawk and various Inspire cards. Most of the Hero Power support cards released in the Rastakhan's Rumble set were made for Fireblast (but they also work with Frostburn), so they are unable to take any effect with Burning Wit. However, it can still trigger Inspire and is very effective when used multiple times such as with Garrison Commander and Auctionmaster Beardo. The Stargazing treasure is very effective when paired with Burning Wit, since you can get a 0-mana cost reduction Hero Power that can be used twice per turn. This combination can be further exploited with Coldarra Drake, which allows Burning Wit to have unlimited uses on each turn, easily winning you the game.
Emotes
[
]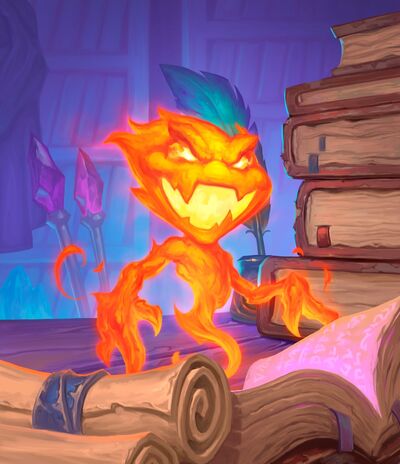 | Type | Emote |
| --- | --- |
| Selected | I'm whatcha call a "Criminal Element". |
| Thanks | Thank you, future crime-spree victim. |
| Well Played | Hot! |
| Greetings | Hello pitiful mortal! |
| Wow | Whoooa - explosive! |
| Oops | It burns! |
| Threaten | I came here for arson, but I'll settle for assault |
| Sorry | Yeah, sorry about that. |
| Attack | Rakanishu! |
| Concede | ...back to the lamp! |
| Opening remark | Give up your treasures! |
| Thinking [1] | Let's be bad guys... |
| Thinking [2] | Maximum chaos... |
| Thinking [3] | Mayhem...? Arson? Hm. |
| Almost out of time | Faster. Faster! |
| Almost out of cards | Low on fuel... |
| Out of cards | I'm outta gas! |
| Error: Too many minions | There ain't no room |
| Error: Too many minions (Streets of Dalaran) | These streets are too narrow! |
| Error: Generic | Can't do it! |
| Error: Hand already full | My hand is too full! It burns! |
| Error: Hero already attacked | I already attacked! |
| Error: Minion not ready | Give that one a moment to get ready. |
| Error: Minion exhausted | That one already attacked. |
| Error: Not enough mana | I need mana! |
| Error: Need a weapon | I need a weapon. |
| Error: Can't play that card | I can't play that. |
| Error: Can't target stealthed minions | That one has stealth. |
| Error: Not a valid target | I need a target! |
| Error: Must attack taunt minion | Grr! There's one that's taunting me! |
| Forgotten Torch is played | Some of my best friends are torches. |
| Fireball is played | Time to turn up the heat! |
| Tidal Surge is played | Whoa! - You trying to put me out? |
| Blizzard is played | This is way too cold for me! |
| Meteor is played | Now that's a fireball you can look up to. |
Patch changes
[
]
The Dalaran Heist
Heroes
Chapter 1: Dalaran Bank

| | |
| --- | --- |
| Level 1 | |
| Level 2 | |
| Level 3 | |
| Level 4 | |
| Level 5 | |
| Level 6 | |
| Level 7 | |
| Level 8 | |

Chapter 2: The Violet Hold

| | |
| --- | --- |
| Level 1 | |
| Level 2 | |
| Level 3 | |
| Level 4 | |
| Level 5 | |
| Level 6 | |
| Level 7 | |
| Level 8 | |

Chapter 3: Streets of Dalaran

| | |
| --- | --- |
| Level 1 | |
| Level 2 | |
| Level 3 | |
| Level 4 | |
| Level 5 | |
| Level 6 | |
| Level 7 | |
| Level 8 | |

Chapter 4: The Underbelly

| | |
| --- | --- |
| Level 1 | |
| Level 2 | |
| Level 3 | |
| Level 4 | |
| Level 5 | |
| Level 6 | |
| Level 7 | |
| Level 8 | |

Chapter 5: Kirin Tor Citadel

| | |
| --- | --- |
| Level 1 | |
| Level 2 | |
| Level 3 | |
| Level 4 | |
| Level 5 | |
| Level 6 | |
| Level 7 | |
| Level 8 | |
| Level 9 | |
| Level 10 | |
| Level 11 | |
| Level 12 | |

Tavern