Raise a Floppa - The Loop
Play Sound
For other representations of Ragnaros, see Ragnaros (disambiguation).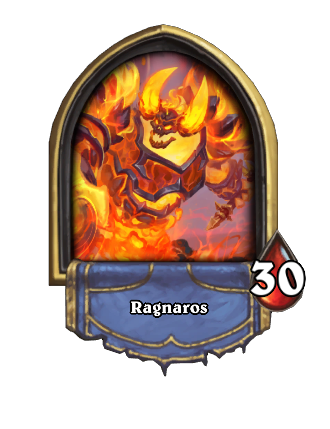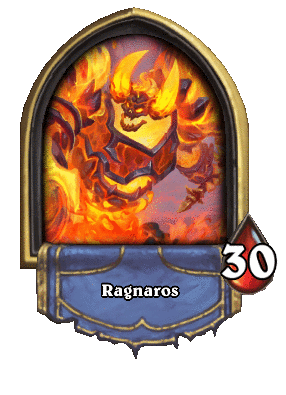 Ragnaros is a hero skin for the shaman class.
Lore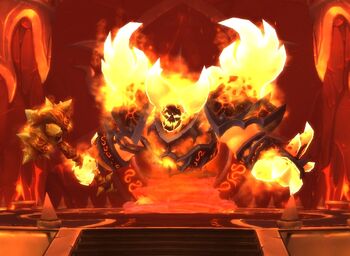 "THIS WORLD AND ALL THAT YOU HOLD DEAR EXIST ONLY TO BURN!"
One of the four Elemental Lords, Ragnaros the Firelord is one of the most powerful forces on Azeroth.

This section uses content from Wowpedia.
Ragnaros The Firelord and his brethren once held sway over the entire world. As a servant of the Old Gods, he fought against the Titans for domination over the planet. The victorious Titans banished him and his brethren to the Elemental Plane — there to remain imprisoned until the end of time. It was then and there that the brothers turned on each other. For five millennia a battle was fought at the core of this world. It was during the Elemental Sundering that Ragnaros attacked Thunderaan, Prince of Air. Thunderaan was utterly defeated and the Firelord feasted upon his essence, but was unable to consume him entirely. Ragnaros divided what remained between his servants,

Baron Geddon

and Garr.
In the center of a vast lake of fire in the Elemental Plane stands Sulfuron Keep, the home of Ragnaros. Until comparatively recently, he ruled his underground land with a molten iron fist.
How to get
Ragnaros is currently unavailable for obtaining.
Previous availability
Functionality
Main article: Alternate heroes
Once unlocked and selected for use, Ragnaros replaces Thrall whenever the player uses a Shaman deck, as well as:
Comes with own portrait
Has custom emotes
Has custom tray
Flavor text
When viewed in the Collection, Ragnaros has the following flavor text:
The supremely powerful Firelord has a love of combustion that is only rivaled by his love of yelling.
Sounds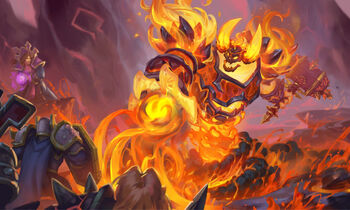 Type
Transcript
Trigger:

Molten Blast

Link▶️THIS ENDS NOW!
Trigger:

Lava Shock

Link▶️THE FLAMES CONSUME YOU!
Trigger:

Lava Burst

Link▶️BE BATHED IN FLAME!
Trigger:

Volcano

Link▶️ENOUGH! I WILL FINISH THIS!
Trigger:

Voltaic Burst

Link▶️COME FORTH, MY SERVANTS!
Trigger:

Bloodlust

Link▶️YOUR JUDGMENT HAS COME!
Trigger:

Earthquake

Link▶️YOU WILL BE CRUSHED!
Trigger:

Tidal Wave

Link▶️WHAT IS THIS WATER DOING HERE?!
Trigger:

Torrent

Link▶️WAIT… HOW AM I USING THIS?!
Attack [1]
Link▶️BY FIRE BE PURGED!
Death [1]
Link▶️
Concede
Link▶️YOU HAVE ONLY DELAYED THE INEVITABLE.
Error: Too many minions
Link▶️MY BOARD ALREADY TEEMS WITH MINIONS!
Error: Generic
Link▶️NO.
Error: Hand already full
Link▶️MY HAND IS TOO FULL.
Error: Hero already attacked
Link▶️I CANNOT ATTACK YET.
Error: Minion exhausted
Link▶️THAT ONE MUST WAIT.
Error: Not enough mana
Link▶️NOT ENOUGH MANA.
Error: Need a weapon
Link▶️I NEED A WEAPON.
Error: Can't play that card
Link▶️IMPOSSIBLE.
Error: Can't target Stealthed minion
Link▶️THAT INSECT IS IN STEALTH.
Error: Minion not ready
Link▶️THAT INSECT IS NOT READY.
Error: Not a valid target
Link▶️I CANNOT TARGET THAT.
Error: Must attack Taunt minion
Link▶️ANOTHER INSECT TAUNTS ME.
Emote: Greetings [Fire Festival]
Link▶️THE HOUR OF THE FIRELORD HAS COME! BOW BEFORE MY FIRE FESTIVAL!
Emote: Greetings
Link▶️THE FIRELORD CALLS!
Emote: Greetings [Happy Halloween]
Link▶️WHO SHALL DRESS AS THE FIRELORD THIS HALLOW'S EVE?!
Emote: Greetings [Holidays]
Link▶️MAY YOUR LIGHTS BURN BRIGHTLY THIS WINTER VEIL!
Emote: Greetings [Happy New Year]
Link▶️HAPPY NEW YEAR!
Emote: Greetings [Lunar New Year]
Link▶️HAPPY NEW YEAR!
Unused: Greetings [Happy Noblegarden]
Link▶️WHY PAY TRIBUTE TO NOBLEGARDEN INSTEAD OF THE ELEMENTS?
Almost out of cards
Link▶️I AM LOW ON CARDS.
Emote: Greetings [Mirror]
Link▶️WHO IS HE CALLING…?
Start [Mirror]
Link▶️NONE CAN DIM THE LIVING FLAME!
Out of cards
Link▶️OUT OF CARDS!
Emote: Oops
Link▶️A MISTAKE?!
Unused: Greetings [Pirate Day]
Link▶️Bet you didn't expect Cap'n RagnARRos at yer service, bucko!
Selection in Choose Your Hero
Link▶️TOO SOON! YOU HAVE AWAKENED ME TOO SOON!
Unused: Sorry
Link▶️MY BEHAVIOR WAS… PATHETIC.
Start
Link▶️BY FIRE BE PURGED!
Emote: Thanks
Link▶️THANK YOU, MORTAL.
Thinking
Link▶️Hm...
Thinking
Link▶️Char or scorch?
Thinking
Link▶️Flames… on the side of my face…
Emote: Threaten
Link▶️NOW FOR YOU…
Running out of time
Link▶️TIME BURNS AWAY!
Emote: Wow
Link▶️BEHOLD THE SCORCHING BRILLIANCE!
Emote: Well Played
Link▶️THAT WAS… WELL DONE.
Start [Thrall]
Link▶️YOU CALLED... AND THE FIRELORD HAS ANSWERED!
Start [Malfurion]
Link▶️ALL THAT YOU HOLD DEAR EXISTS ONLY TO BURN!
Patch changes
References
[
]