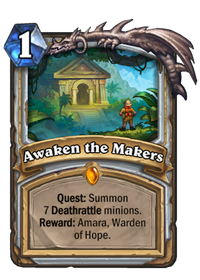 Quest cards are a card type introduced to Hearthstone: Heroes of Warcraft with the Journey to Un'Goro expansion.
Quest cards are Legendary, so players can only have one in their deck, and they'll always appear in their opening hand. Each Quest will have prerequisites listed on it — should players complete them, they'll be granted rewards.
Quests show up on the Hero Portrait once played.
Note: Cards will be added to this list as they are revealed.
Patch changes
Edit