Roblox: DeepWoken - The Loop
Play Sound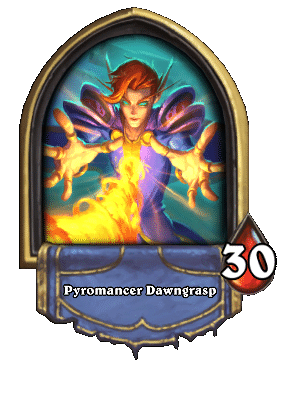 Pyromancer Dawngrasp is an alternate hero for the mage class.
How to get
Pyromancer Dawngrasp is currently available for obtaining.
Auto-detected sources

| Type | Source | Premium | Q. |
| --- | --- | --- | --- |
| Paid Track | Fractured in Alterac Valley Paid Track, level 100 | Regular | 1 |
Functionality
Main article: Alternate heroes
Once unlocked and selected for use, Pyromancer Dawngrasp replaces Jaina Proudmoore whenever the player uses a Mage deck, as well as:
Comes with own portrait
Has custom emotes
Flavor text
When viewed in the Collection, Pyromancer Dawngrasp has the following flavor text:
After escaping the Stockade, Dawngrasp was fired up to fight for Azeroth. Earnable after purchasing the Tavern Pass.
Sounds
| Type | Transcript |
| --- | --- |
| Trigger: Arcane Intellect | Link▶️I have an idea! |
| Trigger: Flurry (Rank 1) | Link▶️Conjured cold! |
| Trigger: Pyroblast | Link▶️Big blast of fire! |
| Trigger: Rune of the Archmage | Link▶️Fire, Frost, and the Arcane! |
| Trigger: Shattering Blast | Link▶️Here's an ice breaker. |
| Attack [1] | Link▶️<Attack exertion> |
| Death [1] | Link▶️<Death> |
| Emote: Greetings | Link▶️Most people call me Dawngrasp. |
| Emote: Well Played | Link▶️You're on fire. |
| Emote: Oops | Link▶️Oof, careful! |
| Emote: Threaten | Link▶️Cross me and I'll blast you. |
| Emote: Thanks | Link▶️Oh, thank you! |
| Unused: Sorry | Link▶️Do not be hard on yourself. |
| Concede | Link▶️I need more study. |
| Start | Link▶️Ready to get scorched? |
| Running out of time | Link▶️The sun sets. |
| Thinking [1] | Link▶️Hm... |
| Thinking [2] | Link▶️Hmm... |
| Thinking [3] | Link▶️If my calculations are correct... |
| Almost out of cards | Link▶️I'm running out of cards! |
| Out of cards | Link▶️I'm out of cards! |
| Error: Need a weapon | Link▶️I need a weapon. |
| Error: Not enough mana | Link▶️Not enough mana. |
| Error: Minion exhausted | Link▶️That minion already attacked. |
| Error: Hero already attacked | Link▶️I already attacked. |
| Error: Minion not ready | Link▶️That minion needs a turn to get ready. |
| Error: Hand already full | Link▶️An embarrassment of riches. |
| Error: Can't target Stealthed minion | Link▶️That minion has Stealth. |
| Error: Can't play that card | Link▶️I can't play that. |
| Error: Not a valid target | Link▶️That target is invalid. |
| Error: Must attack Taunt minion | Link▶️A minion with Taunt is in the way. |
| Error: Generic | Link▶️Quit breaking the rules! |
| Selection in Choose Your Hero | Link▶️I am infused with mystic fire! |
| Emote: Greetings [Lunar New Year] | Link▶️Happy New Year! |
| Start [Mirror] | Link▶️Didn't the prince teach you not to toy with fire? |
| Emote: Greetings [Holidays] | Link▶️Happy Holidays! |
| Emote: Wow | Link▶️What a sight! |
| Emote: Greetings [Happy New Year] | Link▶️Happy New Year! |
| Emote: Greetings [Fire Festival] | Link▶️The Fire Festival! I'm quite good at pyrotechnics. |
| Unused: Greetings [Pirate Day] | Link▶️Avast ye cutlass clangin' corsairs! |
| Emote: Greetings [Happy Halloween] | Link▶️Happy Hallow's End! |
| Unused: Greetings [Happy Noblegarden] | Link▶️Happy Noblegarden! |
| Emote: Greetings [Mirror] | Link▶️What's wrong with Varden? |
| Error: Too many minions | Link▶️No room! |
Patch changes