Raise a Floppa - The Loop
Play Sound
For other appearances of Anduin, see Anduin Wrynn (disambiguation).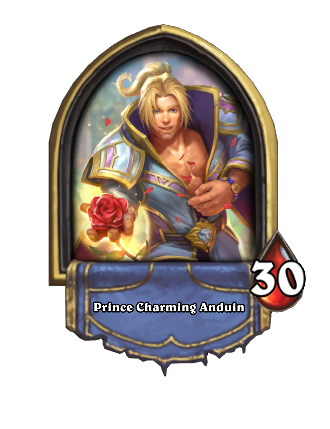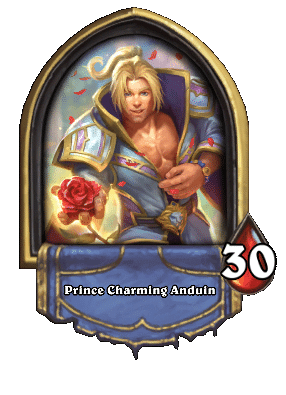 Prince Charming Anduin is a hero skin for the priest class.
How to get
Prince Charming Anduin is currently unavailable for obtaining.
Previous availability
Functionality
Main article: Alternate heroes
Once unlocked and selected for use, Prince Charming Anduin replaces Anduin Wrynn whenever the player uses a Priest deck, as well as:
Comes with own portrait
Has custom emotes
Flavor text
When viewed in the Collection, Prince Charming Anduin has the following flavor text:
Proof that you don't need to be a knight to wear shining armor. Obtained by purchasing the Fairy Tales bundle.
Sounds
| Type | Transcript |
| --- | --- |
| Attack [1] | Link▶️Evildoers, begone! |
| Death [1] | Link▶️ |
| Concede | Link▶️You have bested me. |
| Error: Too many minions | Link▶️I have too many minions. |
| Error: Generic | Link▶️I can't do that. |
| Error: Hand already full | Link▶️My hand is too full! |
| Error: Hero already attacked | Link▶️I already attacked. |
| Error: Minion not ready | Link▶️Give that minion a turn to get ready. |
| Error: Minion exhausted | Link▶️That minion already attacked. |
| Error: Not enough mana | Link▶️I don't have enough Mana. |
| Error: Need a weapon | Link▶️I need a weapon. |
| Error: Can't target Stealthed minion | Link▶️I can't play that. |
| Error: Can't play that card | Link▶️I can't target Stealthed minions. |
| Error: Not a valid target | Link▶️That's not a valid target. |
| Error: Must attack Taunt minion | Link▶️A minion with Taunt is in the way. |
| Emote: Greetings [Lunar New Year] | Link▶️Happy New Year! |
| Emote: Greetings [Fire Festival] | Link▶️Looking forward to the fireworks! |
| | Link▶️Mmpphh! |
| Emote: Greetings [Happy Halloween] | Link▶️Happy Hallow's End! |
| Almost out of cards | Link▶️I'm almost out of cards! |
| Unused: Greetings [Happy Noblegarden] | Link▶️Happy Noblegarden! |
| Out of cards | Link▶️I'm out of cards! |
| | Link▶️Mmpphh? |
| Unused: Greetings [Pirate Day] | Link▶️Yarhahahar, let's join the Dread Crew. |
| Unused: Sorry | Link▶️My apologies. |
| | Link▶️Mmphmm. |
| | Link▶️Hmmm... |
| | Link▶️I wonder... |
| | Link▶️I must consider... |
| | Link▶️Mmpphhhhhh!!! |
| Running out of time | Link▶️I must choose quickly! |
| | Link▶️Mmpphh? |
| Emote: Greetings [Holidays] | Link▶️Happy Feast of Winter Veil! |
| Emote: Greetings [Happy New Year] | Link▶️Happy New Year! |
| Emote: Greetings | Link▶️My fondest greetings to you. |
| Emote: Greetings [Mirror] | Link▶️They couldn't be as fond as mine! |
| Start [Mirror] | Link▶️Are you trying to steal my part?! |
| Emote: Oops | Link▶️A little slip-up. |
| Selection in Choose Your Hero | Link▶️Our magical fairytale is about to begin! |
| Start | Link▶️The play's the thing! |
| Emote: Thanks | Link▶️My cordial thanks. |
| Emote: Threaten | Link▶️I will get my happily ever after, no matter what! |
| Emote: Well Played | Link▶️Your prowess has won me over. |
| Emote: Wow | Link▶️Such stunning beauty! |
Patch changes
References
[
]