Raise a Floppa - The Loop
Play Sound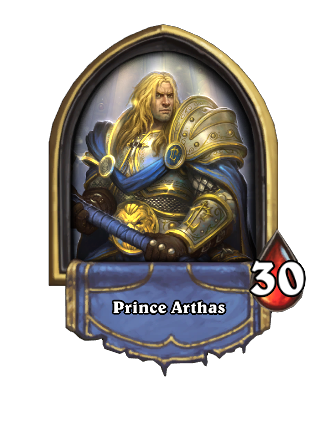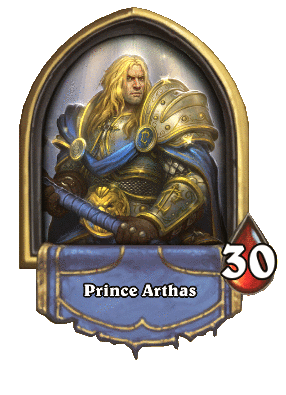 Prince Arthas is a hero skin for the paladin class.
Lore

This section uses content from Wowpedia.
How to get
Prince Arthas is currently available for obtaining.
Hero Power
Functionality
Once unlocked and selected for use, Prince Arthas replaces Uther Lightbringer whenever the player uses a Paladin deck, as well as:
Comes with own portrait
Has custom emotes
Has custom tray
Flavor text
When viewed in the Collection, Prince Arthas has the following flavor text:
The boy who would be King... LICH King. Obtained by defeating the Lich King with every class.
Sounds
| Type | Transcript |
| --- | --- |
| Attack [1] | Link▶️Evil will be PURGED! |
| Death [1] | Link▶️ |
| Concede | Link▶️The battle is over. You win. |
| Error: Too many minions | Link▶️I have too many minions! |
| Error: Generic | Link▶️I cannot do that. |
| Error: Hand already full | Link▶️My hand is full! |
| Error: Hero already attacked | Link▶️I already attacked. |
| Error: Minion not ready | Link▶️Give that minion a turn to get ready. |
| Error: Minion exhausted | Link▶️That minion already attacked. |
| Error: Not enough mana | Link▶️I don't have enough Mana. |
| Error: Need a weapon | Link▶️I need a weapon. |
| Error: Can't play that card | Link▶️I can't play that. |
| Error: Can't target Stealthed minion | Link▶️I can't target Stealthed minions. |
| Error: Not a valid target | Link▶️That's not a valid target. |
| Error: Must attack Taunt minion | Link▶️A minion with Taunt is in the way. |
| Emote: Greetings [Fire Festival] | Link▶️Light the bonfires! |
| Emote: Greetings | Link▶️Hail, and well met. |
| Emote: Greetings [Mirror] | Link▶️Well met, indeed! |
| Emote: Greetings [Happy Halloween] | Link▶️Happy Hallow's End.... |
| Emote: Greetings [Holidays] | Link▶️Happy Feast of Winter Veil! |
| Emote: Greetings [Happy New Year] | Link▶️Happy New Year! |
| Emote: Greetings [Lunar New Year] | Link▶️Happy New Year! |
| Unused: Greetings [Happy Noblegarden] | Link▶️Happy Noblegarden. |
| | Link▶️I'm almost out of cards. |
| Start [Mirror] | Link▶️For my father the King! |
| | Link▶️I'm out of cards! |
| Emote: Oops | Link▶️A misstep. |
| Unused: Greetings [Pirate Day] | Link▶️It's good to be Arrrrrrrthas! |
| Unused: Sorry | Link▶️A royal apology, friend. |
| Start | Link▶️For Lordaeron! |
| Emote: Thanks | Link▶️You have my gratitude. |
| Thinking | Link▶️Hmm… |
| Thinking | Link▶️Which path to choose… |
| Thinking | Link▶️What would Uther do… |
| Emote: Threaten | Link▶️You are past redemption! |
| Running out of time | Link▶️I must act now! |
| Emote: Well Played | Link▶️Well played. |
| Emote: Wow | Link▶️Holy Light! |
| Selection in Choose Your Hero | Link▶️Justice has come! |
| Start Illidan Stormrage | Link▶️It would seem we are evenly matched. |
| Start Jaina Proudmoore | Link▶️I'm sorry, Jaina. |
| Start Sylvanas Windrunner | Link▶️A dark fate lies ahead of us, Windrunner. |
| Start Uther Lightbringer | Link▶️I'll fight hard, just like you taught me! |
Gallery
Patch changes
References
[
]