m

Line 8:
Line 8:
 
 
 

==Other versions==

 

==Other versions==

−

{{versions|orig

+

{{versions|

−

|Priestess of Elune

 
−

|origset=Legacy

 
−

}}

 
 
 
 

==How to get==

 

==How to get==
---
Revision as of 08:17, 3 May 2021
Priestess of Elune
Regular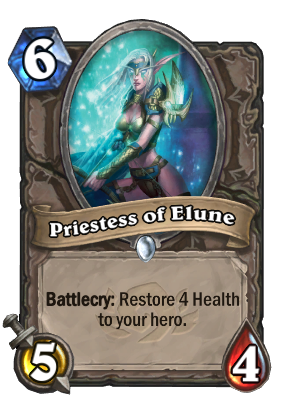 Gold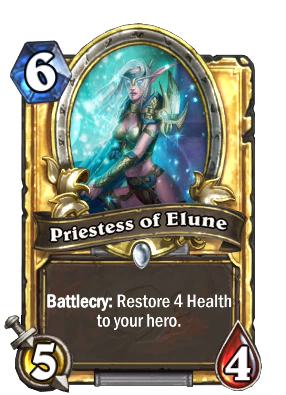 Battlecry:
Restore 4 Health to your hero.
Flavor text
If she threatens to "moon" you, it's not what you think.
External links
This is the Classic format version of Priestess of Elune, a common neutral minion card.
For more information, see the original version.
Other versions
Cargo Query Error: Error 1054: Unknown column 'original_ver' in 'field list' (geo-db-i-master.query.consul.) Function: CargoSQLQuery::run Query: SELECT CONCAT(original_ver) AS `original_ver`,CONCAT(core_ver) AS `core_ver`,CONCAT(classic_ver) AS `classic_ver`,CONCAT(_pageName) AS `pageName`,CONCAT(bg_reg_ver) AS `bg_reg_ver`,TRIM(battlegroundsNormalDbfId) AS `battlegroundsNormalDbfId`,TRIM(battlegroundsPremiumDbfId) AS `battlegroundsPremiumDbfId`,CONCAT(bg_image) AS `bg_image`,CONCAT(image) AS `image`,`hiddentags__full` AS `hiddentags` FROM `cargo__Cards` WHERE data_page="Data:Cards/Priestess of Elune(465015)" ORDER BY CONCAT(original_ver),CONCAT(core_ver),CONCAT(classic_ver),CONCAT(_pageName),CONCAT(bg_reg_ver) LIMIT 1
How to get
Priestess of Elune (Classic) is associated with its original version. If you own any copies of it, you can also use them in Classic format.
Strategy
Note: This section contains strategies that are only relevant to the Classic format.

Please add any available information to this section.
Patch changes