GTA: The Criminal Enterprises - The Loop
Play Sound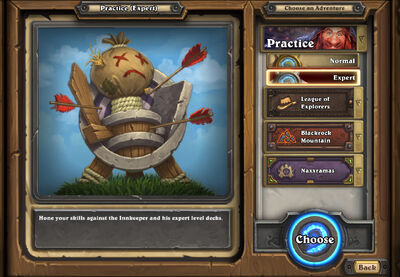 Practice mode is a type of game mode in which the player does battle against computer-controlled versions of the regular playable classes. Players can select the opponent of their choice, and either Basic or Expert difficulty, determining the deck and tactical ability of the AI opponent.
Practice mode is the ideal mode for learning the basics of the game, exploring new classes, leveling or unlocking heroes, and trying out new strategies. Practice mode matches are played against The Innkeeper.
Practice mode is accessed from the Solo Adventures screen.
Notes
[
]
Because Practice mode games are played against computer opponents, there is no time spent waiting for your opponent to choose their actions each round. This typically makes these games much faster than those played in other modes, which can be useful for progression or simply preferable for those who do not enjoy waiting.
New heroes can be unlocked in this game mode. This makes Practice mode the quickest and easiest way to unlock new heroes.
Players can gain XP in Practice mode, up to max level. Above level 10 extra XP is gained from played games against human opponents; however, given the relative speed of most Practice mode games, this may still be considered a quicker way of levelling up heroes.
Practice mode is perfect for learning a class, or levelling a new class to level 10 in order to acquire its basic cards, before heading out into the wider waters of Play mode.
Initially only Basic difficulty is available, with Expert difficulty enabled upon unlocking every class.[1]
Basic Practice mode is generally considered a fairly easy difficulty setting, although some class combinations can be surprisingly tricky. Basic opponents use only basic cards in their decks.
Expert Practice mode offers a fairly substantial challenge for newer players, and gives players the chance to try decks against reasonably well-arranged decks. As with higher level player vs. player battles, Expert mode opponents tend to feature specific strategies and intended plays, and use decks featuring Classic cards of common, rare and epic rarity.
Most daily quests cannot be completed in Practice mode.
Defeating all Expert heroes will complete the Crushed Them All! quest, awarding 100 gold.
Decks
[
]
Each opponent in Practice mode always plays with the same deck, with each class having a Basic and an Expert deck. This allows experienced players to learn the intended plays of that deck, and counteract them effectively.
All cards in Basic decks are from the basic set. The Expert decks feature a large number of Classic cards, including many common cards, a few rares, and the odd epic, but do not include any legendaries.
Below are listed the decks for each Practice mode opponent. Each card listed is included x 2 in that deck unless otherwise noted.
The Starting Game screen
[
]
Main article: Starting Game
The Starting Game screen is the loading screen displayed while the system prepares a computer opponent for the player, featuring a selection of helpful tips and some comical elements. It depicts a mechanical element which slowly fills from left to right, supposedly representing necessary steps in preparing for the game. Once the loading bar has filled a certain number of times, the game is ready and battle begins automatically.
Trivia
[
]
The names of the two difficulty settings originally corresponded to the types of cards used in those heroes' decks. 'Expert' mode corresponds to the 'Expert' set, since renamed the Classic set.
Patch changes
[
]
Patch 17.0.0.44222 (2020-03-26): Practice mode now contains Demon Hunter.
Patch 2.7.0.9166 (2015-06-15): The Practice mode pane of the Solo Adventures screen now has its own music.
Patch 1.1.0.6024 (2014-07-22):

Practice Mode is now entered through the Solo Adventures button on the main menu.
The AI in Practice Mode is now better at Hearthstone.

Patch 1.0.0.5314 (2014-05-08): Reconnect functionality has been enabled for Practice Mode.
Patch 1.0.0.4944 (2014-03-11): The Expert AI has been sent to Hearthstone training camp and should now be more challenging.
Patch 1.0.0.4217 (2013-12-10): The opponent in Practice mode is now called "The Innkeeper".
Patch 1.0.0.3890 (2013-10-02): You can earn XP in any game mode up to max level.
References
[
]
↑

Tested by User:Taohinton 2017-01-04: Selecting the Expert button on the Solo Adventures screen produces a pop-up text box with the words "Requires unlocking every class."