Plague of Wrath
Plague of Wrath
Destroy all damaged minions.
"Thanks, I HATE it!"
Plague of Wrath is a rare warrior spell card, from the Saviors of Uldum set.
Plague of Wrath can be obtained through Saviors of Uldum card packs, or through crafting.
| Card | Crafting cost | Disenchanting |
| --- | --- | --- |
| Plague of Wrath | 100 | 20 |
| Golden Plague of Wrath | 800 | 100 |
As well as being collected in decks, this card can also be generated by the following card.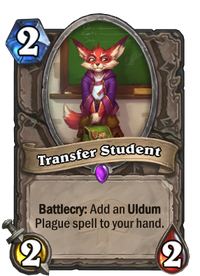 Plague of Wrath can be cast even if there are no damaged minions in play.

Please add any available information to this section.
Following up a Whirlwind (or similar effect, such as Blood Razor or Ravaging Ghoul), Plague of Wrath can effectively clear any board. It's also useful after combat where your opponent has minions left over.
It is usually more worth it to use Brawl or Execute. Brawl has the downside of leaving 1 minion, but doesn't need to combo with anything, whilst Execute can take care of a single most important minion.