Plague of Flames
Plague of Flames
Destroy all your minions. For each one, destroy a random enemy minion.
This is fine.
Plague of Flames is a rare warlock spell card, from the Saviors of Uldum set.
Plague of Flames can be obtained through Saviors of Uldum card packs, or through crafting.
| Card | Crafting cost | Disenchanting |
| --- | --- | --- |
| Plague of Flames | 100 | 20 |
| Golden Plague of Flames | 800 | 100 |
As well as being collected in decks, this card can also be generated by the following card.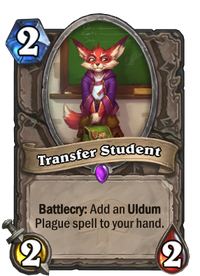 Plague of Flames is similar to Unwilling Sacrifice, but has a wider-scale effect. It can serve as a removal spell to eliminate several enemy minions, but at the cost of sacrificing all of your own. The spell is more effective when you have just as many or more minions as your opponent, which can be achieved by token summoners like Fiendish Circle, Rafaam's Scheme or Voidlord's Deathrattle. Bloodreaver Gul'dan is able to benefit from this card, as you can fill your board with Demons before destroying them all Plague of Flames, then using Bloodreaver Gul'dan to resurrect them en masse.
Plague of Flames' flavor text is a reference to the "This is fine" meme originating from the webcomic Gunshow.