P.O.G.O.
Regular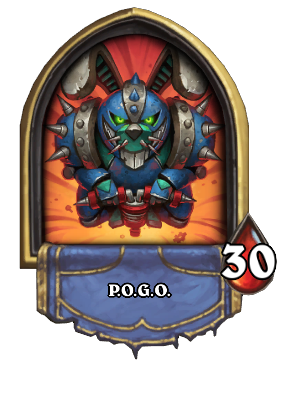 Gold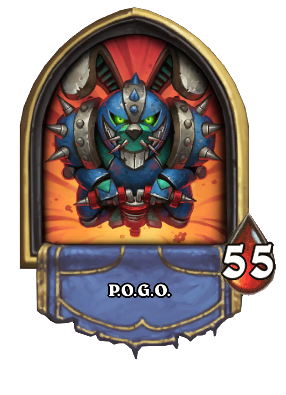 Flavor text
This bionic bouncing machine has gone completely rogue!
External links
P.O.G.O. is a boss that can be encountered in The Dalaran Heist adventure.
Hero Power
[
]
| Normal | Heroic |
| --- | --- |
| | |
Decks
[
]
The below classes are listed purely for reference, and have no effect on the boss' use of the cards during the battle.
These decks correspond only to level 6 in Chapter 5. If this boss is encountered on levels 4-5, his deck will be missing 5 random cards.
Strategy
[
]
Try to kill Pogo-Hoppers before P.O.G.O. has an opportunity to shuffle them. If he did that, try to play more aggresively or keep your pressure.
Aggressive style is also more valuable if P.O.G.O. has played Fel Reaver and you have a lot of cheap cards. If you can constantly freeze this minion (for example, with Frostburn) you can easily burn the enemy's whole deck, which makes a further control of the board a lot easier.
Unfortunately you cannot permanently burn his deck if you have minions in play since he can use pogoshuffle to add them to the deck. Over the long run this allows him to outlast you in minion-based play.
Playing any strong minion when you're not fully controlling the board is inadvisable as most likely it will be shuffled into P.O.G.O.'s deck.
If playing a strong minion it's a good idea to suicide them against his other minions during your turn so they can't be copied in his.
Dialogue
[
]
Before match
Blastmaster Boom

That Pogo Hopper's on a rampage! Stop it but take pictures. I love a good rampage.
Introduction
P.O.G.O.

Hopping engaged.
Emote Response
P.O.G.O.

Emotion sensors: disabled.
Hero Power
P.O.G.O.

Bouncing back.
P.O.G.O actuators: actuating.
Returning to deck.
Idle
P.O.G.O.

Recalculating bounce algorithms.
Squeaky springs: oiled.
P.O.G.O.

Of boss

Operation Bounce: mission start.

Of player

Enemy Pogo-Hopper detected. Must be eliminated.
Pogo-Hopper detected. Designation: enemy.
Death
P.O.G.O.

(robotic yell)
Defeat
P.O.G.O.

Emotion detected: hopping mad.
Lore
[
]
P.O.G.O. is unique to Hearthstone.
It seems to be an upgraded Pogo-Hopper, who has gone rogue and is attacking the league of E.V.I.L.
Gallery
[
]
Patch changes
[
]
The Dalaran Heist
Heroes
Chapter 1: Dalaran Bank

| | |
| --- | --- |
| Level 1 | |
| Level 2 | |
| Level 3 | |
| Level 4 | |
| Level 5 | |
| Level 6 | |
| Level 7 | |
| Level 8 | |

Chapter 2: The Violet Hold

| | |
| --- | --- |
| Level 1 | |
| Level 2 | |
| Level 3 | |
| Level 4 | |
| Level 5 | |
| Level 6 | |
| Level 7 | |
| Level 8 | |

Chapter 3: Streets of Dalaran

| | |
| --- | --- |
| Level 1 | |
| Level 2 | |
| Level 3 | |
| Level 4 | |
| Level 5 | |
| Level 6 | |
| Level 7 | |
| Level 8 | |

Chapter 4: The Underbelly

| | |
| --- | --- |
| Level 1 | |
| Level 2 | |
| Level 3 | |
| Level 4 | |
| Level 5 | |
| Level 6 | |
| Level 7 | |
| Level 8 | |

Chapter 5: Kirin Tor Citadel

| | |
| --- | --- |
| Level 1 | |
| Level 2 | |
| Level 3 | |
| Level 4 | |
| Level 5 | |
| Level 6 | |
| Level 7 | |
| Level 8 | |
| Level 9 | |
| Level 10 | |
| Level 11 | |
| Level 12 | |

Tavern