Oxana Demonslay
Regular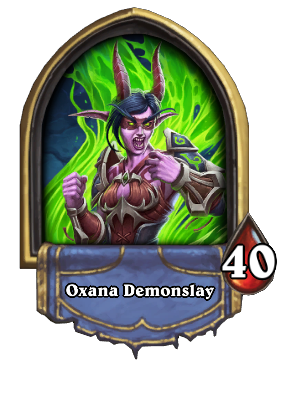 Gold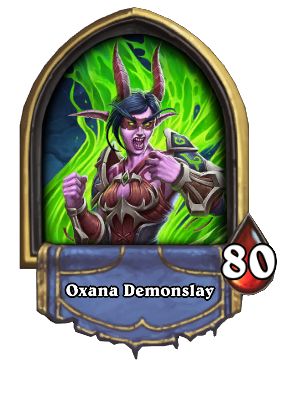 Flavor text
Slaying demons is her profession, but beating you is her passion.
External links
Oxana Demonslay is a boss that can be encountered in The Dalaran Heist adventure.
Hero Power
[
]
Normal
Heroic

Passive
Decks
[
]
The below classes are listed purely for reference, and have no effect on the boss' use of the cards during the battle.
These decks correspond only to levels 6-8. If this boss is encountered on level 5, her deck will be missing 5 random cards.
Strategy
[
]
Because of her hero power, your best option is to take Oxana down slowly.
Dialogue
[
]
Introduction
Oxana Demonslay

Demons are my quarry, but you'll do.
With a face like that, you might as well be a demon. (vs. Tekahn)
I hunt demons. Looks like you've got a few of your own. (vs. George the Fallen)
You've got quite the aura to you.
Emote Response
Oxana Demonslay

Your foul tongue is more twisted than your soul.
Hero Power
Oxana Demonslay

Burn!
Burn away the corrupt.
Fall before me!
I will pay any price.
Sear and smolder.
Suffer, weaklings!
Idle
Oxana Demonslay

Afraid? Your invasion will fail.
Do you always hesitate? Or do I scare you?
I've stopped worse than you.
Boss cards
Player's cards
Oxana Demonslay

Any demon

Aha! I knew you were in league with them!
Demons! I will destroy you!

Illidan Stormrage (No longer possible)

Stormrage! You'd dare ally with THEM?!
Death
Oxana Demonslay

(gasp)
Defeat
Oxana Demonslay

Another falls before my blade.
Lore
[
]
Oxana Demonslay is a night elf demon hunter and vendor found at the Black Market in Dalaran's Underbelly.
Gallery
[
]
Patch changes
[
]
The Dalaran Heist
Heroes
Chapter 1: Dalaran Bank

| | |
| --- | --- |
| Level 1 | |
| Level 2 | |
| Level 3 | |
| Level 4 | |
| Level 5 | |
| Level 6 | |
| Level 7 | |
| Level 8 | |

Chapter 2: The Violet Hold

| | |
| --- | --- |
| Level 1 | |
| Level 2 | |
| Level 3 | |
| Level 4 | |
| Level 5 | |
| Level 6 | |
| Level 7 | |
| Level 8 | |

Chapter 3: Streets of Dalaran

| | |
| --- | --- |
| Level 1 | |
| Level 2 | |
| Level 3 | |
| Level 4 | |
| Level 5 | |
| Level 6 | |
| Level 7 | |
| Level 8 | |

Chapter 4: The Underbelly

| | |
| --- | --- |
| Level 1 | |
| Level 2 | |
| Level 3 | |
| Level 4 | |
| Level 5 | |
| Level 6 | |
| Level 7 | |
| Level 8 | |

Chapter 5: Kirin Tor Citadel

| | |
| --- | --- |
| Level 1 | |
| Level 2 | |
| Level 3 | |
| Level 4 | |
| Level 5 | |
| Level 6 | |
| Level 7 | |
| Level 8 | |
| Level 9 | |
| Level 10 | |
| Level 11 | |
| Level 12 | |

Tavern