Fire Emblem Warriors: Three Hopes - The Loop
Play Sound
 "Your host, the great magus Medivh, invites you back to party down - with me!"
 "Come inside... Meet your friends at the door. We've got a feast like you've never seen before. Shake your stuff to our musical beat. Play life-size chess, but don't you dare cheat! Most of all, throw your worries away. Dive right in - you'll never be the same! This is the place of funky magical phenomena. Anything goes - for one night, in Karazhan!"
One Night in Karazhan (Karazhan, Kara, ONiK) is the fourth adventure for Hearthstone: Heroes of Warcraft. Featuring 45 new collectible cards, the adventure was released August 11, 2016.
The adventure is set in the reimagined glory days of the mystical tower of Karazhan, when a young
Medivh was not only the Guardian of Azeroth, but also its most eligible bachelor. After earning the admiration of all through foiling the schemes of the fiendish
Arch-Thief Rafaam, emerging triumphant from the Grand Tournament, and resisting even the whispers of the Old Gods themselves, the player is invited to a magical one night-only party that is sure to be talked about for centuries. However, upon arriving, the player finds Medivh missing, and the tower's magical enchantments run amok, turning delightful tricks into deadly traps. It's up to the player to find Medivh, restore order to the crazed tower, and save the day - just in time for the tower's big night.
The adventure features 13 bosses, spread across four wings (plus an introductory encounter), as well as a more challenging Heroic mode, and 9 Class Challenges.
Initially the introductory wing was available to all players for free, with the others purchasable for gold or real money. The first wing and prologue of the adventure were unlocked on August 11, with one wing unlocked each week thereafter. In later years when this mission was cycled out, it only became available to buy with real money.
All data for the patch was added with Patch 6.0.0.13921, on August 9, 2016.
Structure
[
]
For general information on adventures, see Adventure.
One Night in Karazhan comprises 4 wings (excluding the prologue), with 13 boss encounters in total

Defeating each encounter for the first time will award 2 copies each of two new cards, which may be neutral or class-specific
Completing each wing for the first time will award copies of two or three new cards, including single copies of at least one legendary card corresponding to that wing

The adventure features 9 Class Challenges, one for each class

Completing a Class Challenge will award 2 copies of a new class card
Class Challenges can be unlocked through completing wings
Summary
[
]
The below table summarizes the structure of the adventure, with bosses matched with their corresponding rewards. The placement of the Class Challenge sections indicate which boss features in each Challenge, as well as which wing must be completed in order to unlock it. The "Dust value" column shows the amount of Arcane Dust the cards in that wing will produce if disenchanted. For deck listings and strategy for Class Challenges, see One Night in Karazhan Class Challenges.
Access
[
]
Each wing of the adventure must be purchased before it can be played. The introductory encounter is free for all players.
Players must have unlocked all 9 classes in order to access the adventure.
Unlike other adventures there was no pre-purchase option. Instead, players were awarded a special card back if purchasing the whole adventure during the first week following its release. This included purchasing the entire adventure using real money, or purchasing The Parlor using gold and then purchasing the rest using real money.[1]
Pricing
[
]
Players can purchase wings using either gold or real money. A discount is if purchasing the entire adventure at one time using real money. "Bundle" discounts are also offered if purchasing all remaining locked wings at one time using real money.
Note while players can purchase a variable number of wings, all options above a single wing involve buying all remaining wings. For example, it is not possible to use real money to purchase the first 3 wings, and then buy the final wing later; in order to buy multiple wings using real money, the player must buy all remaining wings. It is however possible to buy individual wings, and later buy all remaining wings at once.
The following prices are for PC/Mac/Android. IOS prices may differ.
Some of these prices changed on March 22, 2017.[2]
| Package | USD | EUR | GBP | AUD | BRL | RUR | MXN | Gold |
| --- | --- | --- | --- | --- | --- | --- | --- | --- |
| All 4 wings | $19.99 | 17.99€ | £16.99 | $24.99 | R$44,90 | 999₽ | $259 | |
| Remaining 3 | $14.99 | 13.99€ | £10.49 | $18.99 | R$33,90 | 749₽ | $189 | |
| Remaining 2 | $9.99 | 8.99€ | £6.99 | $12.99 | R$22,90 | 499₽ | $129 | |
| Individual wings | $6.99 | 5.99€ | £4.99 | $8.99 | R$15,90 | 329₽ | $89 | 700 gold |
Cards
[
]
The adventure features 45 new collectible cards (18 neutral cards and 27 class cards (3 for each class)). One Night in Karazhan cards can be recognised by a special watermark (depicting a tower) behind the card text, not found on other cards.
Regular versions of the cards can be obtained through beating bosses, completing wings, and defeating Class Challenges. Once the regular version of a card has been obtained, both regular and golden versions can be crafted and disenchanted for the usual amounts.
As each wing is released, all cards from that wing are made available for selection in the Arena, regardless of whether the player has purchased or completed the corresponding wing.
Neutral
Druid
Hunter
Mage
Paladin
Priest
Rogue
Shaman
Warlock
Warrior
Boss cards and Hero Powers
[
]
Main article: One Night in Karazhan boss cards
In addition to the playable cards listed above, One Night in Karazhan brings around 100 unique cards and Hero Powers available only during the adventure's boss encounters. For a full list, see One Night in Karazhan boss cards.
Battlefield
[
]
All matches within the adventure are played on the Karazhan battlefield. Unlike past battlefields, this one was not initially exclusive to the adventure, but was available for general play as soon as the patch was released. An early version of One Night in Karazhan's game board was going to be a dancefloor, with every corner packed in with Azeroth-inspired nightclub fare, but it didn't look enough like Karazhan so it was reworked to contain a lot more of the tower's iconic locations.[3]
Card backs
[
]
There are three card backs related to the adventure. Two are obtained through the adventure itself: one from defeating all bosses in Heroic mode, and one as reward for purchasing all wings within one week of the adventure's release. The third card back was obtained by achieving Rank 20 in the August 2016 Ranked Season.
Images
Karazhan Nights
Awarded by purchasing all wings of One Night in Karazhan within one week of launch.
Watch your step! Dancing Tauren are notorious for accidentally crushing toes.

Medivh's Invitation
Achieving Rank 20 in Ranked Season 29 (August 2016).
You're Invited! Please leave your giant bear with the valet.

The Blue Portal
Completing One Night in Karazhan in Heroic mode
Don't tell Netherspite, but mischievous guests have been getting into all manner of shenanigans with his portals!
Themes
[
]
One Night in Karazhan features a number of themes. Most reflect elements within the adventure's storyline, as well as bringing new gameplay trends.
Spell synergy
[
]
The adventure introduces a handful of spell synergy cards. This type of synergy had been featured in previous sets, but never in such a large portion of the set's cards.
Also, there are some of them that have synergy with a specific type of spells: the Secrets.
Lastly, there's also
Spirit Claws, which presents synergy with Spell Damage; and
Cat Trick, which acts as a tech card against spells.
Minion summoning
[
]
Many of the cards obtained in One Night in Karazhan have minion summoning as secondary effects. The minions summoned might be fixed, random or dependent on the state of the game. As with spell synergy, this is not a new type of effect, but the amount of cards with such effects isn't usually as high as in One Night in Karazhan.
Other cards that feature this type of effect are the Portals (see below).
Chess
[
]
One of Medivh's favourite hobbies is playing chess with his magically animated board. The adventure introduces three cards related to the game.
Portals
[
]
A soiree of this stature will feature the finest luminaries of Azeroth and beyond, and a coterie of that caliber wouldn't be caught dead walking to a party. While Kel'Thuzad might be taking the soul train, everyone else will be traveling first class! Karazhan features precisely calibrated portals attuned to a variety of exotic locales to accommodate guests with specific teleportational needs. With the power of portals at your fingertips, every travel experience is a great success![4]
This party is so intense, it's warping the very fabric of space and time to bring in more guests! Use the new portal spell cards to unleash the magic and summon random minions to the field.[5]
Each portal spell summons a random minion of a specific cost, as well as providing an additional effect. Both the class and location of the portal match the theme of its effects.
While the theme is original to One Night in Adventure, it may have been inspired by the similar
Unstable Portal. A sixth portal spell is shown in a promotional image of
Netherspite, a purple-rimmed portal leading to what resembles the
Twisting Nether; this may have been a warlock portal spell, later replaced by Ironforge Portal, which is missing from that image.
The portal theme extends to some boss fights within the adventure, especially the adventure's final wing, which will see players using Karazhan's portals to find Medivh.
Dragon Synergy
[
]
The adventure doesn't come with a big dragon itself, however it introduces multiple cards supporting a dragon archetype deck:
Menagerie
[
]
One Night in Karazhan also introduced the "Menagerie cards", which support a build of Beasts, Dragons and Murlocs in the same deck. They would later play an important role in the Battlegrounds mode:
Trailer
[
]
Lore
[
]
Karazhan, long a potent nexus of arcane energies, is about to become the focal point of a very different kind of cosmic force. The wizard Medivh has used every bit of magic at his disposal to set up the most lavish and extravagant party of all time, and your name is on the guest list alongside the crème de la crème of Azeroth and beyond! With such an eclectic mix of attendees, it's guaranteed that this party will be out of this world.
But as you groove to the music and let the sights dazzle you, beware; one night in Karazhan, and even tough guys tumble. Keep your decks straight, your wits sharp, and above all, stay alive![5]
Reimagined

"You guys have been kicking butt recently! You've dominated The Grand Tournament. You stopped Rafaam from stealing the Staff of Origination. And you withstood the Whispers of the Old Gods. When you do stuff like that, people take notice. And now, you've been invited to the greatest party Azeroth has ever seen. This is a one night-only event that people will be talking about for centuries. Anybody who's anybody will be there.
"This is Karazhan reimagined. This is Karazhan from a simpler time. If you've played through World of Warcraft's Karazhan, you might remember this epic banquet hall, or the iconic Karazhan Opera House. We wondered "What would these places have been like, back when there were living people in them; back when there were magnificent parties in this tower; back when Azeroth's most powerful archmage... was also its most eligible bachelor." Medivh is throwing the ultimate party. And he's enchanted every element of his tower for the big event. He's enchanted the silverware, to do a little dance before each course. He's placed a magic mirror in the foyer, to compliment his guest as they arrive. This party is going to be "legendary!". You arrive one hour before the party starts, and Medivh is missing! And the spells that he cast for the party have begun to unravel. You need to fix a tower gone mad, find Medivh, and save the party."[6]
Party time
Greetings to you, future partygoer! You're invited to attend the shindig of the millennium at Azeroth's most terrific tower—Karazhan! As Medivh's guest, you'll experience everything his delightful domicile has to offer while rubbing shoulders with Azeroth's most fascinating beings and dancing the night away in Hearthstone's next Adventure: One Night in Karazhan![4]
As Azeroth's most powerful mage, Medivh's magical prowess is surpassed only by his love for extravagant shindigs, and he has spared no expense to entertain his cherished guests—lavish feasts, impeccable Opera performances, and more await you inside.[7]
The magus Medivh has put his considerable mystic talents to work transforming Karazhan into the ultimate celebration destination, so prepare yourself for an unforgettable night! First you'll meet the staff, including his ever-capable majordomo, Moroes, and then it's off to an enchanted evening filled with music and dancing, unforgettable performances, and so much more. When you're not burning up the dance floor, you can take a break to enjoy amenities beyond imagination, including sumptuous feasts in the dining hall and a visit to Karazhan's magnificent menagerie.
A soiree of this stature will feature the finest luminaries of Azeroth and beyond, and a coterie of that caliber wouldn't be caught dead walking to a party. While Kel'Thuzad might be taking the soul train, everyone else will be traveling first class! Karazhan features precisely calibrated portals attuned to a variety of exotic locales to accommodate guests with specific teleportational needs. With the power of portals at your fingertips, every travel experience is a great success!
No visit to Karazhan would be complete without a revitalizing soak in the hot mana pool. After energizing your body and mind, take a stroll through your host's moonlit library and peruse his magical tomes. Then try your hand at mixology in the well-stocked alchemist's laboratory, or perhaps take in a show at the private opera house. As Medivh's cherished guest, the tower is yours to explore.[4]
The Prologue
[
]
The lights are bright, the dance floor is open, and the catering is truly magical. The greatest get-together Azeroth has ever seen is about to kick off with a bang; what a shame it'd be if anybody tried to crash this party![8]
The Prologue tells the story of what happened to Medivh before the party, and his fateful encounter with
Prince Malchezaar. The player takes on the role of Medivh during the battle.
The Parlor
[
]
"The first floor of Karazhan is The Parlor, where Moroes will greet you, and let you in early to help. The silverware has gone crazy, and some of it has glommed together into a silverware golem, who's a little too enthusiastic about serving dinner. The magic mirror that Medivh set up to compliment guests has started insulting them instead. And the chess set that Medivh set out has got a mind of its own."[6]
Moroes

"Hmm, unannounced visitors. You're early."
"Master Medivh has some, ah . . . business in the rooms above, but I'm sure he'll be delighted to show you around once it is complete. Please feel free to wait for him outside."
"Oh, you want to come inside? I suppose I can delay all the extremely important preparations that I was overseeing so I can play at being your tour guide."
"Ahem, where are my manners? Allow me to introduce myself. I am Moroes, steward of Karazhan. Karazhan is known to one and all as the most magnificently magical dwelling on Azeroth—indeed, the entire edifice is positively crackling with arcane energies! The Master seems to think that this is the ideal location for the greatest party the world has ever seen. A "real rager," I believe he called it."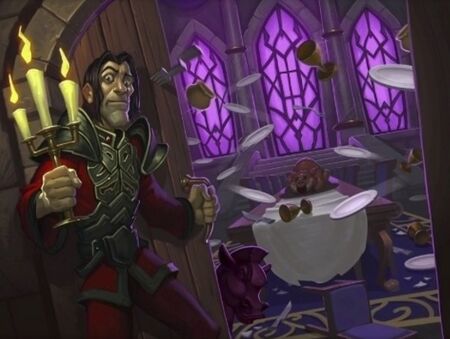 "Ordinarily we'd welcome guests to relax in the dining hall with a nice spot of tea. Alas, they're still decorating for the party, so we'll just cut through the kitchens here. Our kitchens are almost completely magically automated, and we have dishes and silverware to serve hundreds of guests. Most of our tableware are priceless antiques, and a few were even gifts from the King himself! And voila—the kitchens!"
"Oh my! The tableware is singing. And dancing. Musical tableware isn't on the approved decorations list, but the song is catchy, don't you think? Medivh has been enchanting everything in sight to make sure that his party leaves a lasting impression, so you never know quite what will happen next. It is odd though . . . they're normally so well behaved when the Master is home. Well, let's move on, and please don't feed the forks. It's not dinner tine yet, ha ha. Ha. Um, right. This way, please."
"As we stroll through this hallway, you'll notice our collection of paintings from some of the greatest artists to have ever lived, and even a few that haven't been born yet! I really don't know how the Master manages it. No touching, of course."
"Yes, they're magnificent, aren't they? Oh, this one with the drape over it? It isn't a painting at all; it's a mirror. A magic mirror. Medivh animated it with an experimental enchantment. Oh, perhaps a tad unruly at first, but it's quite friendly now. Complimentary, even! Most of the time. And here we are, at the game room."
"There's only one game in the game room, and that game is chess. You see, Medivh is a dedicated aficionado of chess. The masterfully carved pieces, the intricate strategies, the meeting of mind and will! The Master just loves it. Yes, chess is the game for this game room. That could be because the pieces are so large that there's no room for other games in here. It could also be that the pieces get offended when other games are introduced and, ah, tend to violently destroy them when no one is watching. Well, whatever the reason, chess it is!"
"Is it dangerous? While this chess set is animated by immensely powerful magics and sometimes exhibits a mind of its own, I assure you that it's perfectly safe. Unless you happen to be backgammon, ha ha!"
"Well, that was all very diverting. It, ah, seems that the master is still indisposed. How strange. . . . Well, I suppose we'll continue with a tour of the opera house while we're waiting."[9]
The Opera
[
]
"The second level of Karazhan is the world-famous Opera.

Barnes

runs the Opera, and he's super-excited about tonight's event. Barnes wants to run one last rehearsal, and he loves audience participation. So you'll have to help Barnes put on three great plays, before he'll let you up through the tower.
"Act one! The great love story of Romulo and Julianne. Act two! The mysterious

Big Bad Wolf

. Act three! You'll have to defeat the wicked Crone, with the help of

Dorothee

."[6]
Moroes

"I,

Moroes

, steward of Karazhan, have already shown you around the Parlor. Now, if you'll pardon the phrase, I'll throw back the curtains on one of Karazhan's most luxurious features: Medivh's private opera house. The stage manager, Barnes, books the very best singers and actors from around the world, and the performances are sure to put you on the edge of your seat! Barnes is quite the character, but he should be able to keep you busy while I attend to some additional party-related matters. I'll return shortly."
Barnes
"Welcome, party-goers! I am

Barnes

, the stage manager, and this is the finest theater in Azeroth. Medivh has an incredible show planned for the party. Come, I'll show you around—we might even have time for a little improv!"
"Karazhan's opera house is the height of elegance and sophistication, and these very planks of wood have seen some of the greatest stories of the age unfold with pathos and grandeur. Glorious, but that's in the past! Never look back, darlings—it distracts from the FUTURE! The show we have in store tonight will put them all to shame. I predict that these features will be so great, so EPIC, that people will return in droves again, and again, and again—just to catch a glimpse of their favorite play!"
"Ah, but there will be no shows if there are no sets. Sadly, my crew are all late, or misplaced their guild cards, or are lost somewhere in Karazhan. That last one is a surprisingly common occurrence, actually . . . No matter! Anyway, I'm sure you'll do fine, you look like naturals. I'm so excited to begin!"
"Oh settle down. It's clear to see that you're all heroes, so a total stranger asking you to perform menial labor should feel quite familiar. Oh, you want a reward? Well, I can promise you the greatest reward imaginable if we can finish in time. Ah, now I've got your attention! Now let's see. . . ."
"Let's get this tower set up. Yes! It looks just like real stone, doesn't it? That's because it IS real stone. Originally, Medivh was going to magic it into place, but since he's busy now I'll just have to make do. Now, get in there and really put your backs into it and HEAVE! Oh, well done. Our lead actress will look positively radiant all the way up there."
"Here, take these hammers—this quaint forest cottage won't build itself, you know! I mean, it was supposed to build itself, but with Medivh occupied doing who knows what, we will just have to get our hands dirty. And by "we", I of course mean "you"."
"Good job! That cottage is looking really quaint! Now we'll just need to do just a tiny little bit of sewing and you're all done. How many costumes? Well, all of them actually—I'm no seamstress. Medivh was going to—well, nevermind what Medivh was going to do. I'm sure that with a whirlwind of activity we'll be done in no time! The tailoring supplies are in those cabinets. Now let's hustle!"
"Ah, it appears that Moroes has returned to take you off my hands. Parting is such sweet sorrow, but at least everything is finally prepared for the show tonight! I hope you enjoy the party! And get some rest before the festivities, you all look exhausted!"
"Oh, your reward? Why, a job well done, of course!"
Moroes

"I, Moroes, have returned. My, my, you all look so glad to see me! Why are you sweating? Actually, don't answer that question; I don't want to know. Well then, since I clearly have nothing better to be doing while the Master is gone, I suppose we can visit the Menagerie next."[10]
The Menagerie
[
]
"The third level of Karazhan is Medivh's prized Menagerie. Creatures from all over the world are gathered and penned up here and tended to by the massive mechanical Curator. Now, without Medivh, the Curator's programming has gone haywire. Instead of keeping the creatures in their cages, he's just letting them loose! It's really just one flipped bit. You will have to reprogram the Curator, and he will help you wrangle the escaped creatures, so you can move up through the tower."[6]
Moroes

"You will find our next stop to be truly thrilling. Karazhan plays proud host to the world's only privately run arcane zoo, featuring exotic—and dangerous—creatures from all manner of places, times, and dimensions. The Master spared no expense."
"Right through this archway, please. Ah, here we are: The Menagerie! I will now allow the Curator to show you a few of our special exhibits while I attend to some matters of importance. Please be nice to the Curator. And please don't touch anything! There will be ample opportunity for you to make a mess at the celebration later tonight."
The Curator

"Hello. This Curator is programmed for complete Menagerie management. It is this Curator's duty to ensure the safety and well-being of all creatures within the Menagerie. The Menagerie spans an area greater than the geometric volume of this tower, and contains a constantly variable number of exhibits. Due to a large number of exhibits and extra-dimensional spaces, this Curator employs the services of several less advanced assistants to ensure 100% containment."
"On a scale of 1 to 10, how would you rate your enjoyment? Please repeat your response. Thank you. This Curator will attempt to elevate your level of enjoyment with a tour of the Menagerie. As we tour the Menagerie, please comply with all gallery protocols to ensure that no creatures go free or come to harm. Menagerie Tour Program version 4.7.7 is now online."
"Many creatures in the Menagerie generate values for excitement greatly exceeding zero. Your tour coincides with this large predator's feeding time. This Curator will now provide it with the large quantity of food it requires. Warning: Please step out of the meat splash zone. Oh, no. You have failed to exit the splash zone. Please allow this Curator to hand you a towel."
"You are experiencing elevated blood pressure and adrenaline levels. Diagnosis: Excitement! This Curator is glad you are having a good time!"
"This portion of the Menagerie is empty and awaiting new exhibits. We will pass through this gallery into a region with populated exhibits. Please repeat your query? Your query cannot be processed. Error: the Imp you have indicated is not allowed in the Menagerie, therefore it does not exist. The displays are guaranteed to be safe. Please move along. Menagerie Tour Program is shutting down."
"Moroes has returned. This Curator will now escort you out of the Menagerie."
"Are you satisfied with your tour?"
Moroes
"Oh, your tour was cut short? You say the Curator was acting strangely? Well, the Master is clearly too occupied to renew its enchantments right now. I'm quite sure it will be fine, though I do admit that the Menagerie is not to my taste. I've often warned the Master against maintaining extra-dimensional spaces and extremely large, voracious creatures. He claims that they're important to his research and that the Curator has everything totally under control. Hrmph. Under control indeed! I say that Imps, ah, find a way."
"Well, we're all the way up here, so I don't see the harm in giving you a quick peek at the Spire. It will be a nice treat for you, since party guests will not be allowed to enter it tonight."[11]
The Spire
[
]
"The very top level of Karazhan is Medivh's private quarters. This is where Medivh opens portals to far off lands. And the creature that helps control those portals is the fearsome dragon

Netherspite

.
"Now, Netherspite isn't alone at the top of this tower. Every good wizard's tower needs a curmudgeonly ghost, and the

Shade of Aran

haunts the top of Karazhan preventing intruders from accessing Medivh's private experiments. if you can make it past Aran, you'll have to use Karazhan's portals to find Medivh, and save the party."[6]
Moroes

"Shhhh! You could be as boisterous as you liked in the Menagerie, but now we're about to enter the Spire. There really shouldn't be guests up here, so we must keep it down. The top floors of Karazhan serve as Medivh's chambers, housing an extensive private library of the rarest magical tomes, an advanced arcane laboratory, and of course, his private living quarters. Now, let's have a quick look around, shall we?"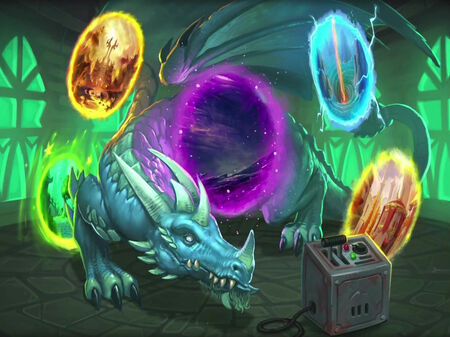 "Don't let that door slam! I feel just like a young man of fifty again, sneaking about like this. Mind you, we should be able to stroll about the library and peruse the tomes at our leisure, but the ghost of Medivh's father has taken up residence. Nielas isn't so bad when Medivh is around to keep him sensible, but when the Master is out? Pff. Let us simply say that death has not improved his disposition. In fact, he turns into one the ghastliest geists I've ever had the displeasure to meet. When the singers were warming up earlier, he kept banging his staff on the floor of the library and yelling at us to "keep down that racket." He once told me to get off of his lawn. Me, Moroes! And Karazhan doesn't even have a lawn!"
"Uh oh, I think I hear him drifting this way! Quickly, into the laboratory!"
"Oh, splendid!

Netherspite

is away preparing the arrival portals for tonight's guests. Netherspite is Medivh's laboratory assistant and portal master. He also happens to be a dragon, and very serious about his experiments. In addition to his considerable knowledge of all things arcane, Medivh is something of a master of portal arcanology. I'm assuming that arcanology is a word. Regardless, from this very chamber, you can access realms and regions beyond imagination! The possibilities are endless, but we really shouldn't touch anything. Especially that! Hands off! You do want to be able to enjoy the party later with all of your limbs and senses intact, yes? I think it's time we returned to the Parlor now."
"Well, that was exhilarating! And we've gotten away with it scot-free! I'm sure that Master Medivh will be arriving at any moment to get this party started! Despite your inconveniently early arrival, you've all been such good sports about everything that I've grown a bit attached. Alas, I really must go to make some additional preparations, but I trust you can occupy yourselves before the celebration commences? Wonderful, I very much look forward to partying hard with you all!"[12]
Dialogue
[
]
Most dialogue within the adventure takes place inside specific encounters, comprising threats, celebrations, and banter between the bosses and the player's companions. See individual boss pages for full listings, e.g., Silverware Golem#Dialogue. However, some dialogue takes place within the menu screens of the adventure itself. This dialogue is listed below.
The Prologue
[
]
Adventure screen
Moroes

Dearest Guest, tonight you are invited to the greatest party on Azeroth!
Join me in Karazhan for music, magic, and just a bit of mayhem!
Best regards, Medivh
Unlocking the adventure
Medivh

We've animated the silverware, rehearsed the opera, and prepared the menagerie. Tonight will be a night to remember!

*Prince Malchezaar pulls Medivh through the portal*

Moroes

Well, this isn't good. This isn't good at all.
The Parlor
[
]
Unlocking
Moroes

I'm Moroes, Karazhan's steward and I need your help! Medivh's gone! We'll need the portals at the top of the tower to save him and the party.
Completion
Moroes

Excellent! The opera house is just up those stairs! I'm sure Barnes will let us through quickly!
The Opera
[
]
Unlocking
Barnes

Welcome to the theater! I am Barnes, the Stage Manager. The portals to save Medivh lie upstairs, but first, you simply must see our show!
Completion
Moroes

Onward! Up those stairs, the Curator guards the menagerie. I hope it's not malfunctioning...
The Menagerie
[
]
Unlocking
Moroes

The Curator guards the menagerie, home to Azeroth's most exotic creatures. Beyond, lie the master's chambers and the portal to save Medivh.
Completion
Moroes

Nearly to the top! We need to save Medivh before the party becomes a brawl!
The Spire
[
]
Unlocking
Moroes

At last! The top of the tower! Find the right portal and bring back Medivh!
Completion
Medivh

Adventurer, come on! Enjoy the party!

Moroes

You did it. I can't believe the party started on time. Could you come back next week? It's Medivh's birthday, and, well…I need backup.
World of Warcraft

[

]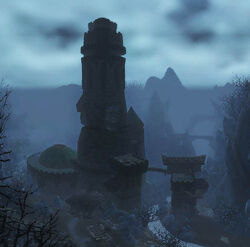 Karazhan (a.k.a. Medivh's Tower, Ivory Tower of Karazhan, or Ivory Spire of Karazhan) is an abandoned citadel (or castle) located on a nexus of ley lines in southern Deadwind Pass. The tower is best known for its last known occupant —

Medivh

, the last Guardian of Tirisfal. After Medivh was killed by

Khadgar

, Lothar and Garona, the tower sealed itself off from the rest of the world. But recently, Karazhan has reawakened — an evil presence has taken the tower as its own, its halls crawling with spirits and demons, and Medivh's presence is still alive and well, even decades after his death.
Karazhan, as a level 70 ten-man raid instance, was opened in World of Warcraft: The Burning Crusade. The instance is huge, scripted, and non-winged, containing twelve boss encounters, with 22 different NPCs. The bosses

Moroes

, the Opera Event,

The Curator

, and the Chess Event must be defeated in order, but all other bosses are optional.
History

Karazhan was originally built by Aegwynn, the Guardian of Tirisfal. She used it as a refuge to hide from the Council of Tirisfal after a disagreement. The land it sits on "was similar in shape to a human skull. Many had noted it over the years, though only a few had been sufficiently brave, or powerful, or tactless to mention it to the property's owner".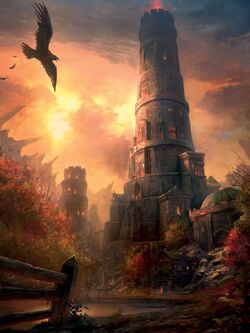 Karazhan's history begins with an explosion that carved out Deadwind Pass and weakened the fabric of reality in the region. Someone then built the tower, probably to take advantage of this weakened reality and heightened magic. Medivh eventually took up residence there, but mused that the explosion and the construction only happened because he would eventually arrive.
During the First War, the tower was inhabited by Medivh, his steward Moroes, his cook named Cook, and his then-apprentice Khadgar. Garona also resided here as an emissary in the same time of Khadgar's apprenticeship. Sargeras allowed Medivh to freely explore Karazhan. As a result of the region's weakened reality, many strange and disturbing visions lurked within the tower, and Moroes was known for wearing blinders to avoid seeing them. The visions were ultimately ended when most of Karazhan's ambient magical power was absorbed by the resurrected Medivh, reducing it to "a pile of stone in the remote reaches", its power taken to serve the Prophet.
Medivh, the Last Guardian, made his home in Deadwind Pass, in the bright tower of Karazhan. Though he was the greatest wizard of his day (and humanity's intended custodian) Medivh was secretly possessed by the dark spirit of Sargeras, the Destroyer of Worlds. Through Medivh, Sargeras opened the Dark Portal and allowed the orcs to wage war upon the kingdoms of Azeroth.
As the war progressed, Medivh fought against Sargeras' control. The raging conflict within him finally drove the wizard irrevocably insane, until his childhood friend, Anduin Lothar, aided Medivh's young apprentice, Khadgar, in storming Karazhan and slaying their former comrade. Since that day, a terrible curse has pervaded both the tower and the lands around it - casting a dark pall over Deadwind Pass and the region that is now known as Duskwood.
History
[
]
Conception
[
]
Karazhan was almost chosen as the setting for Hearthstone's first adventure.[13] Many members of Team 5 have "fond memories" of playing through the Karazhan raid in World of Warcraft - Senior Producer Yong Woo describes Karazhan as the first World of Warcraft raid he fell in love with.[14] The developers eventually chose Naxxramas instead, but Karazhan was kept in mind, with Eric Dodds later stating in March 2015, "We certainly talked a lot about Karazhan, and I would be surprised if we didn't do it at some point in the future."[15]
Following Whispers of the Old Gods (Hearthstone's darkest content to date), the developers knew they wanted to do something lighter. More than 3 years after the release of the original game, Ben Brode describes the development team prior to One Night in Karazhan as getting into their stride, and identifying Hearthstone's "fun and light-heart twist on things" as "kind of our thing now". Knowing that they wanted to put a light-hearted twist on Karazhan, the developers explored various ideas for the adventure's setting and storyline.
Storyline
[
]
In an interview with Shack News, Designer Peter Whalen described several ideas that were ultimately rejected. One idea had Azeroth's most famous mages competing in a race to the top of the tower, with the player competing against characters such as Medivh and
Archmage Antonidas:
"So the idea was that the player was going to take part in this race with all these mages and anybody else who wanted to get involved. It wasn't totally fleshed out. Maybe depending on how you did maybe you could do some achievements, maybe how you fared with the bosses would determine how you ranked up at the end. So that seemed like a lot of fun but it was kind of a lot of crazy in there."
After being rejected as the major theme for the adventure, the developers tried implementing it as a single boss encounter, but were unable to make it work. Parts of the idea would however later emerge as the Storming Stormwind Tavern Brawl.[16]
Another idea saw Medivh inviting the player to Karazhan, only to steal their stuff:
"It just wasn't that fun, right? You had the start of the tower, Medivh's making fun of you on the way up. There was some interesting stuff going on there, it just wasn't as upbeat and the story behind it wasn't as cool. Oh, he took all of our items and all of our stuff? Why would Medivh even do that? He's like the most powerful wizard ever."
One concept saw the player helping to defend Karazhan against a goblin raider, seeking to plunder Karazhan; this would have been a more traditional experience of "creepy" Karazhan, but with a fresh take from the crazy but "upbeat" villain, and Medivh entirely absent.
"This goblin wants to get in and loot the tower, and she's a little bit crazy. She's a goblin apprentice so you get all the kit that goes with that. She wants his spellbook, so she goes up the tower, and you get a fun vibe there. She sees the ghosts and all the creepy stuff, but because she's so upbeat it sells it differently. But we really wanted to get Medivh in the story. It's Medivh's tower, so let's get Medivh in there."
One of the most popular ideas involved Medivh turning himself into a chicken (presumably inadvertently).
"We were pretty excited about Chicken Medivh. We had some funny dialogue. There are a couple of problems that we ran into. One is that Medivh is super-powerful, it's kind of weird to turn him into a chicken. We thought about turning Moroes into a chicken, which was also pretty funny. But we were worried that the chicken gag would get tired over four or five weeks. We wanted to get that same silly, crazy vibe, but in a way that we could sell the Karazhan-ness more, and keep Medivh feeling powerful and awesome."
Finally, the team began to question the origins and design of Karazhan itself:
"We started really looking at the raid, not from a player's perspective, but from a 'What kind of tower has an opera house in it?' and 'Why would you have this giant chess set? What is happening here?' We started asking a lot of questions like: 'Why would this be? Why did it have this?' It was not always decrepit or haunted or infested with ghosts and those from the afterlife, so obviously there was some sort of life that was had at this tower."
As the developers started to envision Karazhan in its prime, they also started to wonder what Medivh might have been like at that time, before his history in the Warcraft games:
"[Medivh] wasn't always old, right? He wasn't always the most powerful mage, and if he was, and in his twenties, what kind of mage would he be? We didn't think that he was going to be interested in the greater saving of Azeroth at that point or even see Azeroth as needing saving, but maybe thinks Azeroth just needs an all-out shindig of a party and he's just the man to throw it. So diving into that and going into the kind of story that would weave itself around the tower. If you got your own opera house and party environment, things like The Great Gatsby come up. What was an era that we felt just encapsulated one big party? The 70s and disco just came to mind in a flash."
Once they came upon the idea of Medivh throwing a party, "the whole thing just took off." The developers were also excited to reimagine Karazhan, giving players the chance to finally see the tower "in its prime"; the long-empty banquet hall and haunted opera house having long been a subject of speculation for World of Warcraft players, especially as the main universe Medivh has never been depicted as the type of person to throw parties, or to particularly enjoy such diversions himself.[13]
However, the decision was made early on to restrict the 70s theme to the adventure itself, and keep it out of the cards, due to concerns over incongruity within the rest of the game, especially once the adventure was no longer fresh. Whalen comments, "At the end of the day it's a fantasy world. Knights on horseback totally works. A disco ball? Not so much."[16] The design and art teams realised that putting too much of the party in the card art itself (or the voice lines associated with it) would feel very odd as time went by. Two or three expansions later, if certain cards came onto the board with a thumping music intro or art filled with disco lights, it would stick out in a "potentially obnoxious way".[3]
Iteration
[
]
With the setting and Medivh's groovy younger self now settled upon, the developers began to explore the adventure's other elements. One such element was the idea of "an enchanted, fun tower", with the tower's magic run amok.[13] Possibly inspired by the original Chess encounter, this formed the basis for the adventure's first wing, as well as a number of cards like
Kara Kazham! and
Silverware Golem.
The adventure's supporting cast saw a few iterations. The main host Moroes was originally to narrate only the first wing, with Barnes taking over for the second, and the Curator curating the third - all three would come together to guide the player through the final wing. However, Moroes worked so well as the "straight-man" foil to "party Medivh" that ended up becoming the main narrator, although the division remains in places.[16]
The Medivas - the backing singers seen in the adventure's cinematic - originally had a much larger role in the adventure. Numerous soundbites mentioned in the adventure's string files show the characters chiming in during boss encounters with appropriately groovy dialogue. However, they ultimately proved too distracting, and the characters were removed entirely from the adventure, although they did later appear in the Party Portals! Tavern Brawl, along with much of their previous dialogue.[16]
The battlefield also saw various iterations, including an organ in the bottom-right corner and some life-size chess pieces in the bottom-left, as well as myriad smaller differences from the finished version (see below).[16] One idea during the design of the
Black King encounter even saw a special version of the battlefield, featuring chess board-like squares.
Gallery
[

]
The first hints at the new adventure were reported on July 13, when a leak on Chinese gaming media claimed that the upcoming adventure was a World of Warcraft raid with precisely three Chinese characters in its name.[17][18] Players quickly drew up a short list of possible raids, from which two likely possibilities emerged: Ulduar or Karazhan.[19][20]
Invites
[
]
On July 16 the first official teaser for the adventure appeared.[21] Players at a Fireside Gathering on the University of California, Irvine campus received a special golden invite, reading,
"You are cordially invited to a most majestic, marvelous, magical event, the likes of which have never been seen before! It is our most sincere hope that you'll be able to join us!"
The invite was widely assumed to be referring to the upcoming revealing of the game's next adventure, although no date or further details were revealed.
On July 19 emails were sent from the developers to the fansites and other game press, containing a special invite,[22] reading,
"Greetings, my dear friend! Your valiant effort and masterful display of strategy in channeling the power of the Old Gods has won you the admiration of people across Azeroth.
We would would be honored if you would join us for a once-in-a-lifetime event that will be full of magic and celebration. We also have something very special in store for you!
Please be prompt, as we have an unforgettable adventure planned!
[Stream date and link]
Sincerely,
An old friend!"
Both the invite's text and graphic details were widely taken as confirming Karazhan as the upcoming adventure, with the visual style and celebratory tone leading many to feel the invite was to a "magical dinner party" at the tower. The feathers seen at the top and bottom of the invite were widely assumed to represent
Medivh, who is known for transforming into a raven; the invite's familiarity ("dear friend", "old friend") likewise suggest a character with whom players are already familiar.
On July 22 Chinese versions of the invite were sent out. These were different in design to the English language email invites, substantial embossed paper invitations in decorated envelopes complete a ribbon and Hearthstone swirl wax seal. The text of the invites was largely the same, but also included a footnote translated as "Please open at night". When opened in the dark, the invite was revealed to feature glow in the dark properties, with the embossed sections illuminated in similar colours to the email invite. There was however one notable difference: the star in the top-left corner was replaced by a glowing eye, which while similar to the symbol of the Kirin Tor, only precisely matches the design shown on
Arcane Intellect. While the English language community had largely settled on a prediction of Karazhan, the Chinese community had still been considering the Darkmoon Faire as a possible setting for the adventure, which this arcane symbol appeared to disprove.[23][24]
The other difference between the two texts was the inclusion in the Chinese invites of a location for the reveal, notably in China. The time of the announcement had already been noted to fit the time zones of China and nearby regions, rather than the US, and this inclusion was taken to suggest that the reveal itself might likewise take place within China rather than the US, where all previous reveals had been staged. Seeming to confirm this, a press release made around the same time included a line translated as "…popular "Hearthstone" designer Ben Brode's first visit to China…". The line was later removed from the official version, but remained in copies on other sites.[23] The location was confirmed a few days later on July 25 when an official announcement invited players to join Brode for the special announcement from ChinaJoy, an entertainment expo in Shanghai.[25]
Party guests
[
]
On July 22 the official Twitter account began tweeting images of preexisting card art, modified to include a "party" theme, complete with fitting captions.
Annoy-o-Tron was the first, followed by
Possessed Villager,
Archmage Antonidas,
Reno Jackson and
Sylvanas Windrunner. 4 of these 5 tweets include the word "party", and feature additional items such as confetti, party hats, balloons and drinks.
The announcement on July 25 of the reveal's setting at ChinaJoy confirmed the party theme, stating:
"Furtive rumors swirl about an upcoming party of unfathomable grandeur! Who could it be for, and, more importantly, are YOU on the guest list? Join Lead Game Designer Ben Brode for a special stream that's sure to delight, enthrall, and illuminate!"[25]
Karazhan connections
[
]
In the days leading up to July 28, players noticed changes on Karazhan.com, with the address now featuring a 403 error message, instead of the simple blank page that had previously featured.[26] By the 28th the address had begun redirecting users to the Battle.net website.[27]
July 28 also saw the release of the "Harbingers: Khadgar" official animated short. Depicting the events leading up to the upcoming World of Warcraft: Legion, the short was set in the tower of Karazhan, featuring both
Khadgar and
Medivh as main characters. Despite their obvious relevance to Legion, the timing of both the video's release and the changes to Karazhan.com were taken by many as confirmation of the upcoming Hearthstone adventure's theme.[27]
Reveals
[
]
The speculation was eventually proven (mostly) correct, when One Night in Karazhan was revealed on July 28, 2016, in a special stream from Shanghai by Ben Brode. The presentation was accompanied by some commentary from Frodan and Azumoqt, and revealed a small number of the new cards.
The other cards from the set were slowly revealed in a number of fan-site reveals and presentations in other countries, between July 29 and August 4, until 21 of the 45 cards had been revealed. Having travelled to China for the original reveal, Ben Brode made a number of presentations in Asia and Australia during this time.
On August 5 a livestream with Frodan and Yong Woo revealed the remaining 24 cards through a series of showmatches with balance designer Dean Ayala.
The livestream took place at a special themed event for streamers and other community members, featuring a life-size (and partially human) chess set, a performance by Romulo and Julianne, and a disco dance floor complete with mirrorball. Special guests included Moroes, the Medivas (Wanda Wonderhooves, Susie Sizzlesong and Mark Moonwalker) and the ogre from one of the original Hearthstone television adverts. The larger event was not streamed, but was featured in a short official video as well as articles on some fan sites.
Amid the usual range of reactions to upcoming cards,
Purify was the subject of especial condemnation from players and streamers, becoming the latest to gain the accolade of "the [worst] card in the game",[28] due in part to the ongoing weakness of the priest class, which the new card not only did nothing to alleviate but in fact threatened to exacerbate through its presence in the Arena. The outcry led to a video response by Ben Brode as part of the Designer Insights series, in which he conceded that Purify was not strong, but explained that it was intended to be fun and interesting rather than a tier 1 card. He did however admit that releasing it with One Night in Karazhan was bad timing, explaining that the team had underestimated the growing frustration from players toward the weakness of the priest class, due in part to the card having been conceived and tested many weeks earlier. The video also announced that Purify would be specifically excluded from selection in the Arena, mostly removing its impact on that game mode, and making it the first non-Promo card to be excluded from the Arena besides
C'Thun and the related cards.
Release
[
]
One Night in Karazhan was released on August 11, 2016. The initial release included the Prologue as well as the adventure's first true wing, the Parlor, with the subsequent wings released one at a time over the next three weeks.
Following the release the official Twitter account tweeted a series of original images depicting Hearthstone-esque versions of celebrities, especially musicians, attending the party at Karazhan: John Lennon, Lady Gaga, Mick Jagger, Marilyn Monroe, Bruce Lee, Andy Warhol and others.
Trivia
[
]
One Night in Karazhan was the first Hearthstone content to be officially revealed from a location outside the US.
This adventure does not feature a preorder option, but is the first content to offer a reward for purchases made during the first week after release, giving players the chance to experience the first wing and prologue.
The adventure adds the first ever neutral weapon card,

Atiesh

, as well as only the second neutral card to equip weapons,

Medivh, the Guardian

. Medivh is also the first minion card to match a playable hero.
For the first two weeks following the adventure's release, a bug caused many of the bosses to refuse to attack minions with harmful Deathrattles, such as

Abomination

and

Explosive Sheep

, making them trivial to defeat. The bug was fixed in a hotfix on August 25.[29]
The adventure's trailer features a number of bosses as well as unrelated Hearthstone characters, including

Alarm-o-Bot

,

Reno Jackson

,

Elite Tauren Chieftain

,

Sir Finley Mrrgglton

,

Arch-Thief Rafaam

,

Harvest Golem

,

Mind Control Tech

,

Lord Jaraxxus

and several Kobold Geomancers.
The first scene of the trailer also features a number of classic World of Warcraft mounts, including the Warlord's Deathwheel, Champion's Treadblade, Reins of the Grove Warden and a gnomish mechanostrider, as well as the Felsaber, the mount for the demon hunter class, which had not yet been released when the trailer was revealed.
Influences discussed during the trailer's development include The Great Gatsby.[30] The second to last scene of the trailer may also be a reference to the popular Leonardo DiCaprio "Cheers" meme, which it closely resembles.
The music for the adventure's trailer saw significant popularity, including a number of fan-made remixes and extended editions. The music for the cinematic was created alongside the artwork itself, with sound engineer Andy Brock brought in early on to help the two develop together.[16]
Given the difference in tone between Curse of Naxxramas and One Night in Karazhan, if the latter had been chosen as the game's first adventure, it seems likely it would have been produced as a much darker experience, and almost certainly lacking the party theme.
If observed closely, the adventure preview page has a card at the background. The card is

Echo of Medivh

, referring to the host, Medivh.
Gallery
[
]
Banners
Trailer
Party guests
References
[
]
External links
[
]
Selected media