Oaken Summons
Regular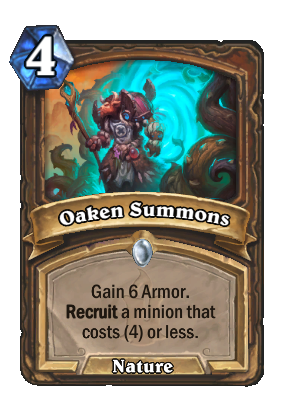 Gold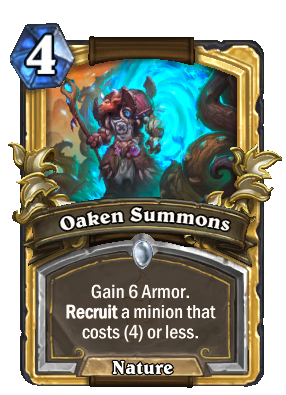 Gain 6 Armor. 
Recruit
a minion that costs (4) or less.
Flavor text
The Guild used oak trees until they all turned to ash.
External links
Oaken Summons is a common druid spell card, from the Kobolds & Catacombs set.
How to get
[
]
Oaken Summons can be obtained by:
Opening card packs
Crafting regular version for 40 dust
Crafting golden version for 400 dust
Strategy
[
]
6 armor for 4 mana is fairly inefficient, putting most of the card's value in its Recruit effect. Oaken Summons is usually run in decks that utilize a small selection of low-cost minions, like Ironwood Golem, Astral Tiger, or Violet Teacher. In these decks, being able to selectively summon a key minion from your deck is fairly powerful. Conversely, it should be avoided if you play minions whose value lies primarily in their Battlecry, such as Keeper of the Grove, Strongshell Scavenger, or Flobbidinous Floop.
One notable synergy is with Archmage Vargoth. When recruited from Oaken Summons, he recasts the spell at the end of the turn, allowing for 12 total armor and extra stats on the board (provided that there is another minion that costs 4 or less in the deck). This combo works best when running overstatted 4-drops such as Ironwood Golem, Zul'Drak Ritualist or Hecklebot.
Gallery
[
]
Patch changes
[
]