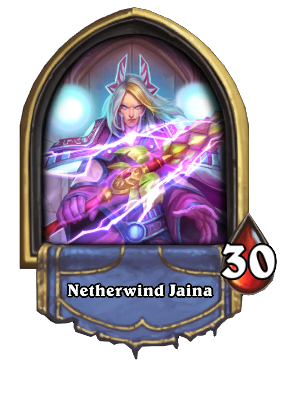 For other appearances of Jaina Proudmoore, see Jaina Proudmoore (disambiguation).
Netherwind Jaina is an alternate hero for the

Mage class in Hearthstone.
Background
[
]
Netherwind Jaina shows Jaina Proudmoore wearing the tier 2 mage raid set called Netherwind Regalia from World of Warcraft: Classic.
How to get
[
]
Netherwind Jaina can be obtained by completing the Tavern Regular achievement (Gain 200 total levels on Expansion Reward Tracks.).
Functionality
[
]
Once unlocked and selected for use, Netherwind Jaina replaces Jaina Proudmoore whenever playing with a Mage deck, as well as:
Comes with her own portrait
Has custom emotes
Flavor text
[
]
When viewed in the collection, Netherwind Jaina has the following flavor text:
She will boldy defend Dalaran from anyone who threatens it... but especially people she doesn't like.
Obtained by completing the Tavern Regular achievement.
Sounds
[
]
Each hero has their own selection of audio and written emotes that are produced in response to specific events. For more information, see Emote.
Most of Netherwind Jaina's sounds are the same as Jaina Proudmoore. Unique, different ones are noted as Unique in References section.
| Type | Transcript |
| --- | --- |
| Attack [1] | Link▶️Question everything![1] |
| Death [1] | Link▶️<Death> |
| Emote: Greetings | Link▶️Warm greetings to you.[1] |
| Emote: Well Played | Link▶️You put a spell on me.[1] |
| Emote: Oops | Link▶️What was that?[1] |
| Emote: Threaten | Link▶️That's enough out of you.[1] |
| Emote: Thanks | Link▶️Thank you so much.[1] |
| Unused: Sorry | Link▶️I'm sorry. |
| Concede | Link▶️You win this one. |
| Start | Link▶️My sorcery will prevail.[1] |
| Running out of time | Link▶️Time runs out on me! |
| Thinking [1] | Link▶️Hmmm... |
| Thinking [2] | Link▶️I wonder... |
| Thinking [3] | Link▶️What to do... What to do... |
| Almost out of cards | Link▶️I'm almost out of cards! |
| Out of cards | Link▶️I'm out of cards! |
| Error: Need a weapon | Link▶️I need a weapon. |
| Error: Not enough mana | Link▶️I don't have enough Mana. |
| Error: Minion exhausted | Link▶️That minion already attacked. |
| Error: Hero already attacked | Link▶️I already attacked. |
| Error: Minion not ready | Link▶️Give that minion a turn to get ready. |
| Error: Hand already full | Link▶️My hand is too full! |
| Error: Too many minions | Link▶️I have too many minions. |
| Error: Can't target Stealthed minion | Link▶️I can't target Stealthed minions. |
| Error: Can't play that card | Link▶️I can't play that. |
| Error: Not a valid target | Link▶️That's not a valid target. |
| Error: Must attack Taunt minion | Link▶️A minion with Taunt is in the way. |
| Error: Generic | Link▶️I can't do that. |
| Selection in Choose Your Hero | Link▶️My power will bring peace, one way or another.[1] |
| Emote: Greetings [Lunar New Year] | Link▶️Happy New Year! |
| Start [Mirror] | Link▶️I think you're on to something.[1] |
| Emote: Greetings [Holidays] | Link▶️Happy Feast of Winter Veil! |
| Emote: Wow | Link▶️Amazing. |
| Emote: Greetings [Happy New Year] | Link▶️Happy New Year! |
| Emote: Greetings [Fire Festival] | Link▶️Happy Midsummer Fire Festival! |
| Unused: Greetings [Pirate Day] | Link▶️Arrrr! Ahoy! |
| Emote: Greetings [Happy Halloween] | Link▶️Happy Hallow's End. |
| Unused: Greetings [Happy Noblegarden] | Link▶️Happy Noblegarden. |
| Emote: Greetings [Mirror] | Link▶️Mirror Images can talk?![1] |
| Start [Prince Arthas] | Link▶️There's nothing I should worry about, right Arthas? |
Patch changes
[
]
References
[
]
Playable heroes
Default heroes

Illidan

Malfurion

Rexxar

Jaina

Uther

Anduin

Valeera

Thrall

Gul'dan

Garrosh
Alternate portraits
1,000 wins portraits

Demonic

Shan'do

Wanderer

Fire Mage

Lightforged

King

Cap'n

Warchief

Shadow

Corrupt
Rewards Track portraits

Demonbane

Cenarion

Giantstalker

Arcanist

Lawbringer

Prophecy

Nightslayer

Earthfury

Felheart

Might
Tavern Regular portraits

Felravager

Storm's Rage

Dragonstalker

Netherwind

Judgement

Transcendence

Deathmantle

Ten Storm

Nemesis

Wrath
Book of Heroes portraits

Skullbearer

Emerald

Warsong

Scholar

Second War

SI:7

Gladiator

Frostwolf

Shadowmoon

Nagrand
Other portraits

Ember Court

Flame

Winter Fury

Firefang

Flamewalker

Robin Hood

Apprentice

Archmage

Kul Tiran

Red Riding

Horseman

Guan Yu

Inferno

Ascended

Zhuge Liang

Charming

Diao Chan

Durotan

Alterac

Wolfrider

Frog Prince

Rituals

Lü Bu

Pirate King
Alternate heroes
Promotional and special events

Lunara

Liadrin

Arthas

Yrel

Tyrande

Maiev

Morgl

Nemsy

Annhylde
Expansion pre-order heroes

Elise

Hamuul

Kel'Thuzad

Katrana

Lazul

Rastakhan

Vashj

Jaraxxus

Deathwing
Bundle purchasable heroes

Aranna

Hazelbark

Alleria

Sylvanas

Medivh

Khadgar

Annoy-O



Edwin


Thunder King

Ragnaros

Magni
Book of Mercenaries heroes
Kurtrus

Initiate

Adept

Trainer
Guff

Runetotem

Spelunker

Fangbound

Fauna Friend
Tavish

Varden

Cariel

Xyrella

Survivor

Shardseeker

Lightweaver
Scabbs

Chef

Agent

Investigator

Undercover
Bru'kan

Tamsin

Scholomance

Impressive

Summoner

Triumphant
Rokara

Young

Recruit

Horde