Raise a Floppa - The Loop
Play Sound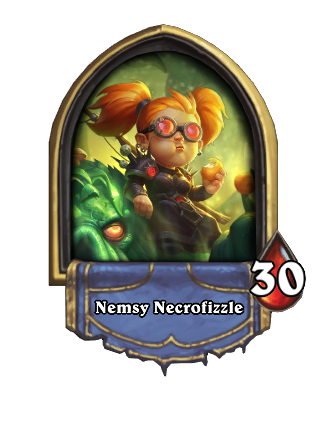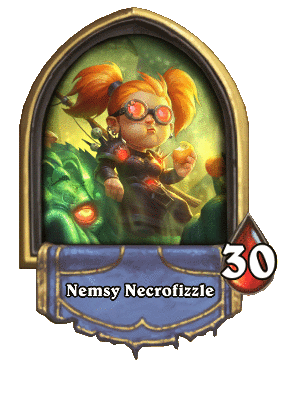 Nemsy Necrofizzle is a hero skin for the warlock class.
Lore
Not much is known about Nemsy Necrofizzle, however she is believed to be the Gnome featured within the artwork of the Bog Creeper, riding on its back, as well as being shown within the artwork of the Fen Creeper, fishing.
From Blizzard's post announcing the availability of the new hero[1]:
Don't let Nemsy Necrofizzle's small size and penchant for peaches fool you: behind those pigtails and goggles hides one of the most powerful Warlocks alive. Nemsy is utterly fearless, sharp as a razor, and she's always cool under pressure. After all, you can't command fel energies or summon horrifying demons from the twisting nether just by being nice. She's your perky little pal—and a bonafide fel-flinging, soul-destroying mistress of dark forces!
Nemsy loves it when her foes underestimate her. Appearances can be deceiving, and she knows that it's what lies beneath the surface that counts.
Join forces with Nemsy Necrofizzle and show your opponents just how adorable soul-devouring destruction can be! From October 17 onward, simply participate in a Fireside Brawl at an established Fireside Gatherings Tavern to add her to your collection.
How to get
Nemsy Necrofizzle is currently available for obtaining.
Previous availability
Hero Power
Functionality
Main article: Alternate heroes
Once unlocked and selected for use, Nemsy Necrofizzle replaces Gul'dan whenever the player uses a Warlock deck, as well as:
Comes with own portrait
Has custom emotes
Has custom tray
Flavor text
When viewed in the Collection, Nemsy Necrofizzle has the following flavor text:
Siphoning souls with a smile! Obtained from participating in Fireside Gatherings.
Sounds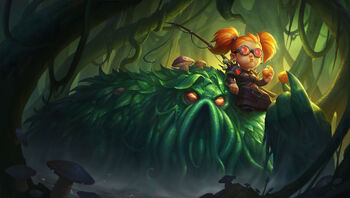 Type
Transcript
Trigger:

DOOM!

Link▶️Doom! Doooooom!
Trigger:

Renounce Darkness

Link▶️Aww... But darkness is so much fun.
Attack [1]
Link▶️Let's rock!
Death [1]
Link▶️
Concede
Link▶️Impressive. You win this time.
Link▶️Don't I need a weapon?
Link▶️Not enough mana.
Link▶️They already attacked.
Link▶️I can't attack twice.
Link▶️Shhh! They're still asleep.
Link▶️Woah! Too many cards!
Link▶️Only seven minions, pal!
Link▶️They're hiding in stealth!
Link▶️Hm, can't do it.
Link▶️I can't target that.
Link▶️There's a Taunt in the way.
Link▶️That's not allowed!
Emote: Greetings [Fire Festival]
Link▶️Midsummer fireworks are the best!
Emote: Greetings [Mirror]
Link▶️Heh, heh! Hi!
Emote: Greetings
Link▶️Hiyah friend!
Emote: Greetings [Happy Halloween]
Link▶️Hallow's End?! Spooooky....
Emote: Greetings [Holidays]
Link▶️Happy Feast of Winter Veil!
Emote: Greetings [Happy New Year]
Link▶️Happy New Year!
Emote: Greetings [Lunar New Year]
Link▶️Happy New Year!
Almost out of cards
Link▶️I'm running low on cards!
Start [Mirror]
Link▶️Yeah! This is gonna be awesome!
Unused: Greetings [Happy Noblegarden]
Link▶️I love Noblegarden!
Out of cards
Link▶️I'm out of cards!
Emote: Oops
Link▶️Whoopsie!
Unused: Greetings [Pirate Day]
Link▶️Yarrr, I be a pirate, yarrr!
Unused: Sorry
Link▶️Awww, I'm sorry.
Start
Link▶️Let's have some fun!
Emote: Thanks
Link▶️Dawwww, thank you!
Thinking
Link▶️Hmmmm....
Thinking
Link▶️Hm, dum dee dum dum...
Thinking
Link▶️I wonder if....
Emote: Threaten
Link▶️You'd make a cute puppet.
Running out of time
Link▶️Gotta go fast!
Emote: Wow
Link▶️That was AWESOME!
Emote: Well Played
Link▶️Wow, well played!
Selection in Choose Your Hero
Link▶️Oho, this is gonna be fun!
Gallery
Patch changes
9.4.0.22115 (2017-11-06):

Now has an animated hero power and unique Hero tray.
References
[
]
External links
[
]