World of Warcraft: Dragonflight - The Loop
Play Sound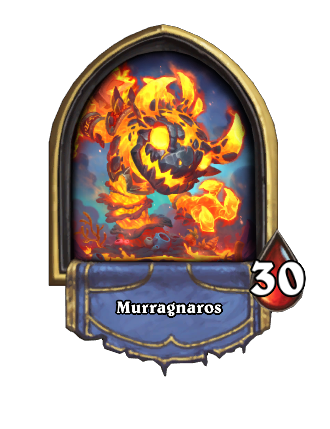 Murragnaros is a hero skin for the shaman class.
How to get
Murragnaros is currently unavailable for obtaining.
Flavor text
When viewed in the Collection, Murragnaros has the following flavor text:
Given his newfound murloc palette, it's unclear if Murragnaros is talking about literal insects or if he is just as impolite as usual. Acquired by purchasing the Murragnaros bundle.
Sounds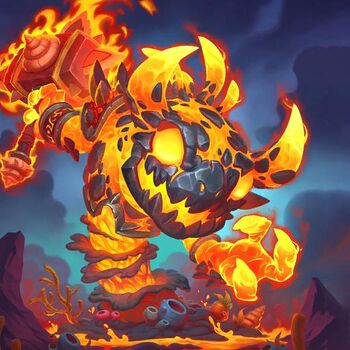 | Type | Transcript |
| --- | --- |
| Attack [1] | Link▶️DIE, FINSECT! |
| Death [1] | Link▶️<_DEATH_> |
| Concede | Link▶️YOU HAVE ONLY DELAYED THE FINEVITABLE! |
| | Link▶️THERE IS NO SPACE. |
| | Link▶️AN ERROR! |
| | Link▶️YOU CAN SAY THAT AGAIN! |
| Emote: Greetings | Link▶️<_FRIENDLY MRGLS_> |
| Emote: Greetings [Holidays] | Link▶️WHATEVER THE OCCASION, CELEBRATE WITH FLAMES! |
| Thinking | Link▶️VERY FINTERESTING... |
| Almost out of cards | Link▶️I AM LOW ON CARDS! |
| Out of cards | Link▶️WHAT? NO CARDS? |
| Emote: Oops | Link▶️<_BURNING MRGLS_> |
| Selection in Choose Your Hero | Link▶️YOU SUMMON MURRAGNAROS! LORD OF MOLTEN MURLOCS! |
| | Link▶️I AM ON FIRE! |
| Start | Link▶️BEHOLD THE MOLTEN MURLOC! |
| Emote: Thanks | Link▶️MORTAL, I THANK YOU. |
| Emote: Threaten | Link▶️MURRAGNAROS WILL FINISH YOU! |
| Running out of time | Link▶️I MUST SWIM FASTER! |
| Emote: Well Played | Link▶️YOU BURN BRIGHT, MORTAL! |
| Emote: Wow | Link▶️BY MAGMA AND MURLOCS! |
Patch changes