Mukla's Champion
Regular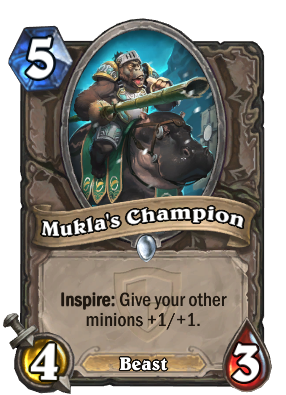 Gold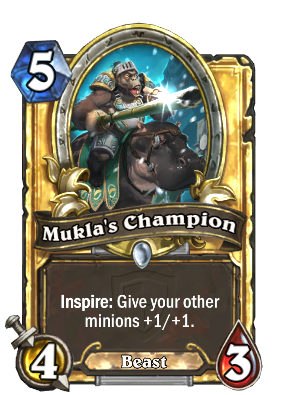 Inspire:
Give your other minions +1/+1.
Flavor text
An elegant gorilla, for a more civilized age.
External links
Mukla's Champion is a common neutral minion card, from the Grand Tournament set.
How to get
[
]
Mukla's Champion can be obtained through The Grand Tournament card packs, or through crafting.
| Card | Crafting cost | Disenchanting |
| --- | --- | --- |
| Mukla's Champion | 40 | 5 |
| Golden Mukla's Champion | 400 | 50 |
Notes
[
]
Strategy
[
]
Playing this card and using your Hero Power will cost you 7 mana. Its stats are poor for its cost and as a soft taunt it may be swiftly removed from the board. For 7 mana you can play Stormwind Champion, which grants the same effect, albeit as an aura, while providing a 6/6 body. Mukla's Champion's ability, however, grants a permanent upgrade to the minions it affects, whereas Stormwind Champion's buff fades if it is removed from the field. Mukla's Champion's ability also can be triggered multiple times over multiple turns, providing a powerful snowballing effect. For this reason, this card is best played in situations where you hope it can remain on the board for several turns, buffing a field full of minions. It synergizes well with cards like Muster for Battle, Kara Kazham!, Forbidden Ritual, and other cards that provide a large number of relatively weak minions for low cost.
This card can work well with paladin or shaman decks since it has synergy with their Hero Powers. Because Mukla's Champion's effect activates after the hero power is used, the summoned Silver Hand Recruit or Totem itself will also receive the buff.
Lore
[
]
This gorilla is a champion of King Mukla, and is riding a hippopotamus.[1] The mount is notable, as hippopotamuses are not previously known to exist in World of Warcraft. The planet of Draenor has hippo-like creatures called riverbeasts, but they have rocky plates covering their backs, as well as long, club-like tails, neither of which are possessed by the beast ridden by Mukla's Champion.
Trivia
[
]
Voice
[
]
Mukla's Champion was voiced by Dave Mallow, who also voiced The Mistcaller, Mogor's Champion and Spawn of Shadows.
Gallery
[
]
Patch changes
[
]
References
[
]
External links
[
]