This page lists cards with card art depicting mogu.
Lore
[
]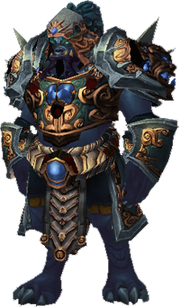 Though created by the Titans during the creation of Azeroth to serve and protect the land, they were later afflicted by the Curse of Flesh, eventually losing their way and valuing power and control above all else. Under the reign of emperors like Lei Shen, the Mogu Empire dominated Pandaria. After the Pandaren revolution and the downfall of the empire, the mogu clans scattered.
Following the arrival of the Alliance and the Horde, the mogu clans made various attacks to reclaim their former glory from the pandaren in the ensuring chaos. Shan Bu and Zhao-Jin the Bloodletter in particular led their clans against the pandaren-controlled Vale of Eternal Blossoms and Townlong Steppes. After the fall of the newly resurrected Thunder King, the mogu have once again been defeated.
Cards
[
]
Mogu
Mogu art
Name

/ Desc

Rarity
Type
Subtype
Class
Cost
Atk
HP
Description
Forgotten Armor
Spell
General
Druid
Gain 10 Armor.
Forgotten Mana
Spell
General
Druid
0
Refresh your Mana Crystals.
Cut from Jade
Spell
General
Druid
1
Summon a Jade Golem.
Into the Fray
Rare
Spell
General
Warrior
1
Give all Taunt minions in your hand +2/+2.
Jade Idol
Rare
Spell
General
Druid
1
Choose One - Summon a Jade Golem; or Shuffle 3 copies of this card into your deck.
Jade Stash
Spell
General
Druid
1
Shuffle 3 Jade Idols into your deck.
Jade Lightning
Common
Spell
Nature
Shaman
4
Deal 4 damage. Summon a Jade Golem.
Highkeeper Ra
Minion
General
Any
10
20
20
At the end of your turn, deal 20 damage to all enemies.
Showing all 8 cards
Card art
Races Native to Azeroth

Elves

Titan-forged

Nature

Other

Races Alien to Azeroth

Void

Demons

Other

Undead
Miscellaneous