Mister Chu
Regular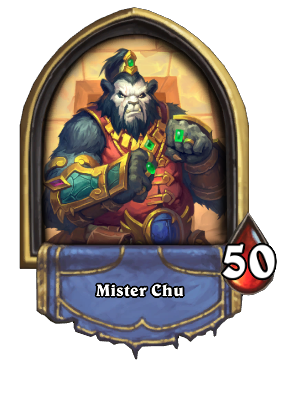 Gold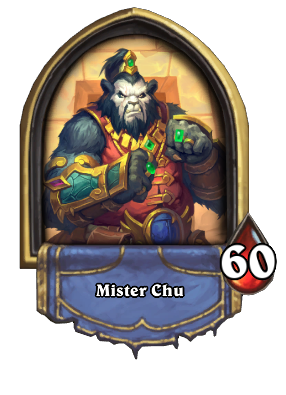 Flavor text
Chu bravely volunteered to "guard" this treasure-filled tomb.
External links
Not to be confused with Mr. Chu.
Mister Chu is a boss that can be encountered initially in Chapter 3 of Tombs of Terror. After completing Chapter 3, this boss encounter will be available in any completed chapter.
Hero Powers
[
]
Normal
Heroic

Passive
Special cards
[
]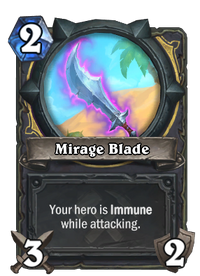 Decks
[
]
The below classes are listed purely for reference, and have no effect on the boss' use of the cards during the battle.
Strategy
[
]

Please add any available information to this section.
Dialogue
[
]
Introduction
Mister Chu

I am in your way.
You are looting all of my loot!

vs. Brann Bronzebeard

Brann Bronzebeard

You're in my way!

Mister Chu

...that is my line.
Emote Response
Mister Chu

I am not here to listen.
Hero Power triggers
Mister Chu

Changed your mind yet?
It is time for business.
Knew I had this somewhere...
Step aside!
This will do.
Idle
Mister Chu

A job is a job.
I took up gem collecting. Can you tell?
The sooner I stop you, the sooner I leave.
Boss cards
Mister Chu

Livewire Lance

Hm... I like this one.

Mirage Blade

This one is best.
Player's cards
Mister Chu

Madam Goya

It is best if we forget the past.

Armored Goon

Have we worked together before?

Mischief Maker

Who let this one in?
Death
Mister Chu

Rafaam...
Defeat
Mister Chu

The boss has marked you. Turn back now.
Lore
[
]
Mister Chu has been a henchman in The Dalaran Heist.

This section uses content from Wowpedia.
Mister Chu is the bodyguard of Madam Goya. He was originally found accompanying her at the Black Market in the Veiled Stair and later relocated with the rest of the Black Market to the Ring of Blood in Nagrand, followed by the Underbelly in Dalaran.
Gallery
[
]
Patch changes
[
]
Tombs of Terror
Heroes
Chapter 1:
The Lost City

| | |
| --- | --- |
| Level 1 | |
| Level 2 | |
| Level 3 | |
| Level 4 | |
| Level 5 | |
| Level 6 | |
| Level 7 | |
| Level 8 | |

Chapter 2:
Scorching Dunes

| | |
| --- | --- |
| Level 1 | |
| Level 2 | |
| Level 3 | |
| Level 4 | |
| Level 5 | |
| Level 6 | |
| Level 7 | |
| Level 8 | |

Chapter 3:
Khartut's Tomb

| | |
| --- | --- |
| Level 1 | |
| Level 2 | |
| Level 3 | |
| Level 4 | |
| Level 5 | |
| Level 6 | |
| Level 7 | |
| Level 8 | |

Chapter 4:
Halls of Origination

| | |
| --- | --- |
| Level 1 | |
| Level 2 | |
| Level 3 | |
| Level 4 | |
| Level 5 | |
| Level 6 | |
| Level 7 | |
| Level 8 | |

Chapter 5:
The Inner Sanctum
Tavern