GTA: The Criminal Enterprises - The Loop
Play Sound
Mike Donais
Regular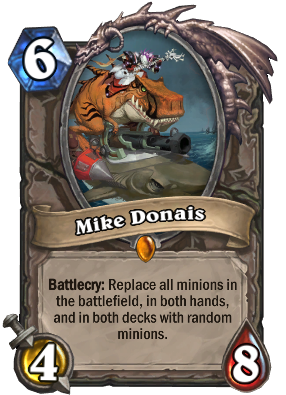 Battlecry:
Replace all minions in the battlefield, in both hands, and in both decks with random minions.
External links
"The way his mind works frightens me sometimes. I think he IS the Maddest Bomber." - Zeriyah[1]
Mike Donais is a Blizzard employee who was formerly a Principal Game Designer on Team 5,[2] working on card design and balance.[3] He was introduced as a new member of the Hearthstone team in January 2014, just before the game's open beta. He was the Lead Game Designer for Hearthstone from 2018 to January 2020, at which point he left the team. He now works on an unannounced Blizzard project[4] along with Peter Whalen,[5] but he still occasionally provides advice and design ideas to the Hearthstone developers.[6]
Official
[
]
As a senior game designer on Blizzard Entertainment's Hearthstone team, Mike Donais is responsible for designing Hearthstone cards, balancing those cards, and designing Adventures.
Donais joined Blizzard Entertainment in 2013 after serving as senior designer on Marvel Heroes at Gazillion Entertainment. He was also design director for the World of Warcraft Trading Card Game at Cryptozoic Entertainment. Mike was a senior game designer for 10 years who helped design Magic: The Gathering and Dungeons & Dragons, among other projects.
Mike is a competitive gamer who began his career in game design as a pro TCG player. In his spare time he enjoys card games and pro gaming. He also holds a Bachelor's degree in Computer Science.[7]
Notes
[
]
Quotes
[
]
About Donais
"I'm pretty intimidated by Mike Donais and the decks he creates - I feel like he's always two steps ahead, like a puzzle wrapped in an enigma." - Zeriyah[15]
Card art
[
]
The art for Donais's credits card depicts Epicus Maximus.
Gallery
[
]
Patch changes
[
]
References
[
]
External links
[
]
Videos
Articles
Selected media