Micro Machine
Micro Machine
See other versions: BG Regular and BG Gold
Set:
Goblins vs Gnomes
Type:
Minion
Minion type:
Mech
Rarity:

Common

Cost:
2
Attack:
1
Health:
2
Abilities:
Increment attribute
Tags:
Triggered effect
Artist:
Skan Srisuwan
At the start of each turn, gain +1 Attack.
This card is the real thing.

Micro Machine is a common neutral minion card, from the Goblins vs Gnomes set.
Micro Machine can be obtained through Goblins vs Gnomes card packs, or through crafting.
| Card | Crafting cost | Disenchanting |
| --- | --- | --- |
| Micro Machine | 40 | 5 |
| Golden Micro Machine | 400 | 50 |
Note that this minion gains Attack at the start of both your turns and your opponent's. This means it will have 3 Attack by the time it is first ready to attack, and will gain 2 Attack each round, very quickly reaching monstrous size if it is not removed.
This minion's triggered effect is extremely powerful, but limited by its low Health. For this reason, it makes an excellent target for Health-boosting effects like Mark of Nature, Blessing of Kings or Velen's Chosen.
Summon

For a little bot, I pack a BIG punch!
Attack

Heeeere I come!!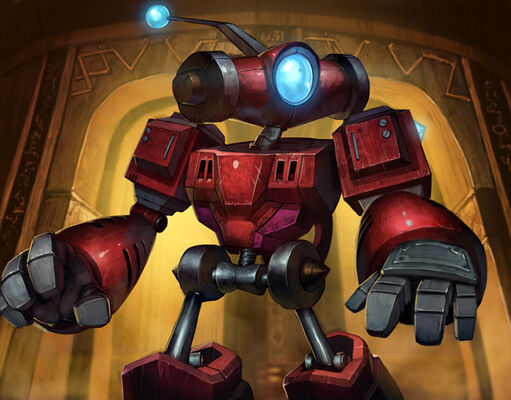 Patch 2.0.0.7234 (2014-12-04): Added.