New tasks are available daily at the campfire, or during the bounty run at the Mystery where you can choose from a task assigned to three random members of your current team.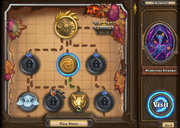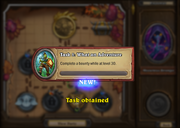 Task reward is one part of tasked mercenary, and some coins of a random mercenary.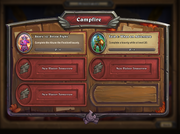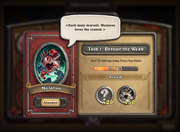 If your campfire are full, and you pick a Visitor, only get the tasked mercenary coins/2 instantly.
Tasks by levels:
#
Objectives
Rewards
Specific Coins
Other Coins
Packs
1
Using skill 1
50
20
2
Using skill 2
Equipment
3
Using skill 3
50
25
4
Deal 150 damage
50
30
5
Finish bounty on level 30
50
35
6
Destroy 40 minions
50
40
7
Finish 2 heroic bounties
Equipment
8
Use 2 boons for class / 4 healer
60
30
9
60
35
10
60
40
11
Deal/heal 450 damage
60
45
12
60
50
13
Finish 4 heroic bounties with that merc
70
50+50
14
70
50+75
15
Finish 6 bounties with that merc
70
75+75
16
Deal 900 damage to the merc's critical destination role
70
1
17
75
1
18
450 damage to heroic bounty bosses
80
1
| Mercenary | Task 1 | Task 2 | Task 3 | Task 4 | Task 5 - Complete a bounty while at level 30. | Task 6 | Task 7 - Defeat 2 heroic bosses. 3rd Weapon. | Task 8 - Coins - 60 and 30 coins. | Task 9 - Specialty move - 60 and 35 coins. | Task 10 - Specialty move - 60 and 40 coins. | Task 11 - 450 damage - 60 and 45 coins. | Task 12 - Specialty - 60 and 50 coins. | Task 13 - Complete 4 Heroic Bounties - 70, 50, and 50 coins. | Task 14 - Specialty - 70, 75 and 50 coins. | Task 15 - Complete 6 bounties - 70, 75, and 75 coins. | Task 16 - 900 damage to specific class - Pack and 70 coins. | Task 17 - Specialty - Pack and 75 coins. | Task 18 - Deal 450 damage to Heroic bosses - Pack and 80 coins. |
| --- | --- | --- | --- | --- | --- | --- | --- | --- | --- | --- | --- | --- | --- | --- | --- | --- | --- | --- |
| Alexstrasza | | | | | | | | | | | Task 11: A Dragon's Claws - Deal 450 Damage | Task 12: Two for one - Destroy two enemies in one turn using Flame Buffet 15 times. | Task 13: Formidable Opponents - Complete 4 Heroic Bounties. | Task 14: They Stood in the Fire - Deal 900 damage to adjacent enemies using Flame Buffet. | Task 15: The Red Dragonflight - Complete 6 Bounties | Task 16: Fire Cleanses - Deal 900 damage to Fighters. | Task 17: Their Strength is Mine - Destroy 40 enemies using Dragonqueen's Gambit. | Task 18: Flowers in Flame - Deal 450 damage to Heroic bosses. |
| Cairne Bloodhoof | | | | | | | | Task 8: Our Way is Harmony - Use the Spirit Healer coin 4 times. | Task 9: Protect our People - Destroy 45 enemies using Earth Stomp. | Task 10: Endure for my People - Deal 20 or more damage in one turn using Earth Stomp 5 times. | Task 11: Trample the Enemy - Deal 450 Damage. | Task 12: The Earthmother is Near - Heal 100 damage. | Task 13: The Spirits Call - Complete 4 Heroic Bounties. | Task 14: Crush them Underhoof - Deal 30 or more damage in one turn using Earth Stomp 20 times. | Task 15: For my People - Complete 6 Bounties. | Task 16: Spirits Guide Me - Deal 900 damage to Fighters. | Task 17: For Thunder Bluff - Deal 900 damage using Earth Stomp. | Task 18: High Chieftain - Deal 450 damage to Heroic bosses. |
| Cariel Roame | | | | | | | | | Task 9: Rally for Stormwind - Deal 450 damage with Humans with a team that includes this Mercenary. | Task 10: A Glorious Restoration - Restore 285 Health using Crusader's Blow. | Task 11: A Hammer finds Nails - Deal 450 damage. | Task 12: Protecting my Friends - Deal 450 Holy Damage with a team that includes this Mercenary. | Task 13: Redemption for Tamsin - Complete 4 Heroic Bounties. | Task 14: Blessings of Faith - Deal 900 damage with Humans with a team that includes this Mercenary. | Task 15: Friends Bolster Faith - Complete 6 Bounties. | Task 16: Bulwark of the Light - Deal 900 damage to Fighters. | Task 17: Reinforce the Faith - Deal 900 Holy Damage with a team that includes this Mercenary. | Task 18: A Quest Realized - Deal 450 damage to Heroic bosses. |
| Cornelius Roame | | | | | | | | Task 8: We Need Healing - Use the Spirit Healer coin 4 times. | Task 9: United We Stand - Gain 120 Health using Martial Mastery. | Task 10: Attack and Receive - Restore 360 Health using Hold the Front. | Task 11: A Simple Task - Deal 225 damage. | Task 12: Holy Forces - Deal 450 Holy Damage with a team that includes this Mercenary. | Task 13: You Ready for This? - Complete 4 Heroic Bounties. | Task 14: Allied Forces - Deal 450 damage with Humans with a team that includes this Mercenary. | Task 15: Justice Delivered - Complete 6 Bounties. | Task 16: No Mercy - Deal 450 damage to Fighters. | Task 17: Rally to Me - Restore 450 Health using Hold the Front. | Task 18: Take Them Down! - Deal 450 damage to Heroic bosses. |
| Garrosh Hellscream | | | | | | | | Task 8: Healing Me Is Wise - Use the Boon: Protector coin 2 times. | Task 9: Strength Unrivaled - Deal 450 damage with Orcs with a team that includes this Mercenary. | Task 10: Now you Die - Deal 120 damage using Mak'Gora. | Task 11: Victory Will Be Ours - Deal 450 damage. | Task 12: Relentless Horde - Gain 240 Health using Horde Strength. | Task 13: We Will Claim Victory - Complete 4 Heroic Bounties. | Task 14: My Power Grows - Gain 10 or more Health in one turn using Horde Strength 20 times. | Task 15: Fear Me - Complete 6 Bounties | Task 16: You Will Pay - Deal 900 damage to Fighters. | Task 17: Strength and Honor - Deal 900 damage with Orcs with a team that includes this Mercenary. | Task 18: You Are Beneath Me - Deal 450 damage to Heroic bosses. |
| Grommash Hellscream | | | | | | | | Task 8: Are they Worthy? - Use the Boon: Protector coin 2 times. | Task 9: Respite from Pain - Complete 5 battles with 40 or more Attack. | Task 10: Strength Within - Gain 195 Attack using Blood Fervor. | Task 11: The Inner Fire - Deal 450 damage. | Task 12: Glory for the Warsong - Deathblow 75 times. | Task 13: Practice - Complete 4 Heroic Bounties. | Task 14: Mannoroth's Promise - Destroy two enemies in one turn using Battlefury 5 times. | Task 15: Furious Wrath - Complete 6 Bounties. | Task 16: The Curse Calls - Deal 900 damage to Fighters. | Task 17: Test My Axe - Gain 450 Attack using Blood Fervor. | Task 18: A True Challenge - Deal 450 damage to Heroic bosses. |
| Gruul | | | | | | | | Task 8: Gruul Needs Strength - Use the Boon: Protector coin 2 times. | Task 9: Dragon Invaders - Destroy 45 enemies using Dragonmaw Poacher. | Task 10: Massive Fists - Deal 200 damage using Crazed Flurry. | Task 11: Might of the Gronns - Deal 450 damage. | Task 12: We Kill Dragons - Defeat 30 Dragons. | Task 13: Scurry, Weak Ones - Complete 4 Heroic Bounties. | Task 14: Kill the Invaders - Destroy 40 Dragons using Dragonslayer Shot. | Task 15: Ogre Overlord - Complete 6 Bounties. | Task 16: Squash Them - Deal 900 damage to Fighters. | Task 17: Pain Makes Gain - Deal 900 damage using Crazed Flurry. | Task 18: The Dragonslayer - Deal 450 damage to Heroic bosses. |
| King Mukla | | | | | | | | Task 8: Who needs Protecting? - Use the Boon: Protector coin 2 times. | Task 9: Rejuvenating Bananas - Restore 60 Health using Banana Frenzy. | Task 10: Banana Frenzy - Deal 450 damage with Beasts with a team that includes this Mercenary. | Task 11: Mukla's Mayhem - Deal 450 damage. | Task 12: Protecting my Island - Deal 450 damage with Beasts with a team that includes this Mercenary. | Task 13: Complete 4 Heroic Bounties. | Task 14: King of the Cape - Gain 15 Attack using Banana Frenzy. | Task 15: Scare them Away - Complete 6 Bounties. | Task 16: Swords Still Hurt - Deal 900 damage to Fighters. | Task 17: Family Ties - Destroy 75 enemies using Mukla's Big Brother. | Task 18: Simian Slam - Deal 450 damage to Heroic bosses. |
| Kurtrus Ashfallen | | | | | | | | | Task 9: Hunt them all Down - Defeat 20 Demons. | Task 10: I Will Train Alone - Complete 30 battles  with 25 or more Attack. | Task 11: Fate Calls - Deal 450 damage. | Task 12: The Hunt Must Continue - Deal 450 Fel Damage with a team that includes this Mercenary. | Task 13: Suffer the Consequence - Complete 4 Heroic Bounties. | Task 14: Bind my Wounds - Heal 200 damage. | Task 15: I Must Prevail - Complete 6 Bounties. | Task 16: Where is She? Deal 900 damage to Fighters. | Task 17: My Fury Remains - Destroy 75 enemies using Aimless Assault. | Task 18: Without Mercy - Deal 450 damage to Heroic bosses. |
| Lord Jaraxxus | | | | | | | | Task 8: Weak like Velen - Use the Boon: Protector coin 2 times. | Task 9: Countlest Fists - Deal 150 damage using Fist of Jaraxxus. | Task 10: Fel Flames - Cast Fist of Jaraxxus 45 times. | Task 11: Cleaving Inferno - Destroy two enemies in one turn using Fist of Jaraxxus 8 times. | Task 12: Curse of the Nether - Deal 685 damage using Fel Infernal. | Task 13: Unworthy Opponents - Complete 4 Heroic Bounties | Task 14: Feel my Fist - Deal 360 damage using Fist of Jaraxxus. | Task 15: There are onlyMan'ari - Complete 6 Bounties. | Task 16: Pathetic Mortals - Deal 900 damage to Fighters. | Task 17: Clear the Path - Trigger Deathblow on Legion Burst 20 times. | Task 18: Pitiful Foes - Deal 450 damage to Heroic bosses. |
| Malfurion Stormrage | | | | | | | | | Task 9: Blessing Upon You - Increase the speed of friendly abilities by a total of 55. | Task 10: I Feel Stronger - Deal 450 Nature Damage with a team that includes this Mercenary. | Task 11: Rise to Action - Deal 450 damage. | Task 12: Nature's Wrath - Restore 245 Health using Archdruid's Call. | Task 13: I Hear the Wild Calls - Complete 4 Heroic Bounties. | Task 14: Vengeance is Mine - Deal 900 Nature Damage with a team that includes this Mercenary. | Task 15: Justice Be Done - Complete 6 Bounties. | Task 16: Nothing Personal - Deal 900 damage to Fighters. | Task 17: Give and Take - Deal 900 Nature Damage with a team that includes this Mercenary. | Task 18: Enemies Beware - Deal 450 damage to Heroic bosses. |
| Mannoroth | | | | | | | | Task 8: Rest for the Wicked - Use the Boon: Protector coin 2 times. | Task 9: Trample their Bones - Grat 270 Health using Terror Charge. | Task 10: True Terror - Use Howl of Terror 10 times. | Task 11: Strengthen the Legion - Grant your demons 270 health with Terror Charge. | Talk 12: Foolish Weaklings - Prevent 150 healing with Fel Lash. | Task 13: The Flayer - Complete 4 Heroic Bounties. | Task 14: Teach them Fear - Deal 12 damage in a single attack with Howl of Terror. | Task 15: Onslaught of Fel - Complete 6 Bounties. | Task 16: No More Failure - Deal 300 damage using Fel Lash. | Task 17: The Pit Lord - Deal 240 damage to Fighters. | Task 18: The Enforcer - Deal 450 damage to Heroic bosses. |
| Mr. Smite | Task 1: Ahoy! Deal 90 damage using Smite Slam. | Task 2: Desist, Novice Seaman! - Gain 30 Attack using Avast ye Matey. (Sailor's Cap) | Task 3: Keelhaul Them! - Use Overboard 10 times. | Task 4: Taurrgh-en Charm - Deal 280 damage. | Task 5: Arm of Iron - Complete a bounty while at level 30. | Task 6: Swab the Decks - Destroy 40 minions. | Task 7: On Land or Sea or Foam - Defeat 2 Heroic bosses. | Task 8: Superstitious Seas - Use the Spirit Healer coin 4 times. | Task 9: Shatter the Mast - Deal 30 or more damage in one turn using Smite Slam 10 times. | Task 10: Little Bit o'Luck - Deal 450 damage using Smite Slam. | Task 11: Rais Up the Flag! - Deal 450 damage. | Task 12: Talk Like a Pirate - Gain 80 Attack using Avast ye Matey. | Task 13: Pirate's Bounty - Complete 4 Heroic Bounties. | Task 14: With an Iron Boot - Deal 50 or more damage in one turn using Overboard 10 times. | Task 15: Fortune and Glory - Complete 6 Bounties. | Task 16: Landlubbers! - Deal 900 damage to Fighters. | Task 17: Hold Fast - Gain 60 Attack using Avast ye Matey. | Task 18: Batten Their Hatches - Deal 450 damage to Heroic bosses. |
| Ragnaros | | | | | | | | Task 8: Cast them Aside - Use the Boon: Protector coin 2 times. | Task 9: Fiery Combo - Deal 450 Fire Damage with a team that includes this Mercenary. | Task 10: Burn it all - Deal 15 Combo damage. | Task 11: Incinerate Them - Deal 450 damage. | Task 12: Elemental Lord of Fire - Destroy two enemies in one turn using DIE, INSECTS! 15 times. | Task 13: Clear These Insects - Complete 4 Heroic Bounties. | Task 14: A Wave of Fire - Deal 900 Fire Damage with a team that includes this Mercenary. | Task 15: Sulfuras Burns - Complete 6 Bounties. | Task 16: Reduce them to Ashes - Deal 900 damage to Fighters. | Task 17: Let Fire Consume - Deal 600 damage using Magma Blast. | Task 18: The Firelord - Deal 450 damage to Heroic bosses. |
| Sneed | Task 1: Fire the Engines! - Deal 55 damage using Bzzz!!!. | Task 2: Blades a'Spinning - Gain 30 Attack using Activate Saw. | Task 3: Workplace Hazards - Deal 90 damage using Disarm. | Task 4: Spin and Slash - Deal 240 damage. | Task 5: All in a Day's Work - Complete a bounty while at level 30. | Task 6: Rats in the Workshop - Destroy 40 minions. | Task 7: Dominion of Iron - Defeat 2 Heroic bosses. | Task 8: Got a Jump? - Use the Spirit Healer coin 4 times. | Task 9: Fingers and Toes - Reduce an Enemy's Attack to 0 10 times. | Task 10: Cut, Cut, Cut! - Deal 240 damage using Bzzz!!! | Task 11: All Out of Lumber - Deal 180 damage. | Task 12: Clear the Rabble - Deal 180 damage to adjacent enemies using Bzzz!!!. | Task 13: Measure Once - Complete 4 Heroic Bounties. | Task 14: Kill two enemies in one turn using Bzzz!!! | Task 15: Gotta Work! - Complete 6 Bounties. | Task 16: Beneath the Blade - Deal 900 damage to Fighters. | Task 17: Raging Engine - Gain 80 Attack using Activate Saw. | Task 18: Paramount - Deal 450 damage to Heroic bosses. |
| The Lich King | | | | | | | | Task 8: All Will Fall - Use the Boon: Protector coin 2 times. | Task 9: You Will All Serve Me - Restore 180 Health using Death Coil. | Task 10: The Lich King Returns - Deal 120 damage using Frostbite. | Task 11: Frostmourne Hungers - Deal 450 damage. | Task 12: My Magic is Absolute - Deal 450 Frost Damage with a team that includes this Mercenary. | Task 13: No Mistakes - Complete 4 Heroic Bounties. | Task 14: No Man Can Defeat Me - Deal 300 damage using Frostbite. | Task 15: Wrath Flows Through Me - Complete 6 Bounties. | Task 16: All Will Server - Deal 900 damage to Fighters. | Task 17: Death Comes For You - Deal 900 Frost Damage with a team that includes this Mercenary. | Task 18: True Pain - Deal 450 damage to Heroic bosses. |
| Thrall | | | | | | | | | Task 9: For the Horde - Gain 135 Attack using For The Horde. | Task 10: Power of the Elements - Deal 450 Nature Damage with a team that includes this Mercenary. | | Task 12: All According to Plan - Deal 450 damage with Orcs with a team that includes this Mercenary. | Task 13: Watch Your Back - Complete 4 Heroic Bounties. | Task 14: Glory to the Horde - Gain 15 Attack using For The Horde. | Task 15: Now It's My Turn - Complete 6 Bounties. | Task 16: Elements Guide You - Deal 900 damage to Fighters. | Task 17: I Feel Stronger - Deal 900 damage with Orcs with a team that includes this Mercenary. | Task 18: I Am the Storm - Deal 450 damage to Heroic bosses. |
| Trigore the Lasher | Task 1: Terror of the Barrens - Deal 60 damage using Frenzied Attack. | Task 2: Lashing Out - Deal 40 damage using Backlash. | Task 3: Regrowth - Restore 70 Health using Regrow Heads. | Task 4: Gore and More - Deal 150 damage. | Task 5: A Step A Head - Complete a bounty while at level 30. | Task 6: Triple Trouble - Use the Boon: Protector coin 2 times. | Task 7: Cavern Protector - Defeat 2 Heroic bosses. | Task 8: Heading Up the Charge - Complete 4 Bounties. | Task 9: Proper Hydration - Gain 50 Attack using Backlash. | Task 10: Hungry Hungry Hydra - Deal 200 damage. | Task 11: Side Swipe - Deal 75 damage to adjacent enemies using Frenzied Attack. | Task 12: Terror of the Barrens - Deal 150 damage to Fighters. | Task 13: A Beast Above - Defeat 4 Heroic bosses. | Task 14: Strike From All Sides - Deal 180 damage to Heroic bosses. | Task 15: 3 Heads Are Better Than 1 - Restore 140 Health using Regrow Heads. | Task 16: Beast Blowout - Deal 500 damage with Beasts with a team that includes this Mercenary. | Task 17: Oasis Offense - Destroy 50 minions. | Task 18: A Heady Achievement - Deal 450 damage to Heroic bosses. |
| Vanessa VanCleef | | | | | | | | | | | | | | | | | | |
| Varian Wrynn | | | | | | | | | Task 9: Bolster their Resolve - Deal 450 Holy Damage with a team that includes this Mercenary. | Task 10: Rally the Troops - Deal 450 damage with Humans with a team that includes this Mercenary. | Task 11: I am Shalamayne - Deal 450 damage. | Task 12: Stormwind Needs Me - Deal 450 Holy Damage with a team that includes this Mercenary. | Task 13: Coin for our Coffers - Complete 4 Heroic Bounties. | Task 14: Break their Lines - Deal 900 damage with Humans with a team that includes this Mercenary. | Task 15: F or the Lion - Complete 6 Bounties. | Task 16: Quell Our Rage - Deal 900 damage to Fighters. | Task 17: Stand Firm - Attack 30 times with Retaliation. | Task 18: Return to the Fight - Deal 450 damage to Heroic bosses. |
| Blademaster Samuro | | | | | | Task 6: Death before Disgrace - Destroy 40 minions. | Task 7: Glory for the Horde - Defeat 2 Heroic bosses. | Task 8: The Fire Within - Use the Boon: Fighter coin 2 times. | Task 9: Mark of the Warrior - Gain 75 Attack using Double Strike. | Task 10: I Serve the Warchief - Deal 270 damage using Double Strike. | Task 11: Vengeance for my Clan - Deal 450 damage. | Task 12: Sacrifice for my Clan - Deal 450 damage with Orcs with a team that includes this Mercenary. | Task 13: They Die Well - Complete 4 Heroic Bounties. | Task 14: Disciple of the Blade - Deal 490 damage using Mirror Image. | Task 15: The Honor of the Blade - Complete 6 Bounties. | Task 16: The Road to Redemption - Deal 900 damage to Casters. | Task 17: We Fight as One - Destroy 40 enemies using Whirling Blade. | Task 18: Spirits bring me Honor - Deal 450 damage to Heroic bosses. |
| Diablo | | | | | Task 5: Heed my Call - Complete a bounty while at level 30. | Task 6: Conquer this Realm - Destroy 40 minions. | Task 7: Resign Yourself - Defeat 2 Heroic bosses. | Task 8: Find the Soulstones - Use the Boon: Fighter coin 2 times. | Task 9: Quake Before Me - Deal 450 Fire Damage with a team that includes this Mercenary. | Task 10: Pitiful Mortals - Deal 150 damage using Doom Charge. | Task 11: Fear is Eternal - Deal 450 damage. | Task 12: Death is the Beginning - Destroy two enemies in one turn using Fire Stomp 15 times. | Task 13: Serve me in Hell - Complete 4 Heroic Bounties. | Task 14: Fires of Hell Heal Me - Heal 450 damage. | Task 15: Death will not Save You - Complete 6 Bounties. | Task 16: Kneel Before Me - Deal 900 damage to Casters. | Task 17: Puny Heroes - Deal 900 Fire Damage with a team that includes this Mercenary. | Task 18: I Am The Prime Evil - Deal 450 damage to Heroic bosses. |
| Edwin, Defias Kingpin | Task 1: The Finisher - Deal 70 damage using Assassin's Blade. | Task 2: Bounties Pay! - Use Assisted Strike 20 times. | Task 3: Prevail as One - Use Kingpin's Bounty 15 times. | Task 4: Righteous Vengeance - Deal 20 or more damage in one turn using Assassin's Blade 5 times. | Task 5: A Day's Work - Complete a bounty while at level 30. | Task 6: Revenge Campaign - Destroy 40 minions. | Task 7: Contract Kills - Defeat 2 Heroic bosses. | Task 8: Strategic Plans - Use the Boon: Fighter coin 4 times. | Task 9: Find their Weakness - Deal 180 damage to Protectors. | Task 10: Dance of Death - Deal 200 Combo damage. | Task 11: Coup-de-grace - Deal 20 or more damage in one turn using Kingpin's Bounty 10 times. | Task 12: United we Slay - Deal 450 damage with Pirates with a team that includes this Mercenary. | Task 13: Cut a thug - Complete 4 Heroic Bounties. | Task 14: Measure Once… - Gain 40 Health using Assassin's Blade. | Task 15: Stay the Course - Complete 6 Bounties. | Task 16: A Show of Dominance - Deal 900 damage to Fighters. | Task 17: Lead From the Front - Restore 600 Health using Kingpin's Bounty. | Task 18: Worthy Victims - Deal 450 damage to Heroic bosses. |
| Eudora | Task 1: Focus Fire - Deal 75 damage using Coup d'Etat. | Task 2: Blast Them Away! - Use Prepare the Cannons 10 times. | Task 3: High Seas Helper - Restore 60 Health using Covering Fire. | Task 4: Ready, Aim, Fire! - Deal 150 damage. | Task 5: Treasure Hunter - Complete a bounty while at level 30. | Task 6: Swash and Buckle - Destroy 12 minions. | Task 7: Bounty of the Seas - Complete 2 Heroice Bounties. | Task 8: Man the Decks! - Use the Boon: Fighter coin 4 times. | Task 9: All Cannons Ho! - Deal 120 damage with cannons | Task 10: Superior Firepower - Deal 150 damage to Casters. | Task 11: Mercenary and Commander - Complete 3 Bounties. | Task 12: Pirate Party - Deal 450 damage with Pirates with a team that includes this Mercenary. | Task 13: Sink Their Ships - Deal 450 damage. | Task 14: Rapscallion Rescue - Restore 75 Health using Covering Fire. | Task 15: Pugnacious Plunderer - Deal 40 damage in one turn. | Task 16: Cannon Fodder - Defeat 8 enemies with cannons. | Task 17: High Explosives - Deal 80 damage to Heroic bosses. | Task 18: X Marks the Spot - Complete 5 Bounties. |
| Illidan Stormrage | | | | | | | Task 7: Impressive Victory - Defeat 2 Heroic Bosses. | Task 8: Withstand our Fury - Use the Boon: Fighter coin 2 times. | Task 9: Show Them No Quarter - Gain 50 Attack using Winged Assault. | Task 10: Winged Assault - Deal 210 damage using Winged Assault. | Task 11: Eradicate Them - Deal 450 damage. | Task 12: Strike them Down - Deal 450 damage with Demons with a team that includes this Mercenary. | Task 13: Seek out the Source - Complete 4 Heroic Bounties. | Task 14: We Will Break Them - Defeat 40 Demons. | Task 15: Aiding our Cause - Complete 6 Bounties. | Task 16: Leave None Standing - Deal 900 damage to Casters. | Task 17: Do What Must Be Done - Deal 900 damage with Demons with a team that includes this Mercenary. | Task 18: Strike it Down - Deal 450 damage to Heroic bosses. |
| King Krush | | | | | | | Task 7: Rampage - Defeat 2 Heroic bosses. | Task 8: Sharpen your Teeth - Use the Boon: Fighter coin 2 times. | Task 9: My Subjects Serve - Destroy 40 enemies using Devilsaur. | Task 10: Purge the Weak - Deal 180 damage using Apex Predator. | Task 11: Outgrowing Sholazar - Deal 450 damage. | Task 12: The King of Crush - Destroy two enemies in one turn using Apex Predator 15 times. | Task 13: The Mighty Devilsaur - Complete 4 Heroic Bounties. | Task 14: Flee Before my Rage - Gain 100 Attack using Terrify. | | Task 16: Jaws vs. Magic - Deal 900 damage to Casters. | Task 17: Apex Predator - Deal 900 damage with Beasts with a team that includes this Mercenary. | Task 18: Clash of Titans - Deal 450 damage to Heroic bosses. |
| Lady Anacondra | | | | | | Task 6: The Long Sleep - Destroy 40 minions. | Task 7: The Eternal Sleep - Defeat 2 Heroic bosses. | Task 8: Scarletleaf No More - Use the Boon: Fighter coin 2 times. | Task 9: Mend the Fanged Ones - Restore 140 Health using Mend Beast. | Task 10: Our Fangs are Sharp - Deal 270 damage using Serpent's Bite. | Task 11: While Naralex Dreams - Deal 450 damage. | Task 12: Druid of the Fang - Deal 450 damage with Beasts with a team that includes this Mercenary. | Task 13: Foes of the  Fang - Complete 4 Heroic Bounties. | Task 14: Beast Filled Anger - Deal 900 damage with Beasts with a team that includes this Mercenary. | Task 15: For the Fang - Complete 6 Bounties. | Task 16: Poison Bows to None - Deal 900 damage to Casters. | Task 17: My Little Ones Live - Restore 400 Health using Mend Beast. | Task 18: Fanglord - Deal 450 damage to Heroic bosses. |
| Mutanus | | | | | | | | Task 8: Can a Dream Sleep? - Use the Boon: Fighter coin 2 times. | Task 9: Crunch - Deathblow with Devouring Attack 15 times | Task 10: Famished - Gain 100 Attack using Devour. | Task 11: Mutanus the Mighty - Deal 450 damage. | Task 12: Toughened Skin - Block 90 damage using Scaly Taunt. | Task 13: A Permanent Sleep - Complete 4 Heroic Bounties. | Task 14: Feast of Fish - Deal 300 damage with Murlocs with a team that includes this Mercenary. | Task 15: Fueling the Corruption - Complete 6 Bounties. | Task 16: The Nightmare Beckons - Deal 900 damage to Casters. | Task 17 - A Murloc a Day - gain 300 Attack using Devour. | Task 18: Unstable Corruption - Deal 450 damage to Heroic bosses. |
| Old Murk-Eye | | | | | | | Task 7: Fishy Strategy - Defeat 2 Heroic bosses. | Task 8: Exploring the Inland - Use the Spirit Healer coin 4 times. | Task 9: Ichthyology - Summon 20 Murlocs. | Task 10: Take the Shore - Deal 450 damage wth Murlocs with a team that includes this Mercenary. | Task 11: Prod and a Poke - Deal 450 damage. | Task 12: Strength in Numbers - Deal 15 damage from Finvasion from other Murlocs. | Task 13: A Foothold on Land - Complete 4 Heroic Bounties. | Task 14: A Jolly Green Giantfin - Deal 240 damage using Giantfin. | Task 15: Maritime Riches - Complete 6 Bounties. | Task 16: Murk-eye's Nemesis - Deal 900 damage to Casters. | Task 17: Aquatic Strength - Deal 900 damage with Murlocs with a team that includes this Mercenary. | Task 18: Friends of the Fish - Deal 450 damage to Heroic bosses. |
| Rathorian | | | | | | | | | | | | | | | | | | |
| Rexxar | | | | | | | | | | | | | | | | | | |
| Rokara | | | | | | Task 6: Strength and Honor - Destroy 40 minions. | | | | | | | | | | | | |
| Saurfang | | | | | | | | | | | | | | | | | | |
| Scabbs Cutterbutter | | | | | | | | | | | | | | | | | | |
| Sylvanas Windrunner | | | | | | | | | | | | | | | | | | |
| Tavish Stormpike | | | | | | | | | | | | | | | | | | |
| Tirion Fordring | | | | | | | | | | | | | | | | | | |
| Tyrande | | | | | | | Task 7: A Foul Enemy - Defeat 2 Heroic bosses. | | | | | | | | | | | |
| Valeera Sanguinar | | | | | | | | | | | | | | | | | | |
| War Master Voone | | | | | | | | | | | | | | | | | | |
| Anduin Wrynn | | | | | | Task 6: When Peace Fails - Destroy 40 minions. | | | | | | | | | | | | |
| Antonidas | | | | | | | | | | | | | | | | | | |
| Baron Geddon | | | | | | | | | | | | | | | | | | |
| Blink Fox | | | | | Task 5: Protecting the Forest - Complete a bounty while at level 30. | | | | | | | | | | | | | |
| Brightwing | | | | | | | | | | | | | | | | | | |
| Bru'kan | | | | | | | | | | | | | | | | | | |
| Cookie, the Cook | | | | | | | | | | | | | | | | | | |
| Guff Runetotem | | | | | | | | | | | | | | | | | | |
| Gul'dan | | | | | Task 5: Harbinger of Fury - Complete a bounty while at level 30. | | | | | | | | | | | | | |
| Jaina Proudmoore | | | | | | | | | | | | | | | | | | |
| Millhouse Manastorm | | | | | | | | | | | | | | | | | | |
| Morgl the Oracle | | | | | | | | | | | | | | | | | | |
| Natalie Seline | | | | | | | | | | | | | | | | | | |
| Prophet Velen | | | | | | | | | | | | | | | | | | |
| Sky Admiral Rogers | | | | | | | | | | | | | | | | | | |
| Tamsin Roame | | | | | | | | | | | | | | | | | | |
| Uther | | | | | | | | | | | | | | | | | | |
| Varden Dawngrasp | | | | | | | | | | | | | | | | | | |
| Vol'jin | | | | | | | | | | | | | | | | | | |
| Xyrella | | | | | | Task 6: Foresee the Path - Destroy 40 minions. | | | | | | | | | | | | |