Mechanical Whelp
Mechanical Whelp
| | |
| --- | --- |
| Set: | The Boomsday Project |
| Type: | Minion |
| Minion type: | Mech |
| Rarity: | Rare |
| Cost: | 6 |
| Attack: | 2 |
| Health: | 2 |
| Abilities: | Deathrattle, Summon |
| Tags: | Mech-generating |
| Artist: | Jiajun Tian |
Deathrattle: Summon a 7/7 Mechanical Dragon.
"Well if I didn't build the whelp and YOU didn't build the whelp…"

Mechanical Whelp is a rare neutral minion card, from The Boomsday Project set.
Mechanical Whelp can be obtained through The Boomsday Project card packs, or through crafting.
| Card | Crafting cost | Disenchanting |
| --- | --- | --- |
| Mechanical Whelp | 100 | 20 |
| Golden Mechanical Whelp | 800 | 100 |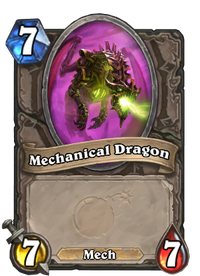 Possessing weak stats but a powerful Deathrattle, this card is best used in Deathrattle-focused decks. General combos include Spiritsinger Umbra, Necrium Blade, Fireworks Tech, and Nine Lives.
As a Mech, it also has powerful synergy with Dr. Boom, Mad Genius. With Rush, it can trade into an enemy minion to kill it off on the same turn while the 7/7 Mechanical Dragon also gains Rush for additional removal. Also works well with Oblivitron, bringing in a huge amount of stats.