Marsuul Cub
Marsuul Cub is an uncollectible hunter/druid minion card, generated and summoned by Adorable Infestation, from the Scholomance Academy set.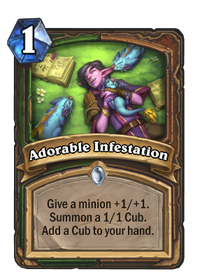 Summon
Attack
Death

This section uses content from Wowpedia.
Marsuul are small creatures native to Argus. Most marsuul feed on fruit, but the Felclaw Marsuul prefers the juicy crunch of small rodents. They lay eggs and like to be petted behind the fins.