Mana Wyrm
Regular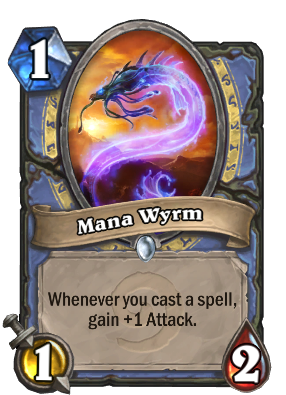 Gold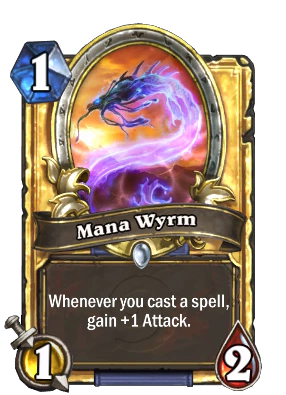 Whenever you cast a spell, gain +1 Attack.
Flavor text
These wyrms feed on arcane energies, and while they are generally considered a nuisance rather than a real threat, you really shouldn't leave them alone with a bucket of mana.
External links
Mana Wyrm is a common mage minion, inducted into the Legacy set, formerly from the Classic set.
Other versions
[
]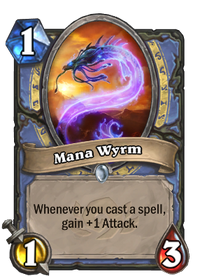 How to get
[
]
Mana Wyrm can be obtained through Classic card packs, or through crafting.
| Card | Crafting cost | Disenchanting |
| --- | --- | --- |
| Mana Wyrm | 40 | 5 |
| Golden Mana Wyrm | 400 | 50 |
Summoned by
[
]
As well as being collected in decks, this card can also be summoned by the following card.
Notes
[
]
Only spells cast from the owner of the card counts as spells cast.
Strategy
[
]
Mana Wyrm is a fairly weak 2-cost minion that gains Attack for each spells cast. Mana Wyrm works best in Mage decks that run multiple cheap spells to take advantage of its effect early. If not dealt with, the amount of damage it deals over time can add up significantly.
Note that The Coin counts as a spell, which means its Attack will get buffed by it. With The Coin and a 1-mana spell, it will instantly turn into a 3/3.
Following the nerf that increased its Mana cost to 2, Mana Wyrm is comparable to Mana Addict but with a lower but permanent Attack buff. While weaker for burst damage, having a permanent Attack buff allows it to trade with minions more effectively. Mana Wyrm is weak for tempo when played on turn 2 and will require early follow-up spells to make it worth the risk.
Lore
[
]

This section uses content from Wowpedia.
The Red Mana Wyrm appears to be a Mana Wyrm that has fed on the corrupted red mana created by the Kabal, one of the three main crime families controlling the mean streets of Gadgetzan.
Trivia
[
]
Gallery
[
]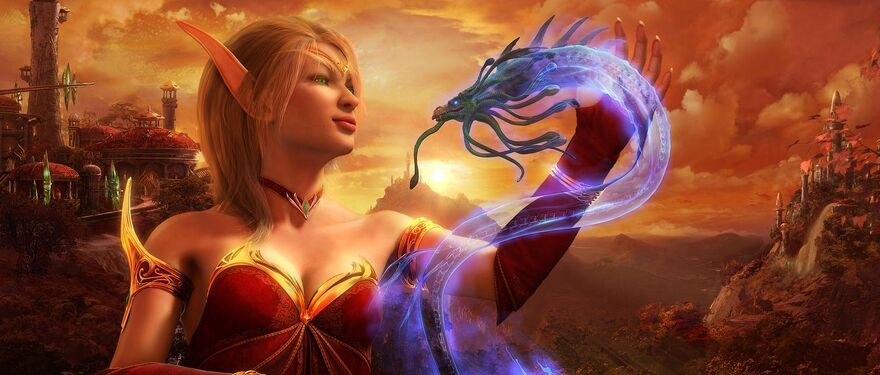 Patch changes
[
]