Mama Diggs
Regular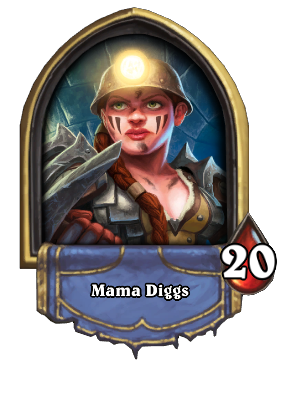 Gold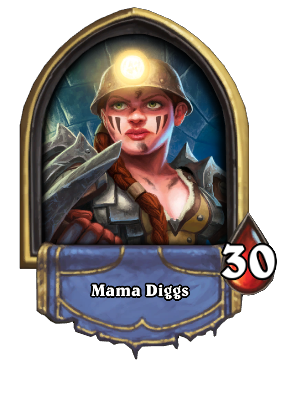 Flavor text
She's always digging into her deck for elementals.
External links
Mama Diggs is a boss that can be encountered in Chapter 4 of The Dalaran Heist adventure.
Hero Power
[
]
Normal
Heroic
Possible excavations
Nothing
Drawing 1-2 cards
Random shaman cards
Copy of the damaged minion
Dungeon Run treasures
Decks
[
]
The below classes are listed purely for reference, and have no effect on the boss' use of the cards during the battle.
Strategy
[
]
Running an elemental deck, Mama Diggs' power comes from her hero power. Her cards are powerful and all you can do is either kill the minions she places on the board or survive whatever she throws at you.
Dialogue
[
]
Before match
Blastmaster Boom

Mean Mama Diggs has a way of unearthing trouble THAT'S A PUN! Yeah it is.
Introduction
Emote Response
Mama Diggs

Deep down I bet you're empty inside.
Hero Power
Mama Diggs

General

Gotta be something useful in here!
What's mined is mine.
When life gets ya down, ya just gotta dig!
Wonder what's in here...

A Small Rock

Another rock? Curse these elementals...
Oooohh!! ....A rock?
Idle
Mama Diggs

I've been diggin out these sewers for years. Careful you don't get lost.
It's been a while since I got in a scuffle. I kinda miss it.
This is hard work, but I don't mind. It's fun!
Player's cards
Mama Diggs

Elemental for 0-3 mana

I hardly want to waste a swing on that one.
Look at the wee little elemental. Hold it still for me.

Elemental for 4+ mana

I bet there's all kinds of goodies inside that one.

Waggle Pick

Y'know, maybe I was wrong about you.
Death
Mama Diggs

(yell)
Defeat
Mama Diggs

Don't take a miner so lightly next time.
Lore
[
]
Mama Diggs is a Wildhammer dwarf Mining trainer and quest giver located in Tanks for Everything in Dalaran.
Gallery
[
]
Patch changes
[
]
The Dalaran Heist
Heroes
Chapter 1: Dalaran Bank

| | |
| --- | --- |
| Level 1 | |
| Level 2 | |
| Level 3 | |
| Level 4 | |
| Level 5 | |
| Level 6 | |
| Level 7 | |
| Level 8 | |

Chapter 2: The Violet Hold

| | |
| --- | --- |
| Level 1 | |
| Level 2 | |
| Level 3 | |
| Level 4 | |
| Level 5 | |
| Level 6 | |
| Level 7 | |
| Level 8 | |

Chapter 3: Streets of Dalaran

| | |
| --- | --- |
| Level 1 | |
| Level 2 | |
| Level 3 | |
| Level 4 | |
| Level 5 | |
| Level 6 | |
| Level 7 | |
| Level 8 | |

Chapter 4: The Underbelly

| | |
| --- | --- |
| Level 1 | |
| Level 2 | |
| Level 3 | |
| Level 4 | |
| Level 5 | |
| Level 6 | |
| Level 7 | |
| Level 8 | |

Chapter 5: Kirin Tor Citadel

| | |
| --- | --- |
| Level 1 | |
| Level 2 | |
| Level 3 | |
| Level 4 | |
| Level 5 | |
| Level 6 | |
| Level 7 | |
| Level 8 | |
| Level 9 | |
| Level 10 | |
| Level 11 | |
| Level 12 | |

Tavern