Mailbox Dancer
Regular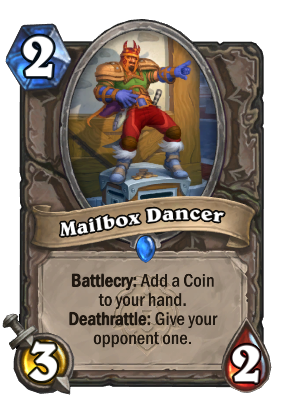 Gold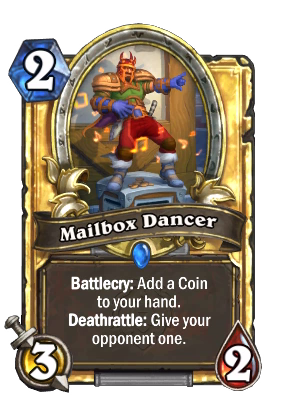 | | |
| --- | --- |
| Set: | United in Stormwind |
| Type: | Minion |
| Class: | Neutral |
| Rarity: | Rare |
| Cost: | 2 |
| Attack: | 3 |
| Health: | 2 |
| Abilities: | Battlecry, Deathrattle, Generate |
| Wiki tags: | Coin-generating |
| Artist: | Jim Nelson |
Battlecry:
Add a Coin to your hand. 
Deathrattle:
Give your opponent one.
Flavor text
He is the reason why we have 7 mailboxes in this district.
External links
Mailbox Dancer is a rare neutral minion card, from the United in Stormwind set.
How to get
[
]
Golden Mailbox Dancer is uncraftable and cannot be crafted or disenchanted. Regular Mailbox Dancer can be obtained by:
Others
Two copies of golden Mailbox Dancer are obtained by reaching levels 13 and 33 respectively in the United in Stormwind's Rewards Track.
Generated cards
[
]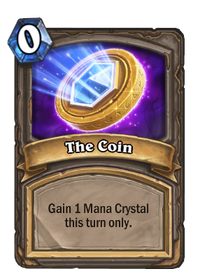 Strategy
[
]
Mailbox Dancer provides a free Coin which can be used later on or it can be treated as a 1 mana 2/3 if coin is used.
It's main usage is through Combo Based Decks for Rogue to fuel up Spectral Pillagers damage, or Paladin to summon the Four Horsemen of the Apocolypse from Uther of the Ebon Blade or Gadgetzan Auctioneer to draw more spells.
The downside however is that it gives your opponent the coin but it isn't that impactful depending on the deck they are playing. An aggressive deck may not have any use of the Coin because their hand is usually empty but a control/combo based deck can take advantage of the coin. It can also be used to Mill your opponent because The Coin adds 1 extra card to the hand.
Silencing it can prevent the opponent from getting a coin.
Sounds
[
]
Summon
Attack
Death
Lore
[
]

Please add any available information to this section.
Gallery
[
]
Patch changes
[
]