Lorewalker Cho
Regular
External links
For the minion card of the same name, see Lorewalker Cho
Lorewalker Cho is a boss encountered during the game's introductory tutorial.
Special cards
[
]
In addition to regular cards, this boss may also play or generate the following special cards.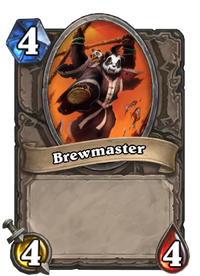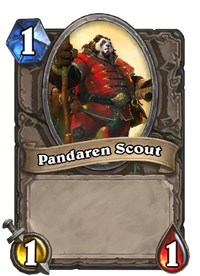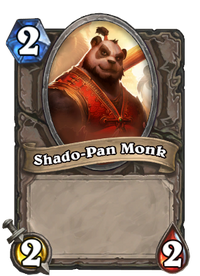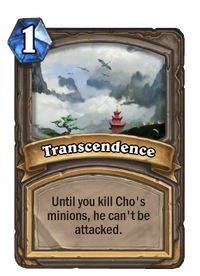 Cho's cards
[
]
Lorewalker Cho is the first boss to make decisions about how he plays his cards, but he always draws them in the following order:
Cho's decklist
[
]
Lorewalker Cho has only 22 cards in total, including the two in his starting hand.
Jaina's cards
[
]
The player always starts with the same two cards in their hand, and will draw new cards each turn in the same order. The player has 30 cards in their deck.
Jaina's decklist
[
]
Dialogue
[
]
Introduction
Lorewalker Cho

Oh! Jaina! It is good to see you.

Jaina

Lorewalker Cho.

Lorewalker Cho

Show me what you've learned.

Jaina

I will not hold back.

Lorewalker Cho

Good! Good!
Lorewalker Cho's Turn 1
Lorewalker Cho

I am not all that handy with swords or bows, but I do have many friends.
Lorewalker Cho's Turn 2
Lorewalker Cho

Even a single point of damage can mean the difference between victory and defeat.
Lorewalker Cho

Ah! You cannot reach me!

Jaina

...For now. After I destroy your troops, I'm coming for you!
Ending Transcendence
Lorewalker Cho

Oh... You are quite powerful.
Lorewalker Cho

I have made some new friends who can heal, as well as fight!
Lorewalker Cho's Turn 7
Lorewalker Cho

Fear leads to anger. Anger leads to hate. Hate leads to an upset tummy.
Jaina's Turn 8
Lorewalker Cho

War should be a last resort.

Jaina

You are naive, Lorewalker.

Lorewalker Cho

Perhaps.
Lorewalker Cho at low Health
Lorewalker Cho

You are very strong, Jaina!
Defeating Lorewalker Cho
Lorewalker Cho

Hahahaha! You are a true master!

Jaina

It's been an honor, Lorewalker.
Other quotes
Lorewalker Cho

Everyone looks so tiny from way up here!

Lorewalker Cho

Oh! A clever play.
Lore
[
]
Lorewalker Cho is the leader of the Lorewalkers, a faction of pandaren dedicated to the exploration of the world and its history. Cho encountered Alliance and Horde adventurers soon after their arrival on Pandaria, and has since been involved in a number of critical events that would go on to influence the future of Azeroth. Cho can also be found at the Seat of Knowledge in the Vale of Eternal Blossoms, where he receives archeological artifacts from adventurers, and recounts stories from Pandaria's long history.
Trivia
[
]
Videos
[
]
Gallery
[
]