Locksmith Zibb
Regular
Gold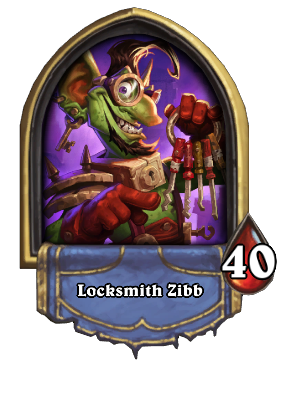 Flavor text
Mages in Dalaran rely on Zibb's skills to lock up their spells.
External links
Locksmith Zibb is a boss that can be encountered in Chapter 3 of The Dalaran Heist adventure.
Hero Power
[
]
Normal
Heroic
Decks
[
]
The below classes are listed purely for reference, and have no effect on the boss' use of the cards during the battle.
Strategy
[
]
Because Overload cards are cheaper with high overload, Zibb can play cheap cards with their unhinged effects. This, on the other hand, puts you at a disadvantage. To counter this focus more on building a board with minions over using spells.
Dialogue
[
]
Before match
Madame Lazul

Ahh, de locksmith! He keeps magic under lock and key. Cast carefully...
Introduction
Locksmith Zibb

I'm gonna lock you up!
Emote Response
Locksmith Zibb

Hey! Lock your mouth, and throw away the key.
Hero Power
Overloading boss mana

Pad 'em up!
Those crystals are now off limits.

Overloading player's mana

I'll unlock those crystals for you. For just seven easy payments of 99 gold.
Think of it like this, I'm just keepin' them safe!
You're not gonna need that mana anyways.
Idle
Locksmith Zibb

Have you tried checking under your deck for a spare key?
Sometimes you just have to think about a problem. And then smack it with somethin'.
The Kirin Tor aren't exactly comfortable with the whole magical locksmith thing.
Turn 1
Locksmith Zibb

I used to unlock doors of considerable wealth for some bad folks too.
Overload pass
Locksmith Zibb

I must have the key here somewhere...
This is one lock I just can't crack.
Boss cards
Locksmith Zibb

Lava Shock

A key for every situation.
The key? A little lava grease.

Spell for 7+ mana

This one is worth throwin' away the key for.
Player's cards
Locksmith Zibb

Lackey

Lackey? But I got the keys right here!

Waggle Pick

That ain't a lockpick I've ever seen!

Safeguard

Back in my prime I'd crack that baby in 5 seconds flat.

Spell for 7+ mana

I hope that was worth it, because I'm locking that mana up.

Unlocking mana

Hey-hey! Now that's someone who knows their way around a lock!
Wait a minute, you're musclin' in on my turf over here!
Death
Locksmith Zibb

(yell)
Defeat
Locksmith Zibb

Hahah! Guess you're locked in here with me forever!
Lore
[
]
Locksmith Zibb is unique to Hearthstone.
Gallery
[
]
Patch changes
[
]
The Dalaran Heist
Heroes
Chapter 1: Dalaran Bank

| | |
| --- | --- |
| Level 1 | |
| Level 2 | |
| Level 3 | |
| Level 4 | |
| Level 5 | |
| Level 6 | |
| Level 7 | |
| Level 8 | |

Chapter 2: The Violet Hold

| | |
| --- | --- |
| Level 1 | |
| Level 2 | |
| Level 3 | |
| Level 4 | |
| Level 5 | |
| Level 6 | |
| Level 7 | |
| Level 8 | |

Chapter 3: Streets of Dalaran

| | |
| --- | --- |
| Level 1 | |
| Level 2 | |
| Level 3 | |
| Level 4 | |
| Level 5 | |
| Level 6 | |
| Level 7 | |
| Level 8 | |

Chapter 4: The Underbelly

| | |
| --- | --- |
| Level 1 | |
| Level 2 | |
| Level 3 | |
| Level 4 | |
| Level 5 | |
| Level 6 | |
| Level 7 | |
| Level 8 | |

Chapter 5: Kirin Tor Citadel

| | |
| --- | --- |
| Level 1 | |
| Level 2 | |
| Level 3 | |
| Level 4 | |
| Level 5 | |
| Level 6 | |
| Level 7 | |
| Level 8 | |
| Level 9 | |
| Level 10 | |
| Level 11 | |
| Level 12 | |

Tavern