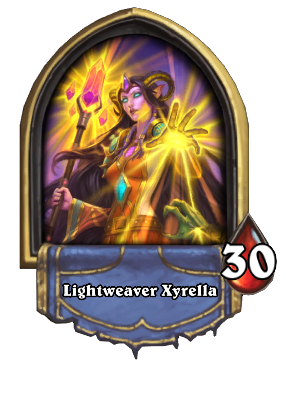 For other representations of Xyrella, see Xyrella (disambiguation).
Lightweaver Xyrella is an alternate hero for the

Priest class.
Background
[
]
This is one of Xyrella's appearances after following the call of the fractured naaru Mi'da, currently seeking the shards to restore the power of the naaru.
How to get
[
]
Lightweaver Xyrella is unavailable to new players. It's unknown if she will become available again.
Previous availability
[
]
Lightweaver Xyrella was obtained by purchasing the Tavern Pass and reaching level 100 in the Forged in the Barrens' Rewards Track.
Functionality
[
]
Once unlocked and selected for use, Lightweaver Xyrella replaces Anduin Wrynn whenever the player uses a Priest deck, as well as:
Comes with own portrait
Has custom emotes
For more information, see Alternate heroes.
Flavor text
[
]
When viewed in the Collection, Lightweaver Xyrella has the following flavor text:
Sometimes the reward for your adventure isn't the treasure you wanted, but a greater one—peace of mind.
Earnable after purchasing the Tavern Pass.
Sounds
[
]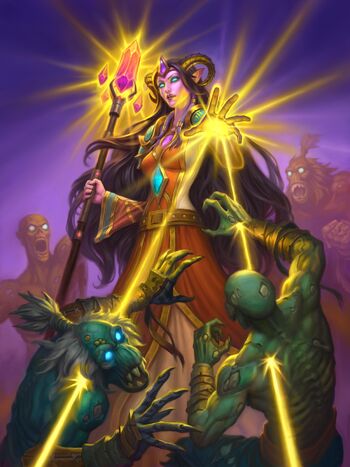 Each hero has their own selection of audio and written emotes that are produced in response to specific events. For more information, see Emote.
Most of Lightweaver Xyrella's sounds are the same as Survivor Xyrella. Unique, different ones are noted as Unique in References section.
Patch changes
[
]
References
[
]