Lightning Bloom
Regular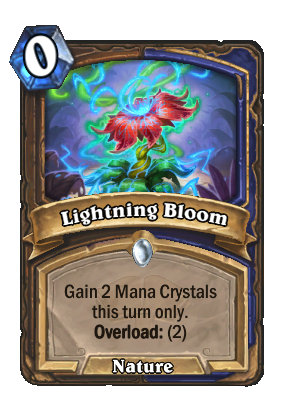 Gold
Gain 2 Mana Crystals this turn only. 
Overload:
(2)
Flavor text
Curiously, this plant never blooms in the same place twice.
External links
Lightning Bloom is a common shaman/druid spell card, from the Scholomance Academy set.
How to get
[
]
Lightning Bloom can be obtained through Scholomance Academy card packs, through crafting, or as an Arena reward.
| Card | Crafting cost | Disenchanting |
| --- | --- | --- |
| Lightning Bloom | 40 | 5 |
| Golden Lightning Bloom | 400 | 50 |
Strategy
[
]
Lightning Bloom is a pre-nerf Innervate which can make very powerful combos possible or powerful cards early game. It is extremely powerful alongside with minions that can utilized Overload for shaman or casting high cost spells such as Overflow, Ultimate Infestation, or Eye of the Storm. This can easily trigger Kael'thas Sunstrider, allowing you to summon him as early as turn 3 and cast any spell alongside him.
Lightning Bloom is excellent in Ramp Druid to turbo Guardian Animals, Survival of the Fittest, or even simply Overgrowth. Alongside Innervate and The Coin, the right hand can give you access to 8 mana on turn 1. Lightning Bloom can also extend your mana for Untapped Potential, although the Overload is an actual disadvantage in that deck.
Shamans can use this card to easily activate Cumulo-Maximus, satisfying its condition while guaranteeing you have plenty of mana. With Heart of Vir'naal, you can use your hero power, cast Lightning Bloom, then play two Cumulo-Maximuses for 20 burst damage. Alternatively, you can use The Coin, then play Diligent Notetaker and then a Bloom, then the second Bloom the Spellburst gives you, giving you 4 mana for a spell or minion. If you are lucky enough to mulligan that 2nd allowed copy of Bloom, you can put down a 5-6 mana minion, all on turn 1.
The utility of this card is even greater in Wild. For Shaman, one powerful combo is playing on curve Tunnel Trogg with 2 Lightning Blooms to instantly turn it into a 5/3 and then Flamewreathed Faceless with the 4 mana generated. For Druid, it's a great addition to the Aviana and Kun the Forgotten King combo as you can utilize extra 2 mana crystals after replenishing your mana with Kun.
Lore
[
]
Trivia
[
]
Lightning Bloom's flavor text is a reference to the common idea that lightning cannot strike in the same place twice.
Gallery
[
]
Patch changes
[
]
References
[
]