Lich Baz'hial
Regular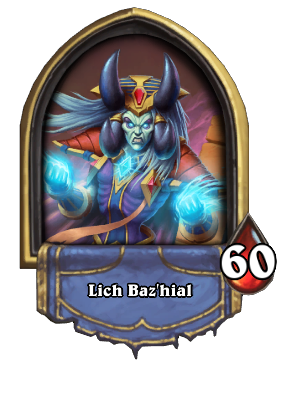 Flavor text
Baz'hial has cheated death. She also cheats at cards.
External links
For the Battlegrounds hero, see Lich Baz'hial (Battlegrounds).
Lich Baz'hial is a boss that can be encountered initially in Chapter 3 of Tombs of Terror. After completing Chapter 3, this boss encounter will be available in any completed chapter.
Hero Powers
[
]
Normal and Heroic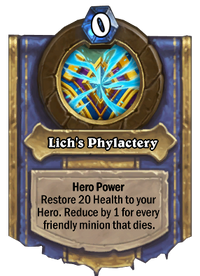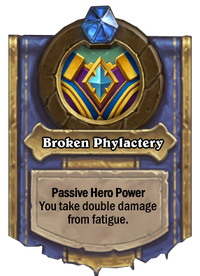 Decks
[
]
The below classes are listed purely for reference, and have no effect on the boss' use of the cards during the battle.
Strategy
[
]

Please add any available information to this section.
Dialogue
[
]
Introduction
Lich Baz'hial

You fight against the plagues? I rather like them.

vs. Reno Jackson

Lich Baz'hial

I'll freeze you to your bones, heheh.

Reno Jackson

I hate the cold...
Emote Response
Lich Baz'hial

Don't make me freeze your tongue.
Hero Power
Lich Baz'hial

Ahh!
Invigorating!
No life, no problem.
Idle
Lich Baz'hial

Liches don't have to be royalty to be worth fighting.
Yes, yes my soul is in that little phylactery. Don't mind it.
You may wonder what I'm doing here. So do I.
Boss cards
Lich Baz'hial

Ray of Frost

Chill out!

Frost Nova

Stand there and watch me destroy you!

Water Elemental

Won't you give my elementals a hug?

Freezing player

You're on time out.
Player's cards
Lich Baz'hial

Jar Dealer

Bah, get a real phylactery!

Arfus

Who's a good boy? Who's a good boy!

Psychopomp

Hmph. Discount necromancer.

Kel'Thuzad

There's no room in this tomb for TWO liches!

The Lich King

Prince Arthas. The Lich King himself. Didn't you rotate?

Freezing boss

Hahaha! Did you think this would deter me?
Death
Lich Baz'hial

(yell)
Defeat
Lich Baz'hial

It could be worse. You could be un-dead!
Lore
[
]
Lich Baz'hial is unique to Hearthstone.
Gallery
[
]
Patch changes
[
]
Tombs of Terror
Heroes
Chapter 1:
The Lost City

| | |
| --- | --- |
| Level 1 | |
| Level 2 | |
| Level 3 | |
| Level 4 | |
| Level 5 | |
| Level 6 | |
| Level 7 | |
| Level 8 | |

Chapter 2:
Scorching Dunes

| | |
| --- | --- |
| Level 1 | |
| Level 2 | |
| Level 3 | |
| Level 4 | |
| Level 5 | |
| Level 6 | |
| Level 7 | |
| Level 8 | |

Chapter 3:
Khartut's Tomb

| | |
| --- | --- |
| Level 1 | |
| Level 2 | |
| Level 3 | |
| Level 4 | |
| Level 5 | |
| Level 6 | |
| Level 7 | |
| Level 8 | |

Chapter 4:
Halls of Origination

| | |
| --- | --- |
| Level 1 | |
| Level 2 | |
| Level 3 | |
| Level 4 | |
| Level 5 | |
| Level 6 | |
| Level 7 | |
| Level 8 | |

Chapter 5:
The Inner Sanctum
Tavern