Lavanthor
Regular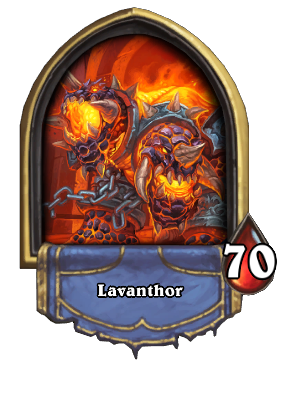 Gold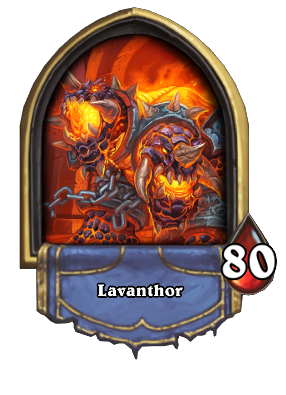 Flavor text
"What's in your mouth Lavanthor? Spit it out! Bad core hound!"
External links
Lavanthor is a boss that can be encountered in Chapter 2 of The Dalaran Heist adventure.
Hero Power
[
]
| Normal | Heroic |
| --- | --- |
| | |
| | Auto-cast |
Summoned minions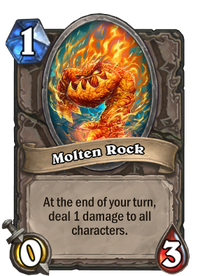 Special cards
[
]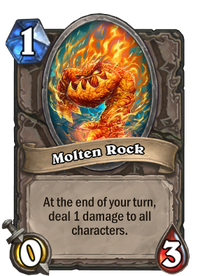 Decks
[
]
The below classes are listed purely for reference, and have no effect on the boss' use of the cards during the battle.
Strategy
[
]

Please add any available information to this section.
Dialogue
[
]
Before match
Swampqueen Hagatha

They sealed away these core hounds out of fear. Unleash them!
Introduction
Lavanthor

<Roar>
Emote Response
Lavanthor

<Roar>
Death
Lavanthor

<Roar>
Defeat
Lavanthor

<Roar>
Lore
[
]

This section uses content from Wowpedia.
Lavanthor is a core hound boss located in Violet Hold.
Cyanigosa in her cold cunning has unleashed the core hound's inferno. The magi imprisoned Lavanthor to stanch the two-headed terror's thirst for blood, and years of isolation have done nothing to improve its temper.
Gallery
[
]
Patch changes
[
]
The Dalaran Heist
Heroes
Chapter 1: Dalaran Bank

| | |
| --- | --- |
| Level 1 | |
| Level 2 | |
| Level 3 | |
| Level 4 | |
| Level 5 | |
| Level 6 | |
| Level 7 | |
| Level 8 | |

Chapter 2: The Violet Hold

| | |
| --- | --- |
| Level 1 | |
| Level 2 | |
| Level 3 | |
| Level 4 | |
| Level 5 | |
| Level 6 | |
| Level 7 | |
| Level 8 | |

Chapter 3: Streets of Dalaran

| | |
| --- | --- |
| Level 1 | |
| Level 2 | |
| Level 3 | |
| Level 4 | |
| Level 5 | |
| Level 6 | |
| Level 7 | |
| Level 8 | |

Chapter 4: The Underbelly

| | |
| --- | --- |
| Level 1 | |
| Level 2 | |
| Level 3 | |
| Level 4 | |
| Level 5 | |
| Level 6 | |
| Level 7 | |
| Level 8 | |

Chapter 5: Kirin Tor Citadel

| | |
| --- | --- |
| Level 1 | |
| Level 2 | |
| Level 3 | |
| Level 4 | |
| Level 5 | |
| Level 6 | |
| Level 7 | |
| Level 8 | |
| Level 9 | |
| Level 10 | |
| Level 11 | |
| Level 12 | |

Tavern